Friday's market action was some of the most severe to the downside we have seen in months. In fact, the 318 point drop on the Dow was the largest since June 20. [i]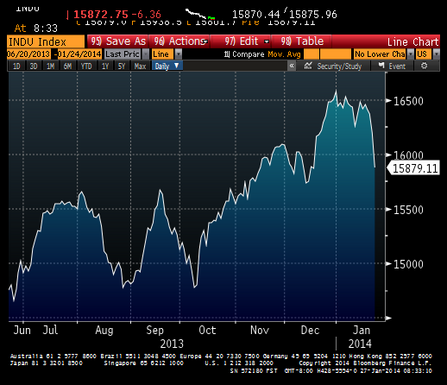 (Source: Bloomberg LP)
The reasons for the sudden drop are really anyone's guess. Some of the "talking heads" and prognosticators suggested the following:
"There's a lack of buyers supporting the market and incremental sellers who are de-risking on the back of the macro developments." –Doug Crofton, Bank of America Merrill Lynch

[ii]

The response I'm getting from people who generally were 'buy on the dip'-type accounts is we're looking at things a little differently now." –David Seaburg, Cowen & Company

[iii]

"We've got the emerging markets under stress concurrent with a mediocre earnings season and we're seeing money come out of stocks." –Walter Hellwig, BB&T Wealth Management

[iv]
As for us, the reasons are important to understand, yet more critical is the real takeaway for investors. Anything can happen in the stock market at any time, and likely will happen at some point. Even if one of the reasons given was anticipated, like most market selloffs, it's generally never one thing.
Think about the selloff this way: Wall Street at the start of the year forecasted an average increase on the S&P 500 of 5.32% for 2014, so the market from last Friday's close would now have to return 8.74% to meet those forecasts. This would be an increase of 64.27% from the original forecast. [v]
When portfolios are risk managed, we attempt to mitigate the downside relative to a comparable index. For example, if your portfolio is 60% global equities and 40% bonds, that portfolio averaged 12.16% last year. While much lower than the 22.80% returns in a 100% global equity portfolio, there was much less risk. [vi]
Friday's market action should serve as a gentle reminder to all of us that markets have unexpected risks. It seems a little unusual to have to state the obvious; however, there have been several investors that may have forgotten that simple fact, as it's been seven months since we have seen a drop this large.
To get our thoughts on what we see for Q1 2014, take a look at our latest Look Ahead (click here to view). We used some new technology and we would appreciate any feedback on the ease of use and understanding.
If you have questions or comments, please let us know as we always appreciate your feedback. You can get in touch with us via Twitter, Facebook, or you can email me directly. For additional information on this, please visit our website.
Tim Phillips, CEO – Phillips & Company
Alex Cook, Investment Analyst – Phillips & Company
[i] "Wall St. slammed; Dow drops more than 300 points", January 24, 2014, NBC News
[ii] "Dow Drops Most Since June", January 24, 2014, Wall Street Journal
[iii] Ibid.
[iv] "S&P 500 Falls Most for Week Since '12 on Emerging Markets", January 25, 2014, Bloomberg
[v] Forecast source data: "Here's what 14 top Wall Street strategists are saying about the Stock Market in 2014", Business Insider, December 13, 2013. Bloomberg LP. S&P 500 close on Friday was 1790.29 according to Bloomberg LP.
[vi] Returns and risk statistics from Morningstar Direct based on a 60% MSCI ACWI/40% Barclays US Aggregate Bond Index blend and 100% MSCI ACWI.