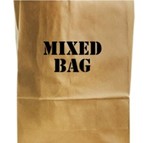 When it comes to all things—economic or financial—almost everything looks like a mixed bag. U.S. GDP growth came in at 6.5%. Under any other circumstance, 6.5% would be incredible. Unfortunately, the consensus expectation was for around 8.5% growth.
U.S. GDP finally crossed over the pre-COVID levels, which is great, yet we are still well below potential GDP trajectory prior to COVID according to the Congressional Budget Office. [i]

The main contributor to GDP growth continues to be the U.S. Consumer. This is crucial, as the consumer is always the lynchpin to our economy. [ii]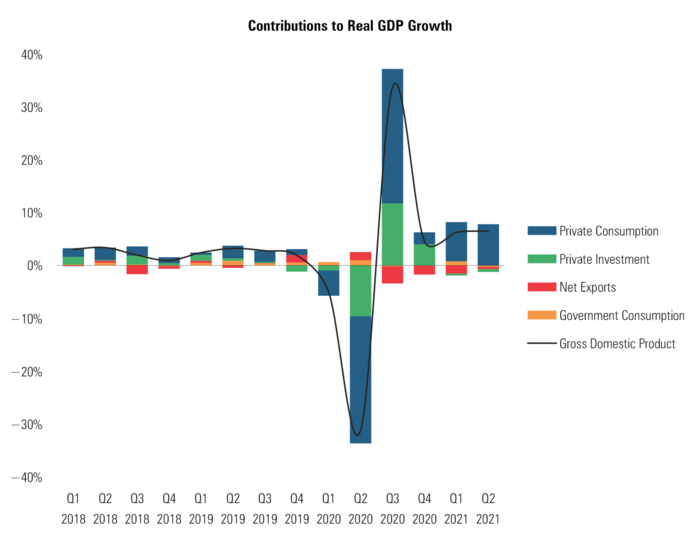 Further good news is that services consumption continues to improve. Services consumption contributed 5.1% to GDP growth, well above trend. [ii]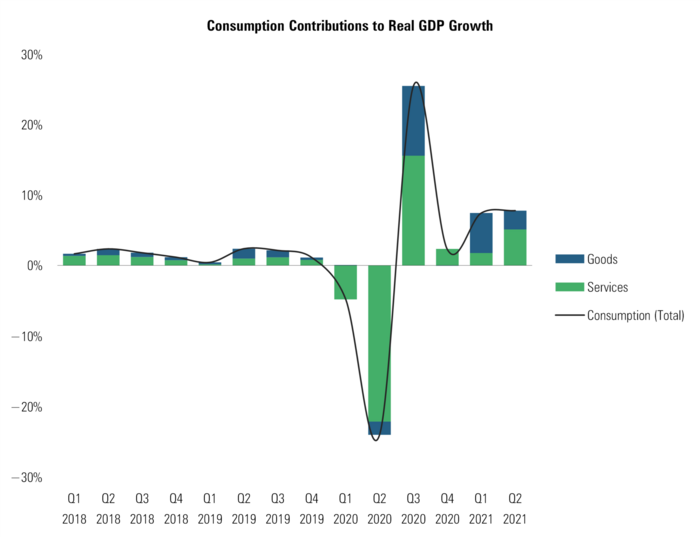 Unfortunately, U.S. businesses continue to have inventory issues and inventories continue to be a drag on GDP growth. [ii]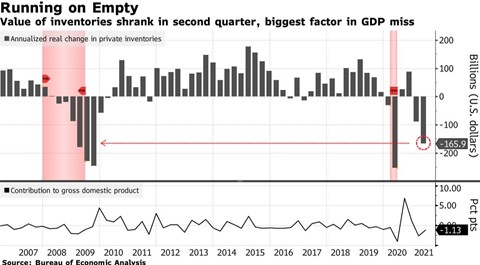 Much of this drag comes from a continued drop in auto inventories, which are now at the lowest levels in history. [iii]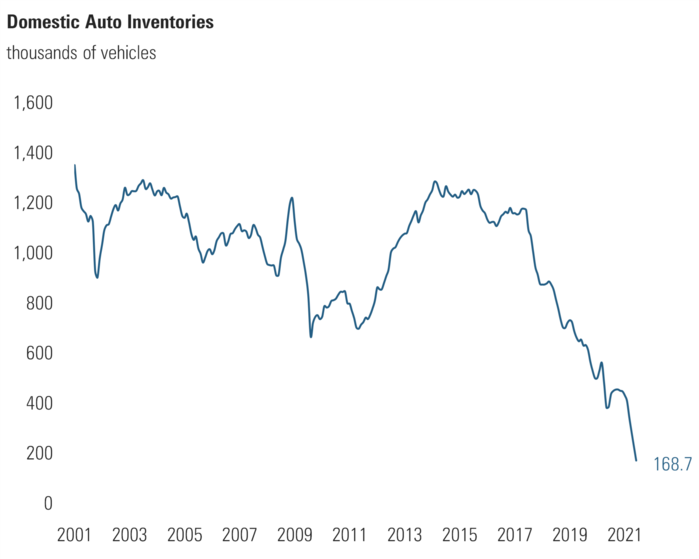 Pivoting back to consumption, the U.S. consumer has continued to spend down their precautionary savings they accumulated during the peaks of the pandemic. The U.S. consumer spent down their savings to the tune of $4.2 trillion dollars last quarter and the savings rate now sits at 9.4%. [iv]
That spend down trend is much faster than our forecast. The consumer is pulling forward their spending which may impact the later stages of the recovery.
However, much of this supercharged consumption is finding it's way into the pockets of S&P 500 companies.
Earnings growth is on pace to exceed 85% in Q2, with 59% of companies reporting as of Friday. That crushed the expectation on June 30th of 63.1% earnings growth, according to FactSet. Further, 88% of companies have reported both earnings and revenue surprises to the upside. [v]
China threw some cold water on the global growth parade by putting their entire for-profit education sector under draconian new restrictions, which include:
• Companies that teach school subjects can no longer accept overseas investment
• Listed companies will no longer be allowed to raise capital via stock markets to invest in businesses that teach classroom subjects • Outright acquisitions will be forbidden
• All vacation and weekend tutoring is now off-limits
Most of the large, for-profit Chinese education companies are listed in the U.S. so, China's crackdown wiped out approximately $16.9 billion in market cap last week for the three largest Chinese education companies listed in the U.S. [vi]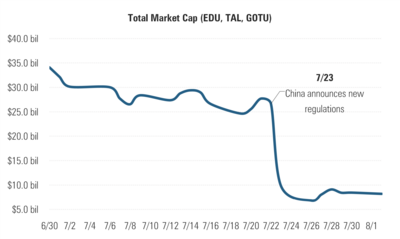 It is the CCP's view that encouraging more family formation will require lowering the costs associated with having kids. The after-school education industry was nearly $120 billion a year and extracting too much from the ordinary Chinese citizen.
These measures spooked global investors and started to hurt the domestic China A market, with the CSI 300 falling 8.4% at the lows before closing the week down 5.8%. [vii]
Since their domestic market is made up of approximately 90% ordinary Chinese investors, it became too much to bear for the Communist Party. It is one thing to try and lower the cost of education for their citizens but, quite another to hurt their investments.
They immediately came out with reassuring statements to calm global investors. The top securities regulator in China told representatives of global banks and investment firms that Chinese authorities would carefully consider the market impact of policy changes before making future changes.
Not to mention the ongoing tug of war with the Delta variant. Wear masks, get vaccinated, don't wear a mask, and now wear masks again. This health-related roller coaster will do nothing to instill confidence by the consumer.
It is our view that the economic and medical mixed bag is going to continue to persist for the remainder of this quarter.
If you have questions or comments, please let us know. You can contact us via Twitter and Facebook, or you can e-mail Tim directly. For additional information, please visit our website.
Tim Phillips, CEO, Phillips & Company
Sources:
i. https://thedailyshot.com/
ii. https://www.bea.gov/data/gdp/gross-domestic-product
iii. https://fred.stlouisfed.org/series/AUINSA
iv. https://fred.stlouisfed.org/series/PSAVERT
v. https://insight.factset.com/
vi. https://www.bloomberg.com/
vii. https://www.bloomberg.com/quote/SHSZ300:IND