The Coronavirus has dominated the news cycle for weeks and it is not surprising the hysteria has been rampant. The truth is the virus is on the decline in mainland China. In the graphic below, you can see the number of patients leaving the hospital growing and declines in severe cases and confirmed cases. [i]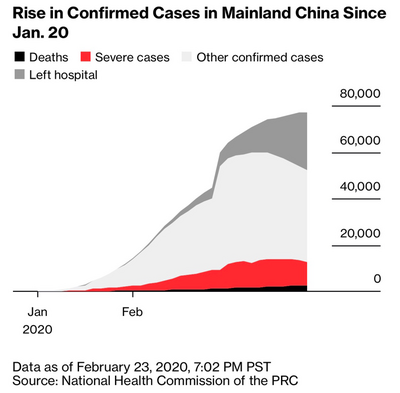 China has made significant progress in cutting the spread and rate of infection of the virus. As of Friday, Hubei province had 10,967 confirmed cases, down from 13,886 on February 14th. Outside of Hubei, only 31 new cases had been reported as of Friday and cases of hospitalization fell from 9,141 on February 14th to 5,637 on February 21st. As of Sunday, 21 provinces were reporting zero new cases.
Outside of China there have been some spikes in specific countries like South Korea and Italy, however the numbers are small and the response has been dramatic. [ii]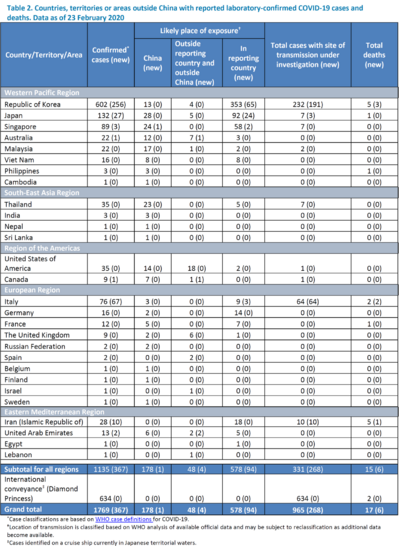 The human tragedy is nothing to look past but, the economic impact still looks transitory.
This is where the tough news starts, as we will start to see macroeconomic data that incorporates the virus' impact in the coming weeks. China will report their NBS PMI (manufacturing) data on February 29th and the numbers are expected to be brutal. [iii]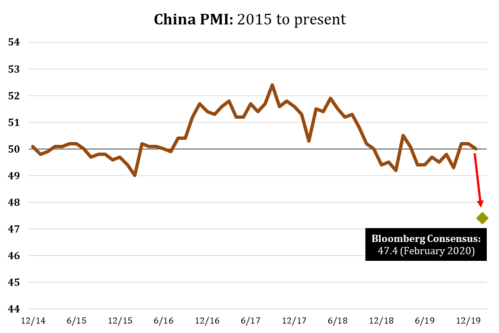 Further, data on the survival of small and medium sized Chinese business is dire if the economy does not recover soon. [iv]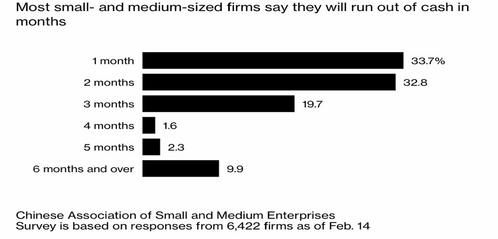 Up to 80% of all employees in China work for a small or medium size enterprise. Many businesses simply cannot survive for very long with zero revenue. However, the return to production is underway in China and the numbers look promising. [v]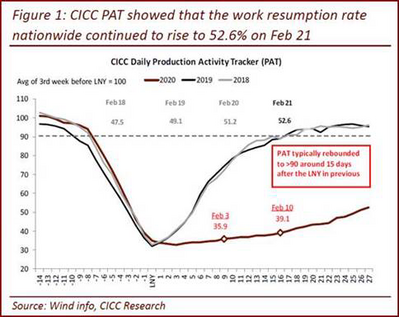 Production normally grinds to a halt during the Chinese New Year celebration, but it is coming back even slower with the virus spreading throughout the country. As of this writing, production is now back to around 56% of capacity and accelerating rapidly.
Additionally, the People's Bank of China and Communist Party of China are committed to supporting small and medium size enterprises. They have supported landowners by not charging rent while the economy is at a standstill, by lowering employment taxes, and they will likely suspend debt repayment for a period of time. Here is a link to the full list of measures in chronological order. All of these measures should buy companies time to emerge from the forced shutdown.
As it relates to U.S. companies, we will also see some impact on earnings as companies with 20% or greater revenue exposure to China are in some of our largest sectors—Information Technology being the biggest with 49 stocks and 34% average revenue exposure. [vi]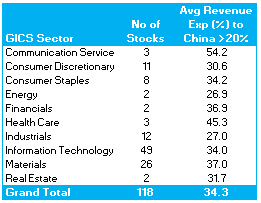 As you can see below, Q1 2020 earnings guidance has been decidedly negative. [vii]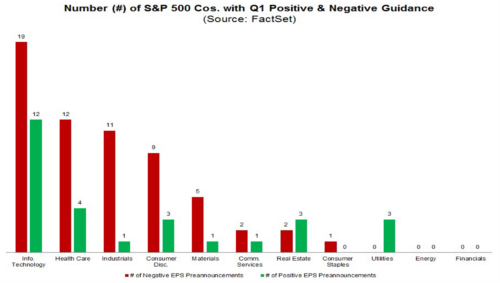 Again, the Information Technology sector has the highest number of companies announcing negative guidance in Q1.
It's hard to know how much of this negativity has been discounted by investors. Certainly, bad macroeconomic data out of China should be anticipated for Q1 and a hit to technology companies dependent on China is easily conceivable.
It would be wholly unanticipated for the Chinese government to react with any delay in supporting their businesses. We certainly expect the People's Bank of China and the Chinese government to react and support the core of their economy.
It is a bad news week but, this might be the worst of it as the virus abates, China reopens for business and countries around the world assess the economic damage and respond accordingly.
In fact, the International Monetary Fund recently assessed China's response and said: [viii]
"In our current baseline scenario, announced policies are implemented and China's economy would return to normal in the second quarter. As a result, the impact on the world economy would be relatively minor and short-lived."
In the post-Financial Crisis world of central banks acting as public utilities in supporting full employment, we should see any bad economic news met with strong monetary and fiscal stimulus.
If you have questions or comments, please let us know. You can contact us via Twitter and Facebook, or you can e-mail Tim directly. For additional information, please visit our website.
Tim Phillips, CEO, Phillips & Company
Sources:
i.     https://www.bloomberg.com/news/articles/2020-02-24/fears-grow-of-coronavirus-s-spread-as-cases-spike-beyond-china
ii.    https://www.who.int/docs/default-source/coronaviruse/situation-reports/20200223-sitrep-34-covid-19.pdf?sfvrsn=44ff8fd3_2
iii.   https://www.bloomberg.com/quote/CPMINDX:IND
iv.    https://www.bloomberg.com/news/articles/2020-02-23/millions-of-chinese-firms-face-collapse-if-banks-don-t-act-fast
v.     https://research.cicc.com/
vi.    https://insight.factset.com/the-stress-of-coronavirus
vii.   https://www.factset.com/hubfs/Resources%20Section/Research%20Desk/Earnings%20Insight/EarningsInsight_022120.pdf
viii.  http://www.china.org.cn/business/2020-02/24/content_75737919.htm