Notwithstanding another bank failure (First Republic Bank) the reports of the impending demise of the U.S. economy are still over exaggerated. The possibility of a soft landing or a modest growth recession is still in the mix.
Mixed Bag #1
Yes, U.S. GDP growth came it at a much-reduced rate of 1.1% for Q1. Estimates were as high as 3.5% a few weeks ago and 1.9% just last week. The economy is rapidly decelerating! 1 2

Our research partner at Bespoke did a very nice job breaking down the component parts of GDP. 3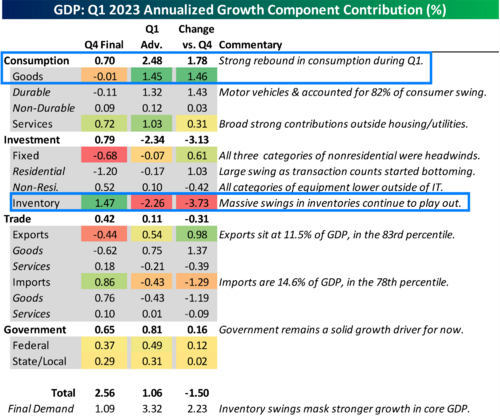 Mixed Bag #2
On the one hand, the U.S. consumer continues to charge ahead. Consumption was 2.48 percentage points of GDP growth. That's massive and clearly the U.S. consumer has not been impaired by the Fed's dramatic rate increase cycle. Especially when most of that consumption (1.45pp) occurred in the Goods category.
On the other hand, business was clearly much more cautious about the future state of the economy. Businesses decided to thin down inventories, with Inventory having a 2.26pp negative impact on GDP in Q1. It's like a tale of two cities – the consumer is doing one thing and business is doing the exact opposite. Perhaps business is more comfortable with supply chain issues and returning to a pre-Covid "just in time" inventory approach.
Mixed Bag #3
Inflation, as measured by the Core PCE index on a 3-month, 6-month, and year-over-year basis continued to moderate. 4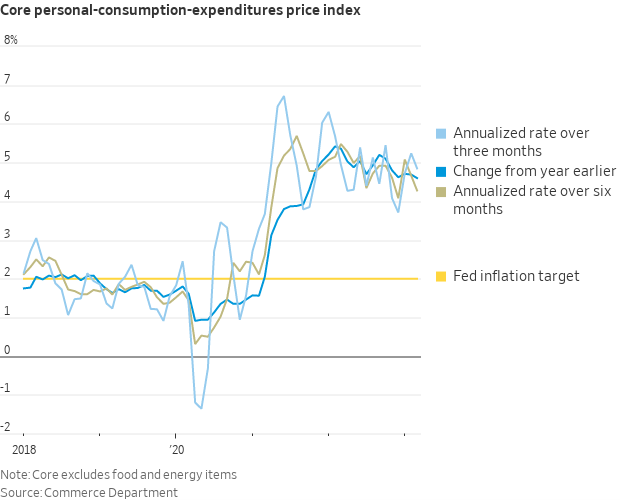 Yet wage growth continues to be a little stickier than expected, with quarter-over-quarter growth coming in at 1.2% and year-over-year at 4.8%. Inflation concerns will persist a little longer than anticipated. 5

Mixed Bag #4
While U.S. GDP cools and inflation still hangs in the air, corporate earnings are outperforming all expectations. Expectations were for corporate earnings to contract at a rate of -6.7% in Q1. With over half of the S&P 500 companies reporting, that contraction is only -3.7%. Considering 79% of reported companies are beating estimates, better outcomes should be on tap in the coming weeks. 6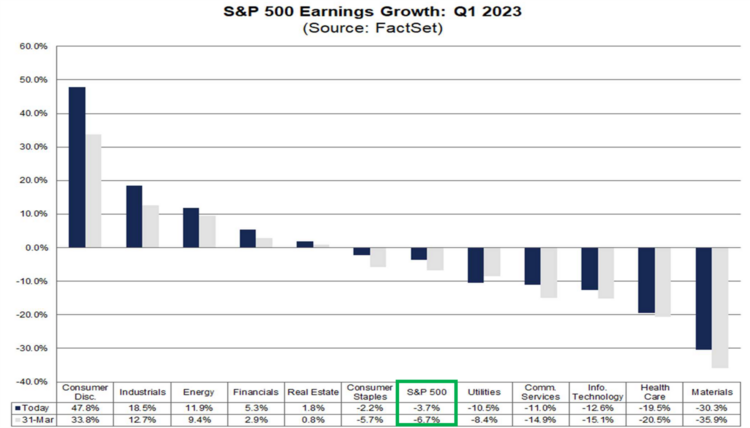 When it comes to mixed bags, the Fed should raise rates by 25bp this week, putting a bit more strain on regional banks and credit availability. Earnings should continue to come in better than anticipated and the economy should continue to drift toward a slowdown.
I will take a much brighter earnings outlook over the mixed bag of macroeconomic reports any day.
Another special note on bank failures: When you put money into a bank savings account, you are in effect lending your money to the bank. Your assets are commingled and used for loans and investments. Quite the opposite when you invest your money with a brokerage or investment custodian. Your assets are segregated and only for your use. See how Phillips & Company's custodian partner protects your assets by clicking here.
If you have questions or comments, please let us know. You can contact us via Twitter and Facebook, or you can e-mail Tim directly. For additional information, please visit our website.
Tim Phillips, CEO, Phillips & Company
Sources: