At the Doorstep of Deflation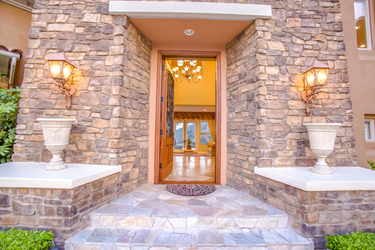 Are we at the doorstep of a disinflation or deflationary period? The latest report on core Consumer Price Inflation (CPI) would suggest not. Excluding food and energy, prices rose 4.1% year-over-year in September. 1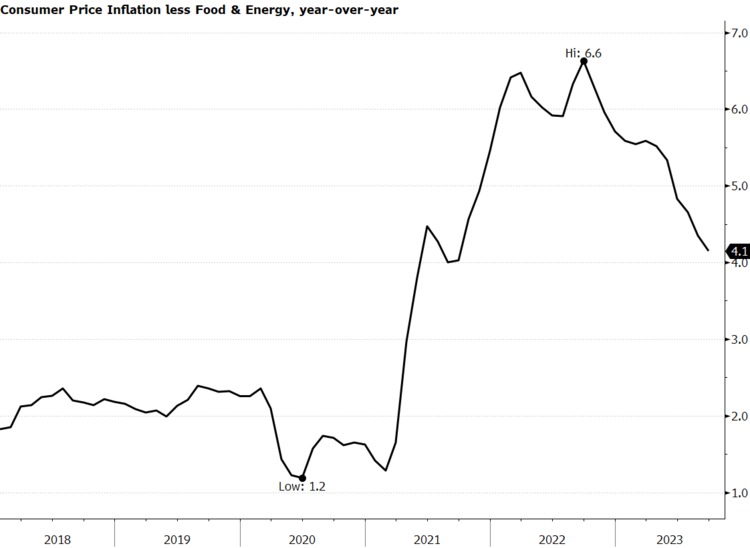 Further, core services prices, excluding housing, continue to inflate. 2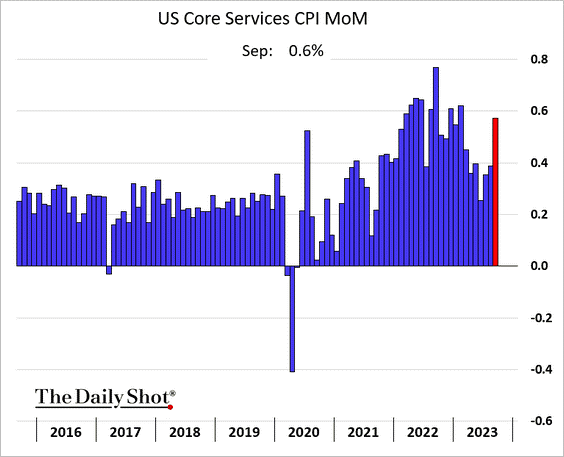 Keep in mind, services consumption (things like transportation, medical care, and recreation) represents about 30% of the CPI. 3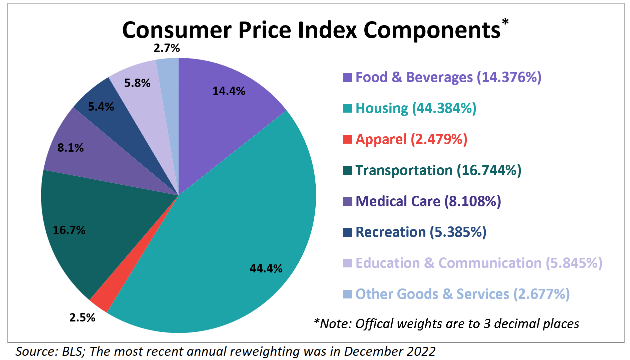 However, goods (real items we buy) prices have been on a deflationary trajectory over the last four months. When you add to this a collapse in shipping prices, you start to see the picture. 2 4

Now add to these disinflationary segments housing, which makes up 40% of the CPI, and it's very easy to see we are indeed at the doorstep to a cycle change. 2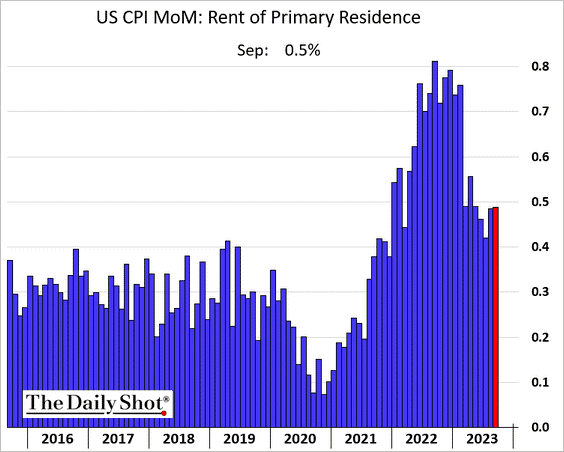 When you consider the explosive jobs report for September – where 336k jobs were added to the U.S. economy – you might think there is no chance for a disinflationary cycle. 5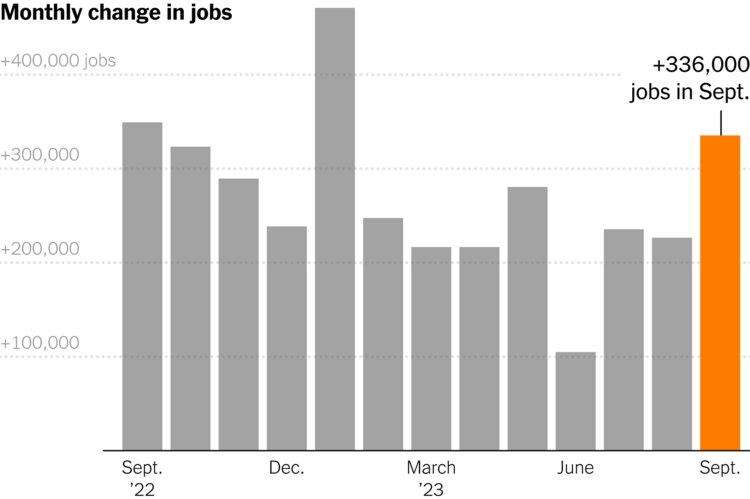 However, when you look at wages you quickly see those growth rates are moderating, especially in the booming Services sector. (Services sector in green overall in blue) 6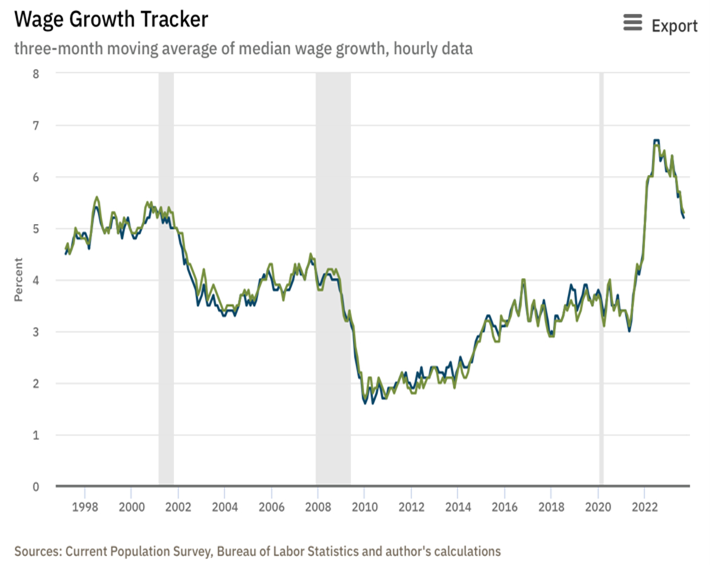 As of late, we have been strategically extending duration in fixed income as we anticipate a pause to the rate increase cycle (see our blog from last week) in the coming months. The risk/reward looks promising. 7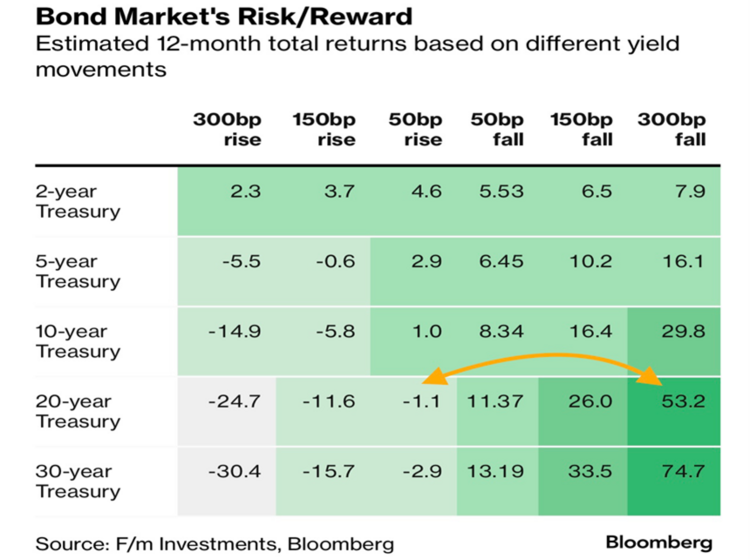 It's been a tragic week in the Middle East, with so much pain and suffering for innocent people. It puts the economic and capitalistic tendencies we have in the right perspective. War is terrible in all ways, and don't let anyone tell you it's good for the economy. Study after study suggests just the opposite. War, overall, reduces human capacity, growth trends, and consumption patterns. It increases debt and allocates capital to economic areas with less dynamic growth.
Bloomberg did a concise analysis of the possible outcomes of the current war in Israel. 8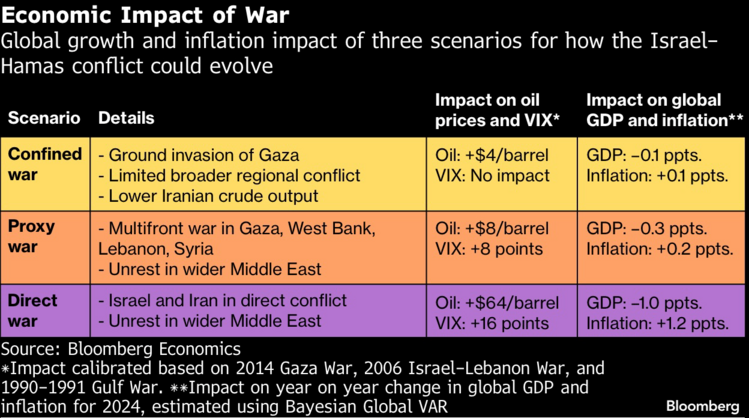 While we are on the doorstep of disinflation, I'd rather be on the doorstep of an end to the killing of innocent lives. My kids were born into the age of terrorism and unfortunately, they are now young adults living with terrorism as part of their lives. Sad!!!
If you know of anyone that needs support with a family that has a loved one being held hostage, Phillips & Company can direct them in getting the right support. We have long been affiliated with Hostage US. Just drop me an email and we can help.
If you have questions or comments, please let us know. You can contact us via Twitter and Facebook, or you can e-mail Tim directly. For additional information, please visit our website.
Tim Phillips, CEO, Phillips & Company
Sources: