The U.S. Consumer would appear to be taking a more cautious approach to their spending habits compared to last year's holiday shopping season. However, there may be a reversal in trend coming.
Black Friday sales were down by 1.5% over last year's numbers according to RetailNext. 151 million Americans partook in the Black Friday and Saturday shopping experience, far exceeding the 136 million shoppers forecasted to participate. While there is always an overemphasis on holiday sales, the season does represent about 20% of retail store revenues for the year. [i] [ii]
Further, the Personal Savings Rate for Americans is at its highest level in over three years (12-1-12). The savings rate has been growing since May 2015. [iii]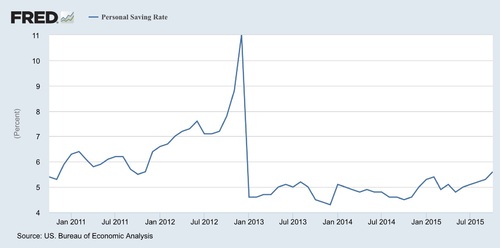 As most of our economy is based on consumption and spending, savings is contrary to our way of life.
Looking at consumption trends, we see some concurrent data. Consumption has been trending down for much of 2015. [iv]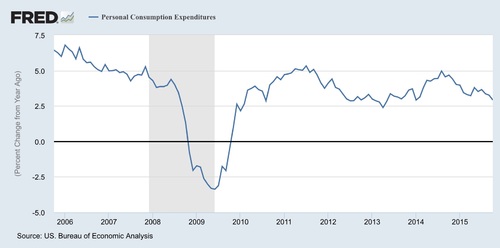 However, much of this can be attributed to a decline in gas prices. Gas makes up about 5% of all personal spending in the U.S., according to the Energy Information Administration. In fact, gas prices are predicted to be at their lowest level in 11 years. [v]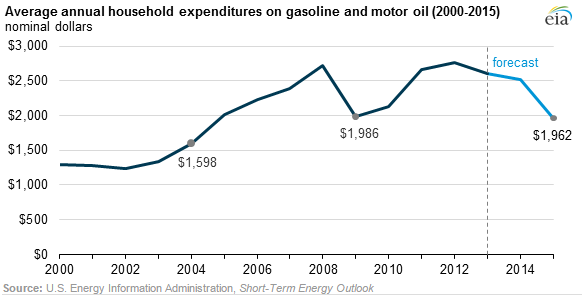 When we take a look at retail sales, in general, we also see some challenging data. Sales, which include E-Commerce numbers, look to be trending downward as well. Certainly some of this can be associated with lower sales at retail gas stations and lower prices from imported goods. However, the long-run trend in lackluster growth is hard to argue with. [vi]
Frugality is not an American ethos unless we are faced with concerns about our jobs and wages. When looking at those data points, perhaps we see some rationale for the increase in savings and a reduction in spending growth.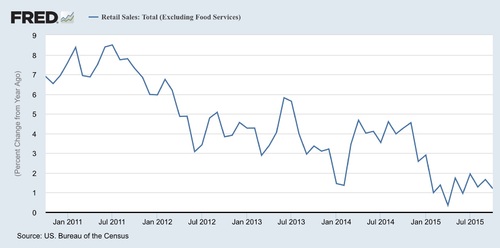 Personal income growth (which includes things like rental income, wages and salary, dividends and transfer payments) has been flat for much of the last couple of years when measured as a percentage change from last year. [vii]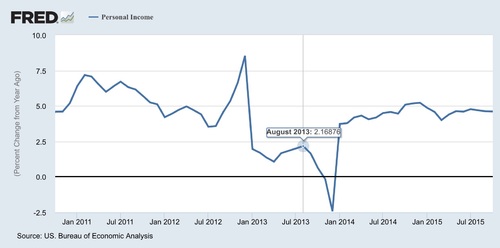 When you look at the same data on a monthly basis you see some recent improvement in personal income. The October improvement reverses a declining trend since April and can help act as a catalyst for consumers to let go of savings. [viii]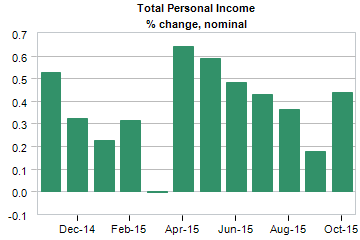 Combine this with American's attitudes about their job security and we might conclude we have seen a bottoming out in the savings and spending trends. Americans have some of their highest satisfaction with their job security (as measured by Gallup). [ix]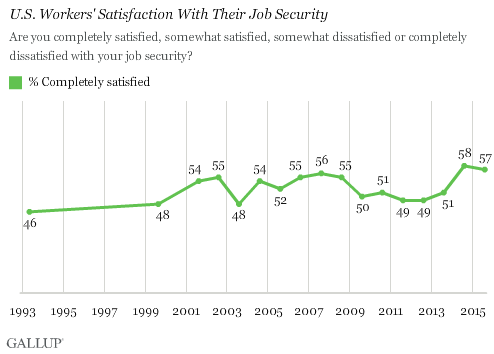 If the Fed does raise rates slowly and allows the labor market to overheat, we may see a large spike in wages. As long as consumers remain confident about their job security, this could unleash a wave of spending we've not seen since 2011. Perhaps we can move beyond just holding on and return to our freewheeling ways that stimulate growth and drive corporate earnings higher.
That's why we are positioned to take advantage of increases in consumer discretionary, healthcare, as well as financials.
If you have questions or comments, please let us know as we always appreciate your feedback. You can get in touch with us via Twitter, Facebook, or you can email me directly. For additional information on this, please visit our website.
Tim Phillips, CEO – Phillips & Company
Chris Porter, Senior Investment Analyst – Phillips & Company
References:
[i] http://www.cnbc.com/2015/11/29/black-friday-brought-in-151m-most-online-nrf-survey.html
[ii] http://fortune.com/2015/11/27/will-a-lackluster-black-friday-sink-the-u-s-economy/
[iii] https://research.stlouisfed.org/fred2/series/PSAVERT
[iv] https://research.stlouisfed.org/fred2/series/PCE [iv]
[v] https://www.eia.gov/todayinenergy/detail.cfm?id=19211
[vi] https://research.stlouisfed.org/fred2/series/RSXFS
[vii] https://research.stlouisfed.org/fred2/series/A067RX1A020NBEA
[viii] http://www.bea.gov/newsreleases/national/gdp/gdphighlights.pdf
[ix] http://www.gallup.com/poll/184952/americans-satisfaction-job-aspects-2005.aspx