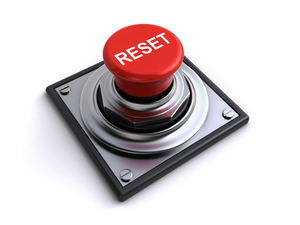 The recent high-level talks in Alaska between Secretary of State Anthony Blinken, National Security Advisor Jake Sullivan, and their Chinese counterparts are being viewed as a continuation of the Trump-era rhetoric. Certainly, from the public statements, it would appear to be the case.
The U.S. side lectured China on the handling of Hong Kong, the treatment of Uighur Muslims, and the South China Sea among other matters. [i]
"Each of these actions threaten the rules-based order that maintains global stability…that's why they're not merely internal matters, and why we feel an obligation to raise these issues here today"
Anthony Blinken, U.S. Secretary of State
"China has undertaken an assault on basic values…We do not seek conflict, but we welcome stiff competition"
Jake Sullivan, U.S. National Security Advisor
China uncharacteristically fired back with their own set of complaints, citing the treatment of African Americans, and not meddling in China's affairs. [i]
"The challenges facing the United States in human rights are deep-seated…They did not just emerge over the past four years, such as Black Lives Matter…So we do hope that our two countries manage our respective affairs well instead of deflecting the blame on somebody else in this world."
Yang Jiechi, Chinese Director of Foreign Affairs
"In the past several years, China's legitimate rights and interests have come under outright suppression…This has damaged the interests of our two peoples and this situation must no longer continue…China urges the U.S. to fully abandon the hegemonic practice of willfully interfering in China's internal affairs…and in particular, on the 17th of March, the United States escalated its so-called sanctions on China regarding Hong Kong…the Chinese people are outraged by this gross interference in China's internal affairs and…is firmly opposed to it."
Chinese State Councilor Wang Yi
Both sides came prepared to make public statements designed for their respective domestic audiences. The Chinese population devoured the pushback, with over two billion views on WeChat and other social media outlets in China.
However, behind closed doors, and not widely reported, both sides took a more conciliatory tone and found common ground on issues like Iran, North Korea, Afghanistan, and climate change.
Maybe this is a form of Dual Face Diplomacy– say one thing in public and do another in private.
In any case, it's clear China has become too big of an economic power to bully. With China's economic growth expected to surpass that of the United States by 2028, perhaps U.S. diplomats will need to take another approach that has eluded us since the 1940s. [ii]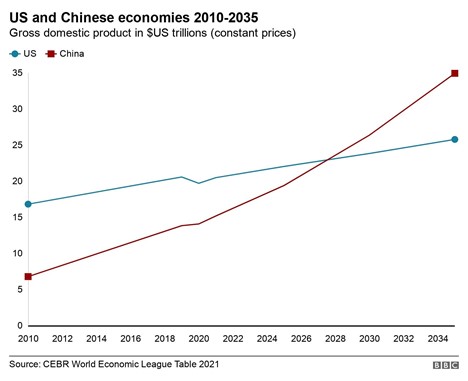 While China's official 2021 GDP target is around 6% growth, consensus expectations are in excess of 8%. [iii]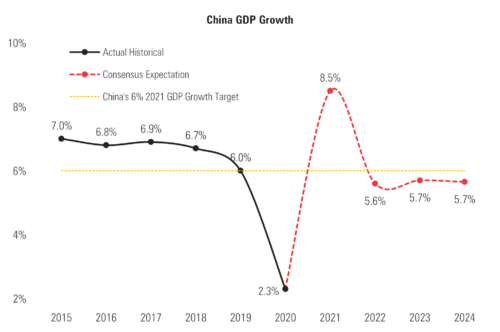 2021 China output is expected to expand dramatically. [iv]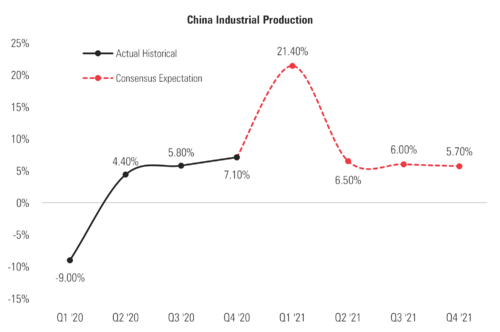 China's total output will count for approximately 1% of total global GDP growth which is targeted at 4%. Put another way, China will represent about 25% of global growth while the United States will only count for around 15% according to World Bank estimates. [v]
Looking at their 14th Five Year Plan released in early March gives some specific objectives going forward: [vi]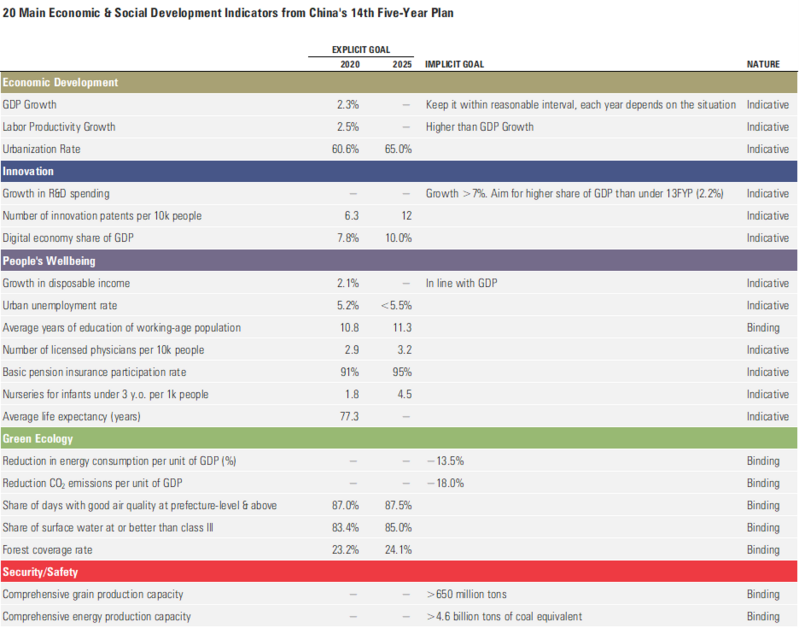 Beyond the macro themes, China has tremendous growth in environmental industries, specifically in Electric Vehicles. [vii]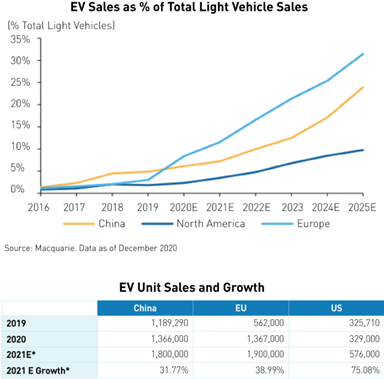 This should drive a global demand for industrial metals, especially copper. [viii]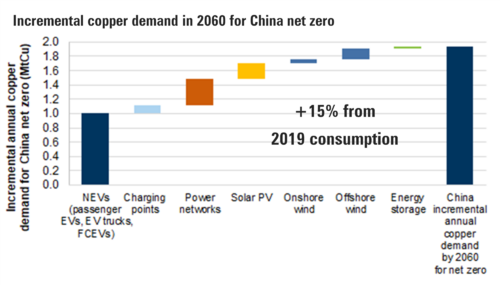 Many of these inputs may lead to significant corporate earnings per share growth for 2021 in the China A equity market. [ix]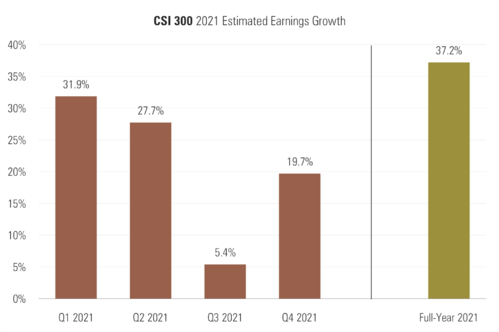 Based upon current valuations, China could represent one of the best growth economies and markets for 2021.
While the U.S. political class tries to thread a very thin needle of politics vs. policy, the economic power struggle between the U.S. and China will dictate a necessary understanding between the two powerhouses. A U.S.-China reset must be in the making.
If you have questions or comments, please let us know. You can contact us via Twitter and Facebook, or you can e-mail Tim directly. For additional information, please visit our website.
Tim Phillips, CEO, Phillips & Company
Sources:
i. https://hk.usconsulate.gov/n-2021031801/
ii. https://cebr.com/reports/world-economic-league-table-2021/
iii. https://www.bloomberg.com/quote/CNGDPYOY:IND
iv. https://tradingeconomics.com/china/industrial-production
v. https://www.worldbank.org/en/publication/global-economic-prospects
vi. https://www.carbonbrief.org/qa-what-does-chinas-14th-five-year-plan-mean-for-climate-change
vii. https://kraneshares.com/electric-vehicles-future-mobility-hockey-stick-growth-mode/
viii. https://research.gs.com/
ix. http://www.csindex.com.cn/en/indices/index-detail/000300