Consumer Strength & Corporate Strength
If a recession is coming consumers sure don't know it. The University of Michigan Consumer Sentiment Index increased for the third consecutive month, the number came in at 66.4 in February, up from 64.9 in January. 1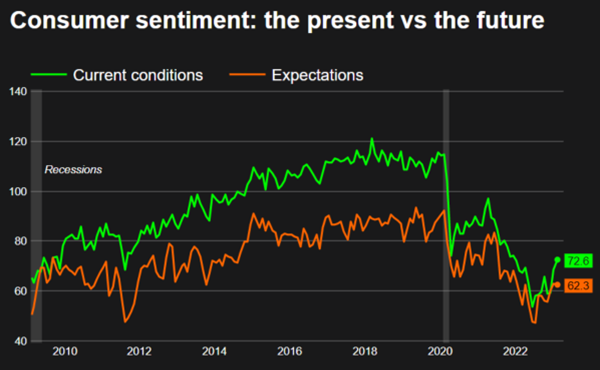 Yet corporate earnings in the fourth quarter have been mixed, with both investors and companies focused on the trajectory for corporate profit margins and their recent compression. 2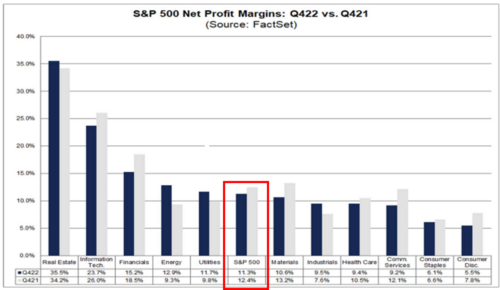 So where are we in the business cycle? If you focus on jobs, the U.S. economy is headed toward a soft landing as average job gains remain on a smooth downward trajectory – including January's strong report. 3
Consumers' debt load remains manageable as well. Consumers hold much less debt now relative to previous cycles. After the Great Financial Crisis, consumers started aggressively deleveraging. Overall debt payments as a percent of disposable income declined and remained steady until the pandemic and just recently the debt service burden on the American household moved back up to pre-pandemic levels but is still relatively low. 4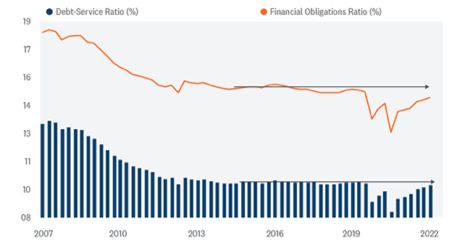 The job market is tight, which means personal income growth is supporting consumer spending along with the accumulated excess savings from the pandemic. 5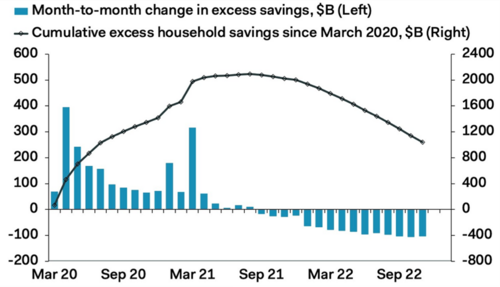 The outlook for economic growth and corporate profits is always a good place to start when forming a view of the equity markets, but that's only the first step. Next is the tougher question – what's priced in?
The simple way to answer this question is with a basic price-to-earnings ratio. On a trailing four quarter basis, the S&P 500 is trading at a P/E of 19.6x, in line with the 30-year average. That suggests valuations are fair and that a soft landing, or a short-lived, mild recession, is probably priced in.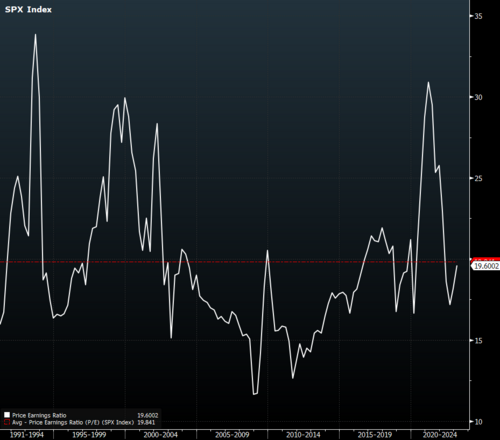 The 15% move for the S&P 500 off the lows last October, despite the weakening earnings outlook, looks to be signaling the market and consumer are pricing in a more optimistic outlook for the economy and corporate profits. Recent strength in the jobs market, while potentially worrisome for the Fed, along with healthy consumer balance sheets and manageable debt loads are positioning the U.S. economy to muddle through.
If you have questions or comments, please let us know. You can contact us via Twitter and Facebook, or you can e-mail Tim directly. For additional information, please visit our website.
Tim Phillips, CEO, Phillips & Company
Sources:
Bloomberg