Consumers Bullish, Investors Bearish – Don't Bet Against America
Finally, there's some good news from the consumer. Retail sales were up 1.2% from last month with gains in almost all sectors.[i]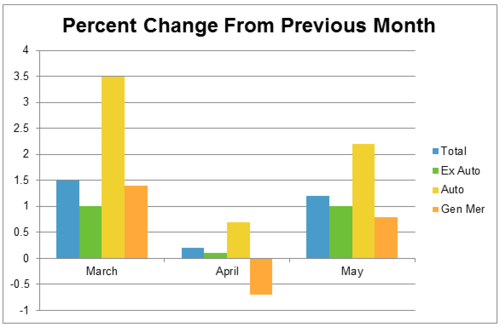 On a year over year basis retail sales are up 2.7% and if you exclude auto and gasoline they are up 4.3%. Perhaps we are finally seeing the consumer part ways with their gasoline savings they have accrued over the last year.[ii]
Simultaneous to an improving consumption picture we are getting pretty negative readings from individual investors.[iii] The American Association of Individual Investors, or AAII (an organization that measures individual investor sentiment), has just posted its worst reading since March 2009.
AAII takes a survey of their individual investor members and measures their sentiment. As you can see from the graph below they are the least bullish they have been since March 5th, 2009. On that date in 2009, GM said their survival was in "substantial doubt" as noted in their annual report.[iv] The UK also announced the beginning of their quantitative easing.[v] Note the 3 month moving average (green line).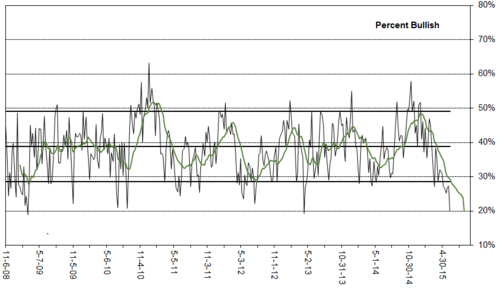 Coincidentally, that happens to be almost the exact start of one of the greatest bull markets in the history of the world.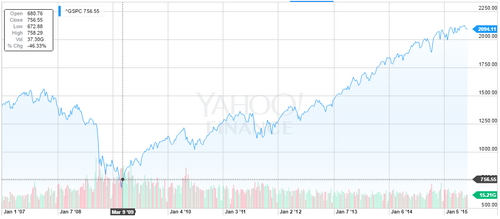 The oddity is individual investors and consumers are one in the same. So do we believe the retail sales data or do we take caution from their very pessimistic investment sentiment?
It appears even the professionals at the AAII suggest their data is very predictive and contrarian. In cases where the bullish readings were one standard deviation below their mean of 38.8% the markets rallied on average 6.9% in 6 months 80% of the time.[vi]

Astonishingly, when members were 2 standard deviations below mean, the markets rallied an average 14%, 100% of the time. Note we are very close to 2 SD below the mean.
Could this be another period of time when the individual investor is wildly wrong?
With earnings expected to shrink by -4.6% in Q2, according to Fact Set, it's hard to imagine markets rallying.[vii] It's also hard to imagine how pessimistic GM was on March 5th 2009 and look at them today. They are selling over 9 million cars and trucks each year, earning an adjusted EBIT of $6.49 billion in FY2014.[viii][ix]
In the long run, it's just not smart to bet against America, even if American's go negative.
If you have questions or comments, please let us know as we always appreciate your feedback. You can get in touch with us via Twitter, Facebook, or you can email me directly. For additional information on this, please visit our website.
Tim Phillips, CEO – Phillips & Company
References
[i] US Census Bureau (June 11, 2015) Advance Monthly Sales For Retail And Food Services May 2015
[ii] Moody's Analytics (June 11, 2015) United States: Retail Sales
[iii] American Association of Individual Investors (June 11, 2015) Sentiment Survey
[iv] CNNMoney (March 2009) GM: 'Substantial doubt' about survival
[v] The Guardian (March 2009) Bank of England cuts rates to 0.5% and starts quantitative easing
[vi] American Association of Individual Investors (June 11, 2015) Sentiment Survey
[vii] FactSet (June 12, 2015) Earnings Insight
[viii] GM News (January 2015) GM Delivers its Second Consecutive Year of Record Global Sales
[ix] IHS (February 2015) GM delivers adjusted EBIT of USD6.49 bil. In 2014 on USD155.9 bil. of revenue