Delta Variant = No Shutdown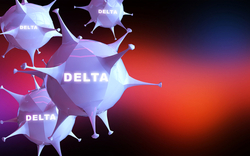 As we face another media-driven week that will focus on the expanding delta variant of the COVID-19 virus, it is critical we do not apply old thinking to today's circumstances.
The virus is on another surge, with new cases back to levels we have not seen since April/May. The delta variant represents over 80% of current cases in the United States. [i]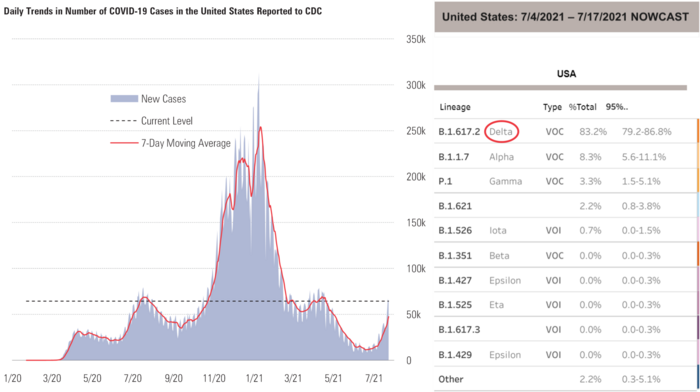 In the old pandemic playbook, you would see economies shutdown and a market correction of over 30%. [ii] [iii]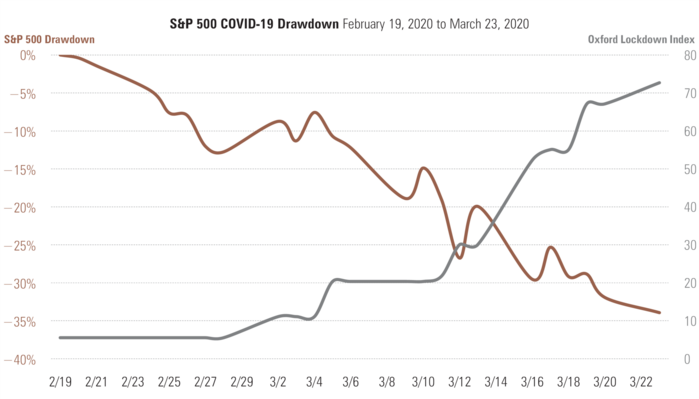 However, the rapid expansion of the delta variant is not leading to mass hospitalizations amongst the populations that are well-vaccinated. [iii]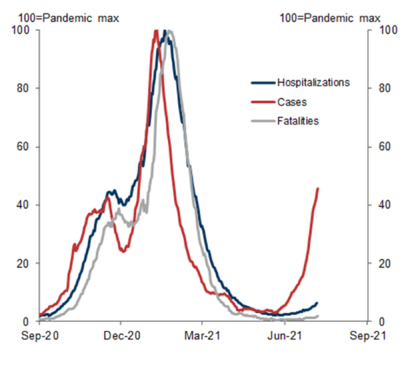 If vaccines are a prophylactic to the delta variant, then it's likely global GDP will not be materially impacted. Fortunately, the two major growth drivers for global GDP – the United States and China – represent nearly 41% of global GDP and are at higher levels of vaccination. [iii]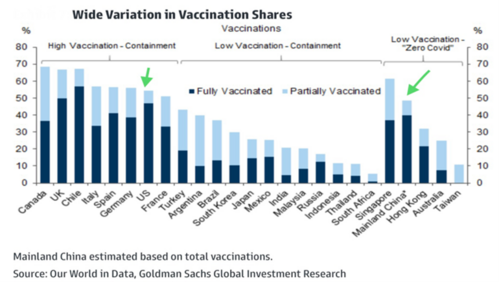 Further, much of the globe is gaining ground on vaccination, with the exception of Africa. [iii]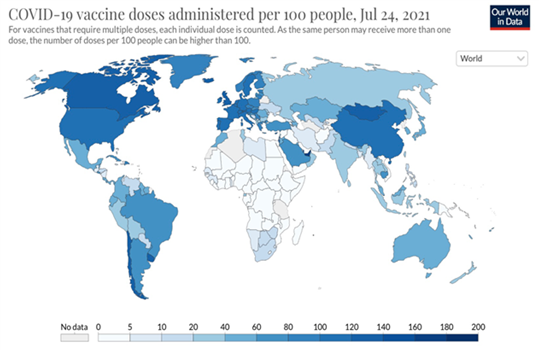 While this will prove to be a human tragedy that needs immediate attention, the economic impact will be limited. Africa represents only 3% of global GDP.
Perhaps that's why a recent CFO survey by the Richmond Federal Reserve still suggests attitude amongst C-Suite executives continues to improve. This is despite the rapid expansion of the delta variant. [iv]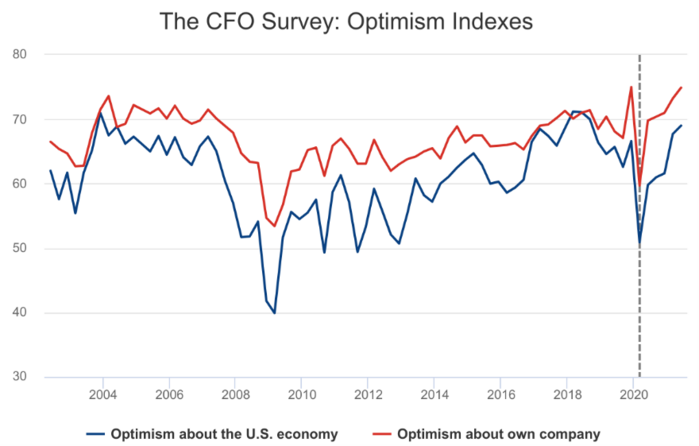 Unfortunately, humans like to find data that supports their views (confirmation bias) and they will find some of that. First, the recent jobless report suggested a sizable increase in those claiming jobless benefits. [v]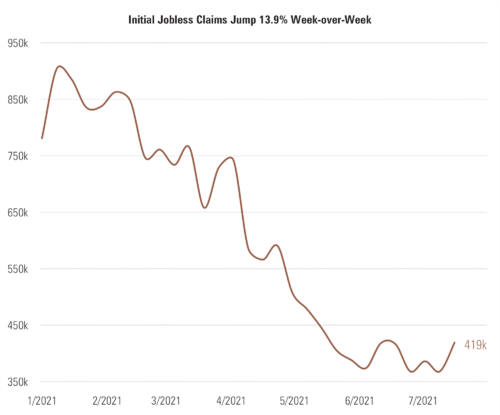 However, the fact is, this report contains plenty of seasonality in it. The increase could reflect seasonal variations in the data, which is typical in July, when the timing of the Independence Day holiday and scheduled factory shutdowns vary year to year.
Further, this Thursday we will get U.S. GDP data for the second quarter. While that number will show substantial growth, it will be down from prior expectations. According to consensus estimates, Q2 GDP was expected to come in at 12.8% growth. [vi]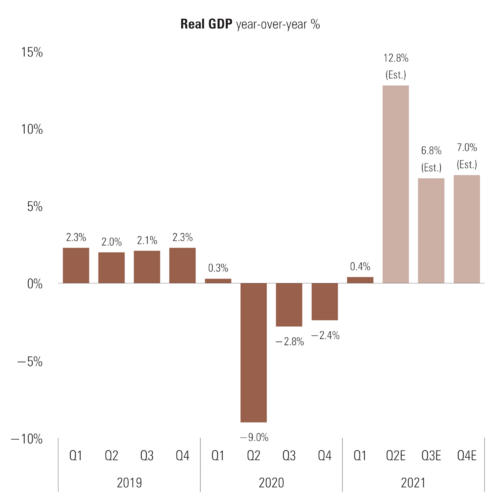 On a quarterly basis, current expectations are for Q2 GDP to come in at just under 8%, down from a peak of 13.5%. [vii]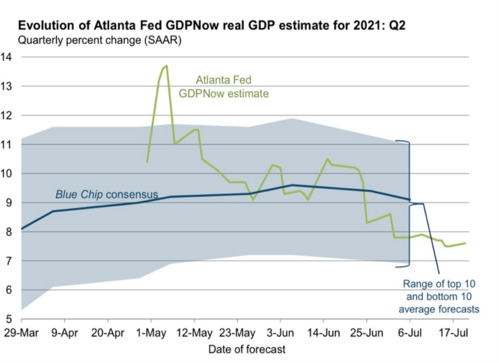 Again, some might point to this downshift as COVID-related but, the fact of the matter is much of the revisions are due to changes in non-residential fixed investments (tools, machinery, factories), inventories (partially due to supply chain constraints), and residential investments as extremely high prices put a slight restrictor on a hot housing market. Consumption generally held its own. [vii]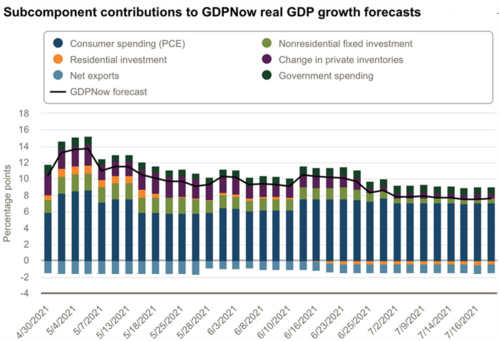 Further, high frequency measures show the reopening is continuing with no real pause. Apple mobility stats and OpenTable data suggest just that. [viii] [ix]

Everyone has their own set of facts these days and it is easy to find support for any narrative. My view is the delta variant, while highly transmittable, won't create another economic lockdown. However, we should always leave room for doubt.
To that end, the last economic lockdown caused the shortest recession on record at three months with a 33% drawdown in the S&P 500. [x]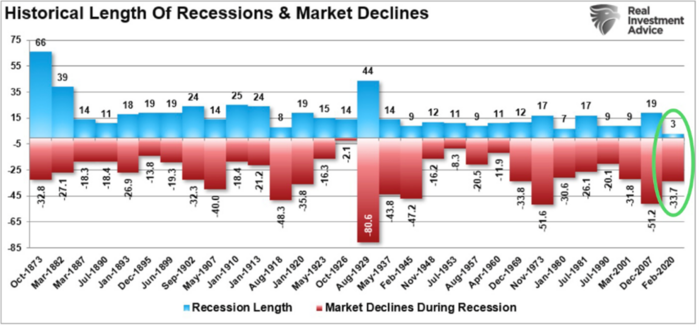 That's substantially better than the averages since 1900 of 15.74 months in duration and an average drawdown of 47.22%. [x]

I realize the reason the recession was so short was due to extraordinary fiscal and monetary stimulus. Does anyone really believe those same fiscal and monetary inputs won't reappear if the delta variant does cause a lockdown?
Variants or not; the probability of a shutdown is very low.
If you have questions or comments, please let us know. You can contact us via Twitter and Facebook, or you can e-mail Tim directly. For additional information, please visit our website.
Tim Phillips, CEO, Phillips & Company
Sources:
i. https://covid.cdc.gov/covid-data-tracker/#trends_dailytrendscases
ii. https://www.bloomberg.com/quote/SPX:IND
iii. https://ourworldindata.org/
iv. https://www.richmondfed.org/cfosurvey
v. https://fred.stlouisfed.org/graph/?g=FG9P
vi. https://www.bloomberg.com/quote/EHGDUSY:IND
vii. https://www.atlantafed.org/cqer/research/gdpnow
viii. https://covid19.apple.com/mobility ix. https://www.opentable.com/state-of-industry
x. https://seekingalpha.com/article/4441119-macroview-shortest-recession-in-history-sets-up-next-recession