Continuing with our "Policy Driven World" narrative, this past week we saw the Fed once again pass on an interest rate increase. Let's take a look at why.
It's clear by almost any measurement that the U.S. economy is growing more dependent on the U.S. consumer.
In fact, if you deduct the growth in government spending, business investment, and net exports, the U.S. economy would actually be in a recession. Put another way, the U.S. consumer is running the entire show as it relates to GDP. [i]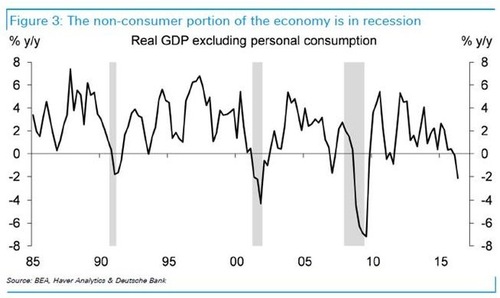 In our upcoming Q4 Look-Ahead, we will assess the shape of the U.S. consumer in order to shed some light on their ability to prop up our economy.
We know that Federal Reserve Governors are growing more sanguine about future growth in our economy. Based upon their stated opinions, the average growth expectation is between 1.75% and 2.25% in the years to come. [ii]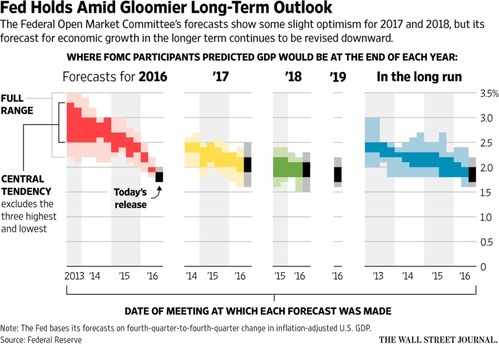 However, that's hardly enough to create the necessary jobs for a growing population, let alone to accelerate wage growth, price appreciation, and meet our other social obligations such as Social Security and Medicare.
Recent NowCasts by the N.Y. Federal Reserve for Q3 2016 GDP have dropped precipitously from 3% growth down to 2.3%. I would expect further downshifting in the coming weeks. [iii]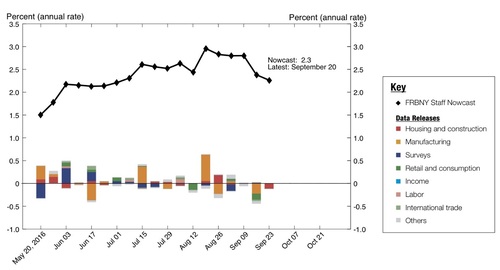 Additionally, U.S. companies are expected to post their 6th consecutive quarter with zero earnings growth, which is also not helping matters. As you can see in the chart below, our friends at FactSet are now expecting another round of contracting earnings (-2.3%) growth for Q3. At the end of Q2, FactSet had forecasted a slight uptick in Q3 earnings growth (0.3%). [iv]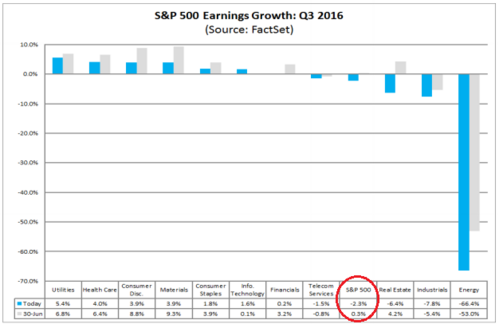 Yet, we know that when the Fed acts, markets generally respond favorably. [v]

Perhaps investors are growing comfortable with the fact that any negative economic event will be met with some kind of stimulative monetary policy.
The Fed might just realize that the economy, which is normally only 70% dependent on consumers, is currently completely dependent on the consumer. [vi] With an absence of business investment, a strong dollar which is impacting exports, and an inept Federal Government, we are currently in full dependency mode towards the U.S. consumer.
It's hard to fight the Fed, but let's make sure that we're aware of the risks when they do eventually decide that they cannot lift our economy beyond the anemic 1.5% -2% growth.
If you have questions or comments, please let us know as we always appreciate your feedback. You can get in touch with us via Twitter, Facebook, or you can email me directly. For additional information on this, please visit our website.
For additional information on this, please visit our website.
Tim Phillips, CEO – Phillips & Company
Chris Porter, Senior Investment Analyst – Phillips & Company
References:
[i] BEA, Haver Analytics & Deutsche Bank
[ii] Wall Street Journal
[iii] https://www.newyorkfed.org/medialibrary/media/research/policy/nowcast/nowcast_2016_0923.pdf
[iv] https://www.factset.com/websitefiles/PDFs/earningsinsight/earningsinsight_9.23.16
[v] https://fred.stlouisfed.org/graph/?g=7r05
[vi] http://www.businessinsider.com/us-consumer-only-thing-not-in-recession-2016-8