As we approach the end of this political silly season, it's not surprising to see the range of concerns shared by investors and advisors alike.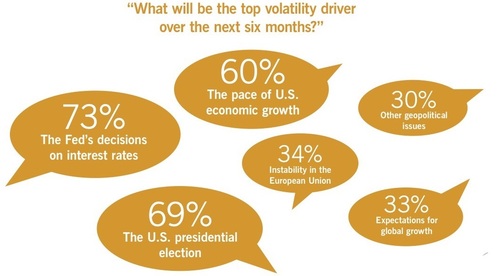 Taken from the Eaton Vance Top-of-Mind Index survey: [i]
The Fed's impending rate rise is the top concern
Following in second place is the Presidential election
And in third is the muted pace of economic growth
It's quite surprising to me that we don't see the lack of corporate earnings as one of the top concerns, seeing as how earnings and cash flows are the long-term determinants of stock valuations. [ii]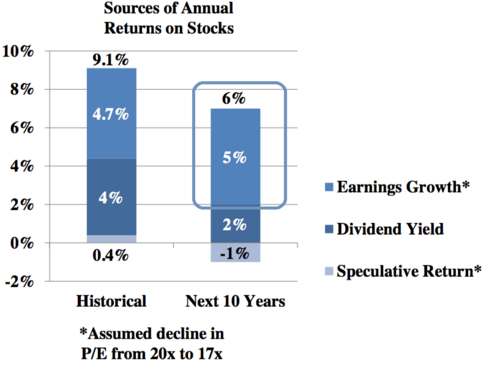 If we look beyond the immediate future, these "tail risks" are the top concern to investors. [iii]

This particular survey suggests that investors are more concerned about the issues surrounding the European Union than they are with the rising credit rates or politics. [iv]
Currently, there is no doubt that the "Wall of Worry" investors will need to climb is significant.

From the Eaton Vance Survey, we see that:
Advisors don't look at volatility as an opportunity
The vast majority of clients are more motivated by fear instead of greed
Perhaps not surprisingly, there seems to be a healthy dose of paralysis in the markets.
In fact, the paralysis is showing up in the hard data. According to a recent survey, mutual fund managers are holding as much cash as they did after the collapse of Lehman Brothers, the most uncertain time of the financial crisis. [v]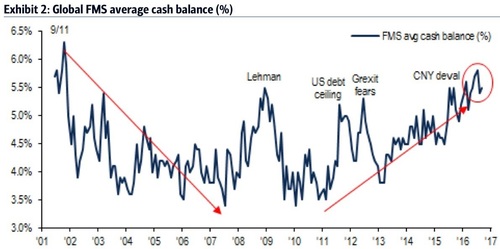 As issues are resolved, one could reasonably expect the cash to be redeployed back into the markets, perhaps fueling another leg upwards.
In fact, if you assess the issues, there does seem to be some clarity:
The U.S. Election has a set time frame. (With a possible Florida recount exception)
The Fed will likely move rates up another 25 bps. (With another statement about "lower for longer")
The EU telegraphed more extraordinary policy measures to boost their economy. Brexit threats will subside as trade deals become hard to come by for Britain. (Although this concern will likely linger)
We are in corporate earnings season and with expectations so low, its likely earnings will beat Wall St. expectations.
Generally, the time to invest is when the investor sentiment is dominated by uncertainty. Personally, I'm convinced that the institutional money will move out of cash and chase the markets again.
If you have questions or comments, please let us know as we always appreciate your feedback. You can get in touch with us via Twitter, Facebook, or you can email me directly. For additional information on this, please visit our website.
Tim Phillips, CEO – Phillips & Company
Chris Porter, Senior Investment Analyst – Phillips & Company
References:
[i] https://funds.eatonvance.com/includes/loadDocument.php?fn=21237.pdf&dt=fundPDFs
[ii] http://www.mymoneyblog.com/bogle-10-year-stock-bond-return-forecasts-2015.html
[iii] /files/1814/7733/9879/BofA_ML_Survey.pdf
[iv] https://funds.eatonvance.com/includes/loadDocument.php?fn=21237.pdf&dt=fundPDFs
[v] /files/1814/7733/9879/BofA_ML_Survey.pdf