Energy Deflation and Consumer Inflation
It appears market participants are growing more concerned about global deflation rather than focusing on the benefits of cheaper energy prices.
Across the spectrum of commodities you can see noticeable drops in prices.[i]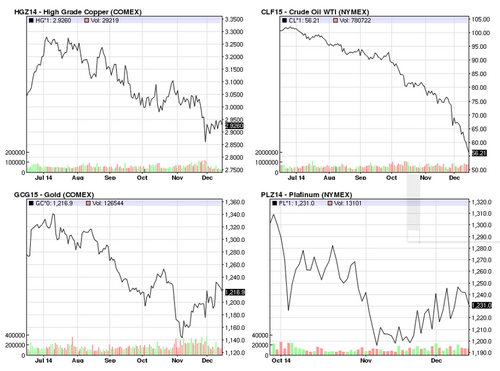 As most of these are industrial commodities, their prices certainly forecast a global slowdown. The steep price decline in oil, about 45% since July, has more to do with the current supply/demand imbalance in the market. The more moderate declines in the other commodities of about 6% to 11% suggest a slight global slowdown.
In fact, the IMF has lowered global GDP growth forecasts for this year as well as 2015 by 0.1% and 0.2% respectively.[ii]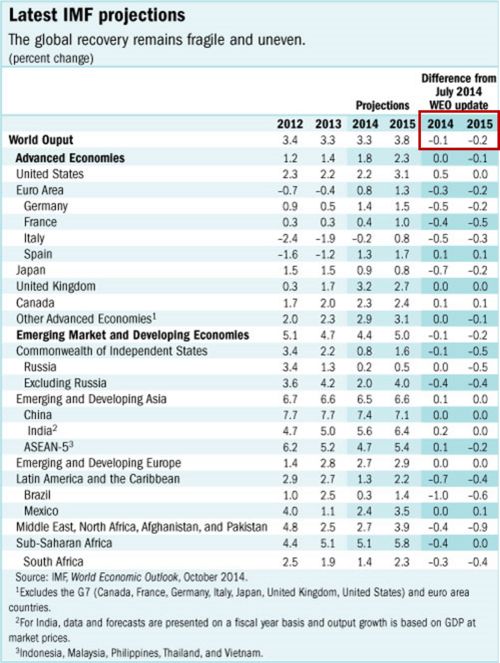 The challenge for investors is to consider the slowdown relative to the benefits of much lower energy prices. Many of the largest economies in the world are energy importers. Up until recently, this included the United States. Earlier this year, the US government allowed us to start exporting ultra-light oil for the first time since 1974.[iii] The US government continues to debate ending the 40-year ban on crude oil exports.
You can see from the chart below which countries will add growth to GDP from much lower oil prices. Besides the losers on the chart, the other big losers not listed will be: Nigeria, Iran, Libya, Iraq, Saudi Arabia, Brazil, Venezuela and ISIS.[iv]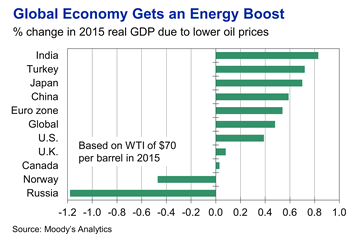 When you think about a global GDP of $77 trillion, the winners amount to over 65% of that global GDP whereas the large losers only amount to about 9% of global GDP.[v]
Sure there will be small hits to capital expenditures on oil and gas equipment, but the vast majority of GDP growth comes from consumer spending as opposed to business spending.[vi]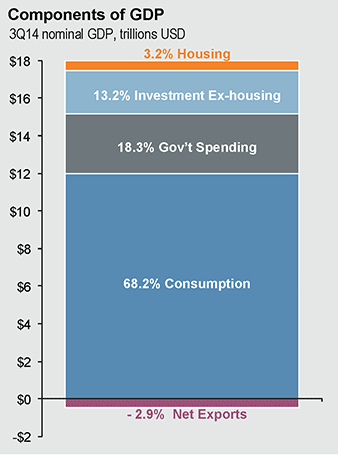 While it's certainly a time for caution, the overwhelming data suggest lower oil prices benefit the larger contributors to global growth. Certainly a period of slowness may be around the corner, but that could easily be offset by more global consumer spending.
If you have questions or comments, please let us know as we always appreciate your feedback. You can get in touch with us via Twitter, Facebook, or you can email me directly. For additional information on this, please visit our website.
Tim Phillips, CEO – Phillips & Company
Jeff Paul, Senior Investment Analyst – Phillips & Company
References
[i] NASDAQ. (Dec 15, 2014).
[ii] International Monetary Fund. (Oct 7, 2014). Global Growth Disappoints, Pace of Recovery Uneven and Country-Specific.
[iii] Gallucci, M. (Nov 7, 2014). Larry Summers Says Lifting Export Ban on US Crude Oil Would Lower America's Gasoline Bills. International Business Times.
[iv] Zandi, M. (Dec 12, 2014). U.S. Macro Outlook 2015: Spirits Unleashed. Moody's Analytics.
[v] Knoema.com (Dec 15, 2014). World GDP Ranking 2014. Data from IMF World Economic Outlook, October 2014.
[vi] JP Morgan. (Nov 30, 2014). Q4 2014 Guide to the Markets. p 17.