Everything Looks Volatile- Except the Markets!
Ninety-three consecutive days have passed without the S&P 500 experiencing more than a 1% decline during a trading session.i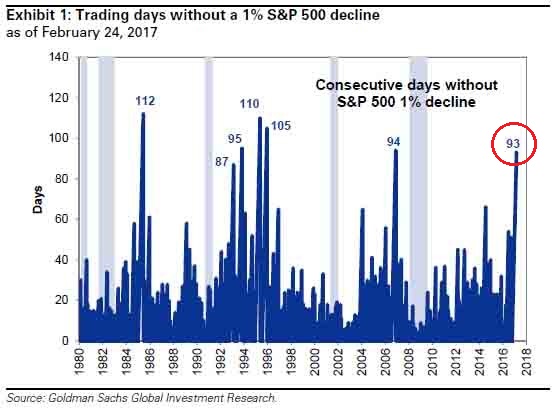 In fact, general market volatility, as measured by the VIX, is at historically low levels unseen since 2006, and prior to that, 1995.ii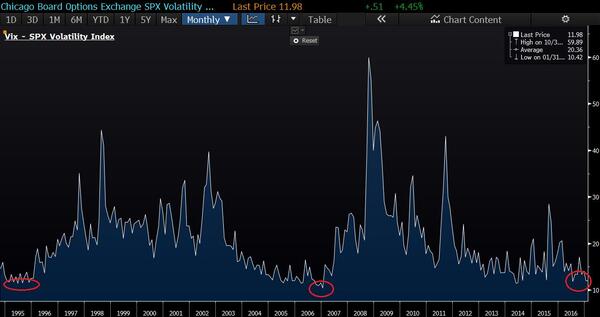 What's driving volatility to these historically low levels and subsequently sending U.S. stocks to all-time highs? 
One reason may be that companies are beating very low earnings expectations.  According to our friends at Bespoke, the rate at which companies are beating their earnings expectations has been on the rise over the last three years.  Note the recent spike to four-year highs, as represented by the blue line in the Rolling 3-Month EPS Beat Rate for US Companies.iii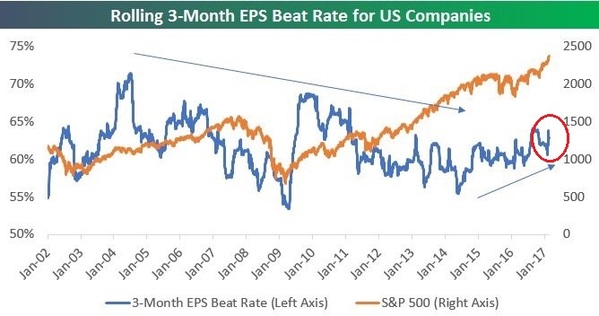 How long can these low-volatility rallies continue? 
Apparently, long-duration, low-volatility rallies can last awhile, leading to healthy gains. Extended periods of time in which markets experience greater than eighty-five trading days without a 1% decline, tend to have substantial returns in subsequent periods.  Amazingly, gains have averaged 15% over the following twelve-month periods:i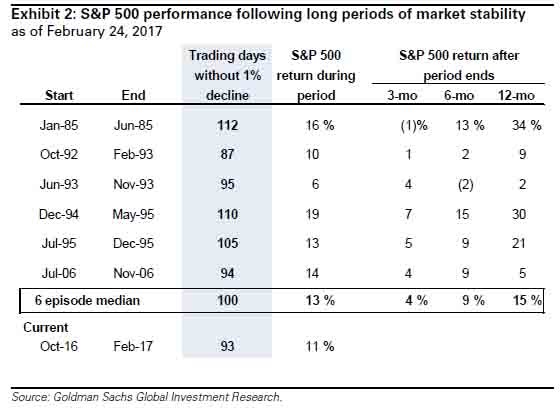 However, there are a few looming macroeconomic themes that may disrupt the ongoing low-volatility rally: 
French elections in the coming months may lead to further disruption in the European Union
UK's "Brexit" from the European Union
Ongoing rate increases by the Federal Reserve
U.S. political risks that may rattle our economy and the transition to fiscal policy
In my opinion, some of these themes may already be baked into upcoming earnings expectations.  The descending revisions to earnings estimates in 2017 are compelling evidence alone.  According to Fact Set, S&P 500 earnings estimates continue to have downward revisions for Q1 2017.iv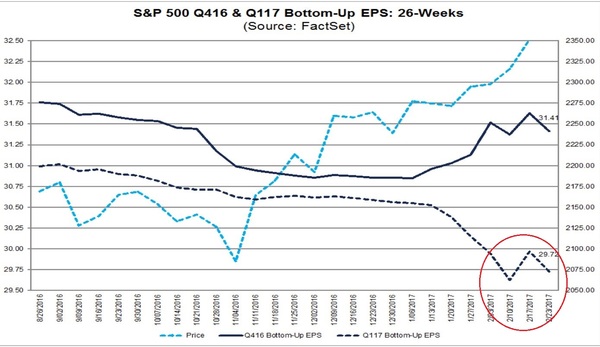 However, downward revisions to earnings expectations also make it easier for companies to beat those expectations in the future.  Combine this evidence with the recent decline in bond yields and you get some very mixed signals.v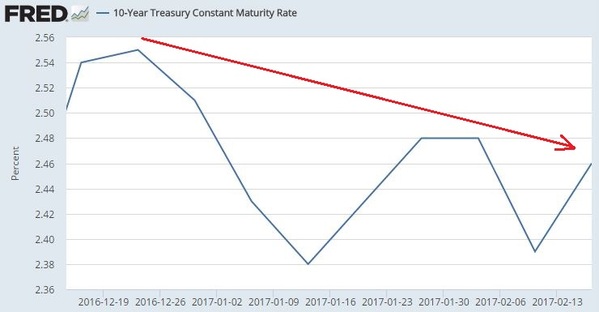 Almost everything looks volatile from an investor's perspective, except for one simple truth: The longer you hold proven asset classes, the less long-term volatility you will likely experience.vi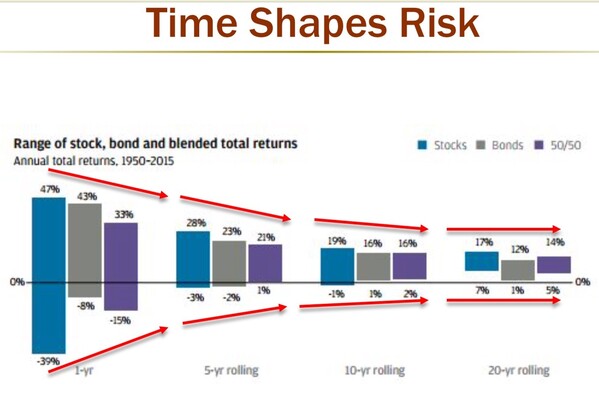 Sometimes, even in our low-volatility world, simply holding onto your assets can make more sense. 
If you have questions or comments, please let us know.  We always appreciate your feedback. You can get in touch with us via Twitter, Facebook, or you can email me directly. For additional information, please visit our website.

Tim Phillips, CEO – Phillips & Company 
Robert Dinelli, Investment Analyst – Phillips & Company