In spite of the continued corporate earnings recession (now in its 5th consecutive quarter), the U.S. Consumer looks resilient and getting even stronger.
The most recent Jobs Report was a blockbuster. The U.S. Economy added 255,000 jobs during the month of July. Most of the gains came in the private sector and in particular service jobs. [i]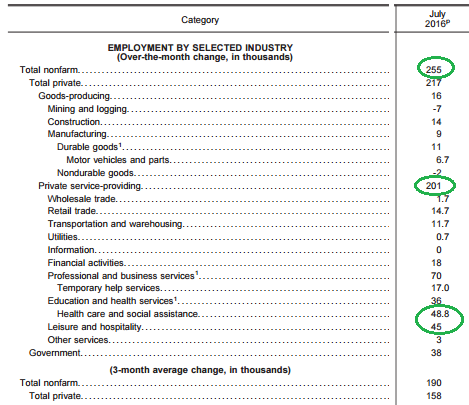 You can see job growth was particularly strong in healthcare, leisure, and hospitality as well as retail trade and business and professional services. This all bodes well for a strengthening consumer.
In fact, more people came off the sidelines to join the labor force which can add significant depth to our overall economic strength. [ii]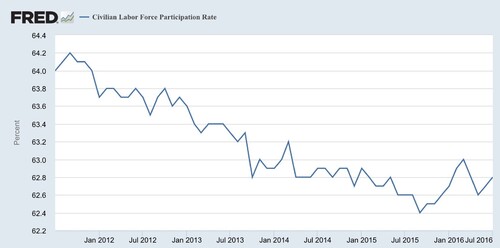 Further, wages are continuing to power forward with a year-over-year increase of 2.6%. We are finally seeing some consistent increases in wages as we come off the bottom of the Financial Crisis. [iii]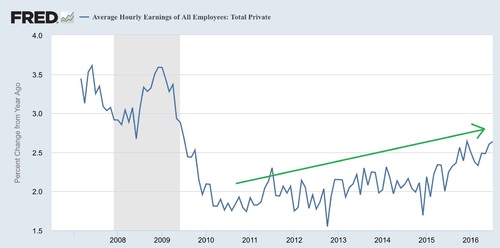 Confirming the strength in the consumer is their willingness to spend down their savings. Dropping the personal savings rate from 6.2% to 5.3% is a 14.5% drop, and that adds roughly $100 billion dollars into our consumer-driven economy. More importantly, this generally speaks to worker confidence in the economy. [iv]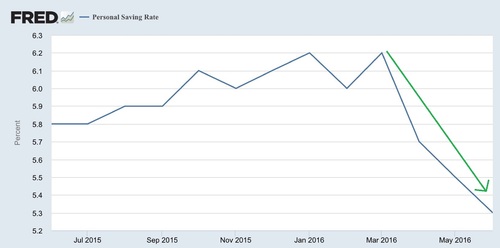 While the political silly season should be throwing some caution to the consumer, it certainly was not reflected in the July data.
The U.S. Consumer looks to be gathering strength along with our economy. We are fighting some serious negativity in the political process but the economy looks strong enough to overcome the rhetorical headwinds and presidential political speak.
We are now expecting to see a rate increase in the coming months, however the strength of the consumer should power corporate earnings out of the malaise they have been in for the last 5 quarters. [v]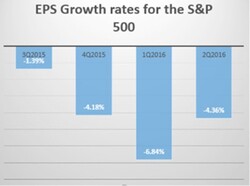 The stock market is certainly not out of the woods yet; However, at this point, the July data supports a consumer that is gathering strength.
If you have questions or comments, please let us know as we always appreciate your feedback. You can get in touch with us via Twitter, Facebook, or you can email me directly. For additional information on this, please visit our website.
Tim Phillips, CEO – Phillips & Company
Chris Porter, Senior Investment Analyst – Phillips & Company
References:
[i] http://www.bls.gov/news.release/pdf/empsit.pdf
[ii] St. Louis Fed
[iii] St. Louis Fed
[iv] St. Louis Fed
[v] www.economy.com