The second quarter just closed and with it ended another pretty strong performance for equity markets.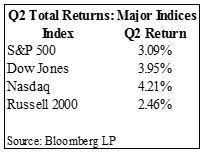 In fact, the overall market, as measured by the S&P 500 Index, is up 8.24 percent in 2017.  Since the election of Donald Trump as U.S. President, the market has rallied a whopping 13.69%. [i]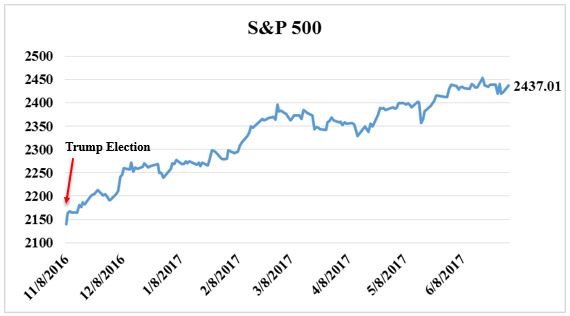 So much for the failure of the "Trump Trade."  The fact is, we have never put much stock in the actual Trump Trade as the primary driver of recent market performance.  Granted, it would be net beneficial to have lower taxes on savings and investments in the economy; our belief is that this market rally has been driven by earnings.
Looking at the numbers from Q1, which certainly did not disappoint, earnings came in at a strong 13.9 percent growth, well above the expected 9 percent.  It is no secret that fundamental growth generally drives markets over the long-term. [ii]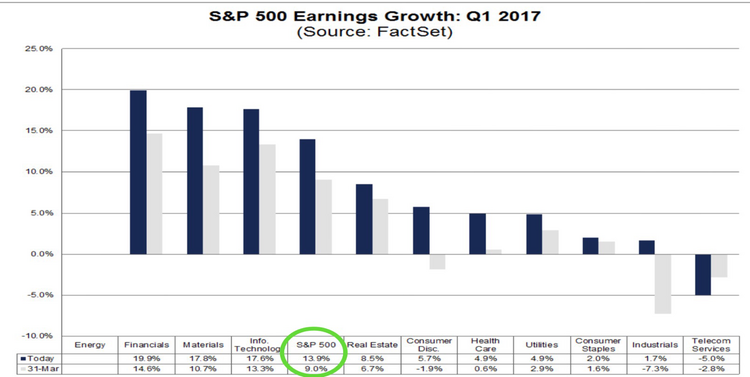 Perhaps that's what drove the S&P 500 up 5.53% in Q1 alone. [i]
Q2 is also expected to perform well.  According to FactSet, Q2 earnings are expected to grow by 6.6 percent, despite the downward revision from 8.7 percent as of March 31st.  The chart below is hard to interpret because Energy shows such a strong improvement over the same period last year (+392%).  [ii]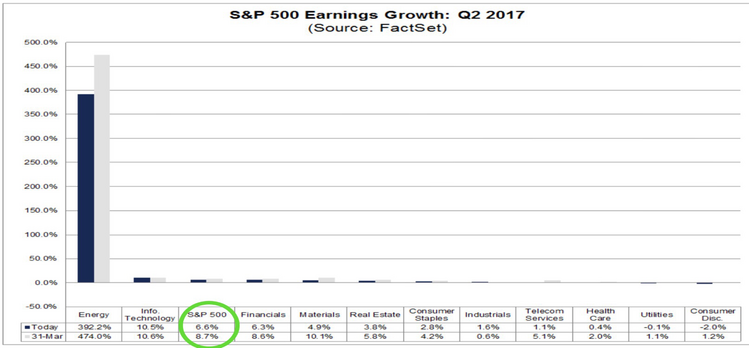 This is simply because the price of oil has recovered 24.85% since the beginning of last year. [i]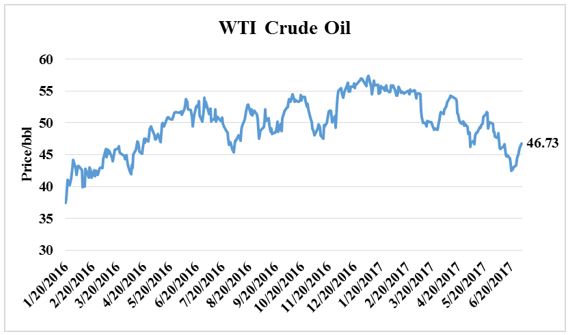 However, if you exclude the Energy sector from the list of S&P 500, earnings would still grow by 3.8 percent. [ii]
Let us be mindful though, that as much of the anticipated growth in earnings is predicated on energy prices' maintaining some level of stability in the $45 price-per-barrel range.
It would be easy to conclude that the recent drop in the price of oil suggests a larger slowdown in the economy.  However, our conclusion is that much of this drop is related to oversupply in the market rather than weakness in demand.  Just look at the rise in Oil and Gas rig counts in the United States alone.  It has more than doubled since its low in May of 2016.  [i]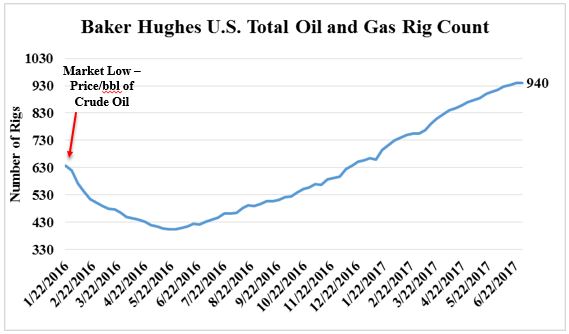 It's hard to anticipate significant equity price acceleration from these current valuations, especially when you consider a normal correction of 5-10% is always in the cards.  Perhaps we'll be able to hold some of our gains throughout the current earnings season.
If you have questions or comments, please let us know.  We always appreciate your feedback.  You can contact us via Twitter and Facebook, or you can e-mail me directly.  For additional information, please visit our website.
Tim Phillips, CEO, Phillips & Company 
Robert Dinelli, Investment Analyst, Phillips & Company 
References:
         i.            Bloomberg LP
        ii.            https://insight.factset.com/hubfs/Resources%20Section/Research%20Desk/Earnings%20Insight/EarningsInsight_063017.pdf