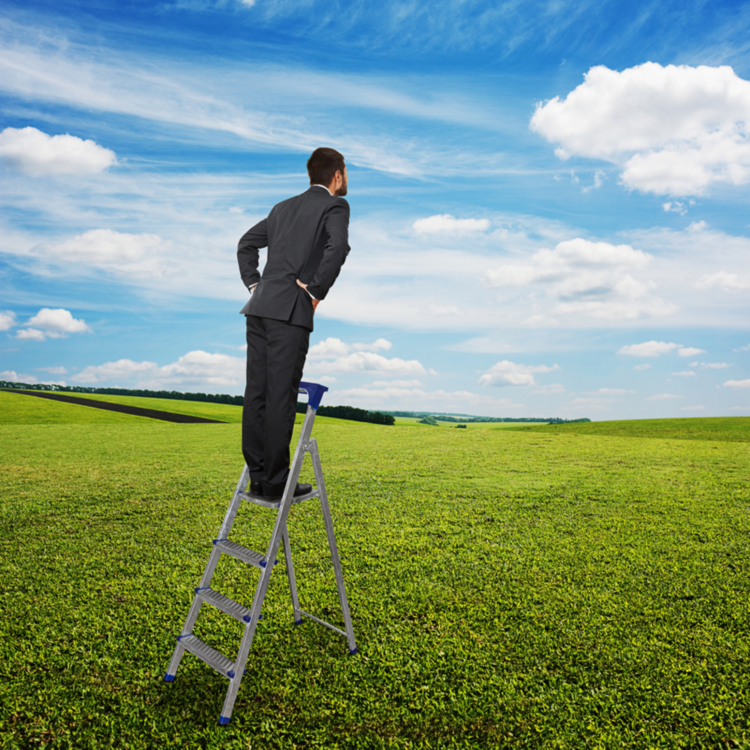 Just about everyone is asking the same question: How long can this economic expansion last? One pf the bigger inquisitions is coming from President Trump, and, while he may not be asking directly, he is certainly asking indirectly.
Just look at his immediate statement after he cut the recent "Phase 1" trade deal with China on Friday:
"The Federal Reserve should cut rates regardless of how good this is," referring to his trade deal with China. "We have a great economy, but we have a Federal Reserve that's not in step with the rest of the world." [i]
He clearly believes this economic cycle needs help to last, especially if he wants to be reelected.
The question "how long can it last?" is a fair and important question.
When you consider we are in the longest economic expansion in the history of the United States it's only natural to wonder when this expansion will end. [ii]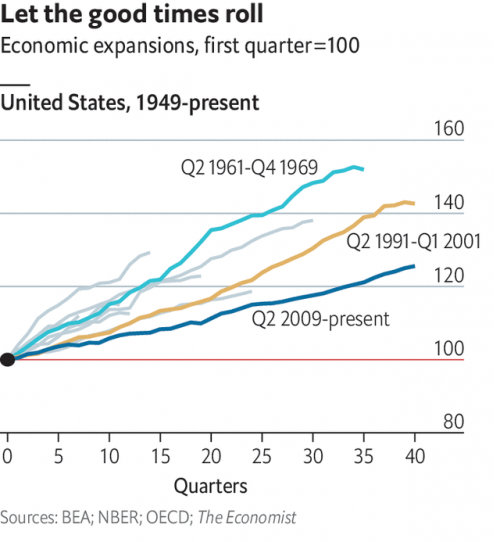 Equally important is the collective belief that the next recession might be as painful as the last one. This is called recency bias. Basically, it's the belief that your next bad experience will be like your last.
 So, back to the main question; how long can this expansion last?
 Expansions across the globe have lasted longer than the current U.S. expansion. Just look at Australia or South Korea. [ii]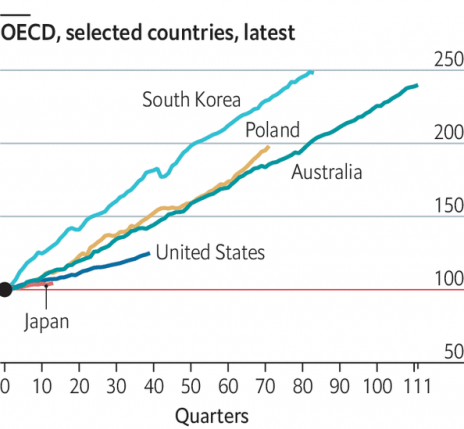 Further, when you consider how weak this expansion has been across several metrics you begin to see this might last longer than normal based upon the anemic recovery.
Job growth has been slow and steady compared to past recoveries. [iii]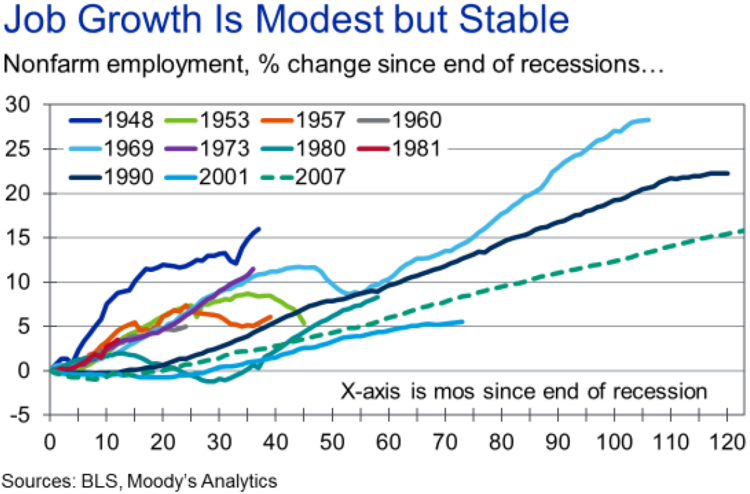 Labor force participation demonstrates a similar slower recovery. [iii]
Industrial production, productivity gains, and finally real GDP per capita all demonstrate a slower recovery. [iii]

I'm not denying there is a tremendous amount of investor caution, generally saying the same thing, "this has been a long recovery and the cycle should end soon!"
However, investor caution and fears will likely help prevent a rush to get into stocks and that's good for expansions, especially when trying to avoid bubbles.
Fear and caution are our friend.
One key misnomer is GDP growth should equal stock gains. The fact is they are not as correlated as you would think. In fact, some of the best gains in stocks occur when GDP growth is muted or, said another way, great GDP growth does not equate to outsized stock returns. [iv]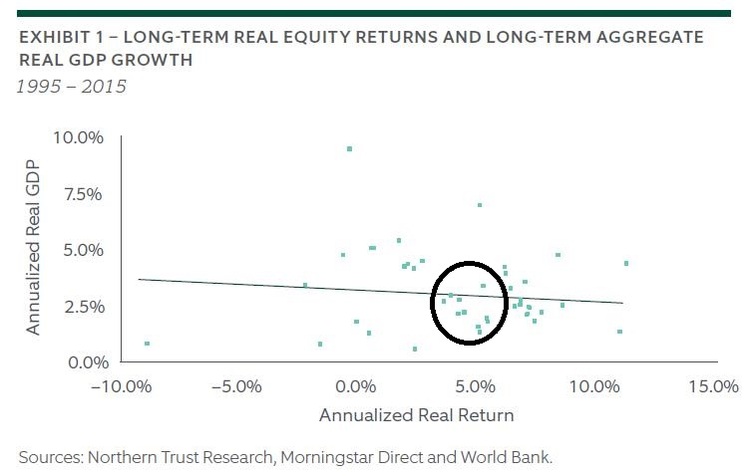 True to form, the slower GDP growth we have experienced in the last 12 months still has our markets trading at or near all-time highs.
My crystal ball is broken, and it broke a long time ago. I have no ability to predict when a turn comes in this cycle. I do have the ability to prepare. To that end, you should always examine your investment plan, considering the returns you need to fund your plan as well as your existing allocation. It's that simple. If you do, surviving the next downturn becomes much more manageable and maybe won't matter as much in trying to answer How Long Can It Last?
If you have questions or comments, please let us know. You can contact us via Twitter and Facebook, or you can e-mail Tim directly. For additional information, please visit our website.
Tim Phillips, CEO, Phillips & Company
Sources:
i.   https://www.cnbc.com/2019/10/11/trump-says-the-fed-should-cut-rates-anyway-even-though-us-and-china-have-agreed-to-trade-deal.html
ii.  https://www.economist.com/graphic-detail/2019/07/02/americas-economic-expansion-is-now-the-longest-on-record
iii.  https://www.economy.com/downloading?q=846C4515-5C5B-4DFF-A5CD-04AC892AF2FF&app=dismal
iv.  https://www.northerntrust.com/united-states/insights-research/2016/the-enigma-of-economic-growth-and-stock-market-returns