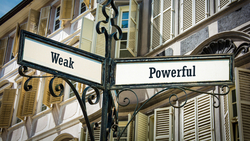 We had a tough week in America and it's critical we take a look at as much of it as possible. On the economic front, we are now seeing some headline erosion in growth.
On a headline basis, July retail sales declined 1.1% month-over-month. [i]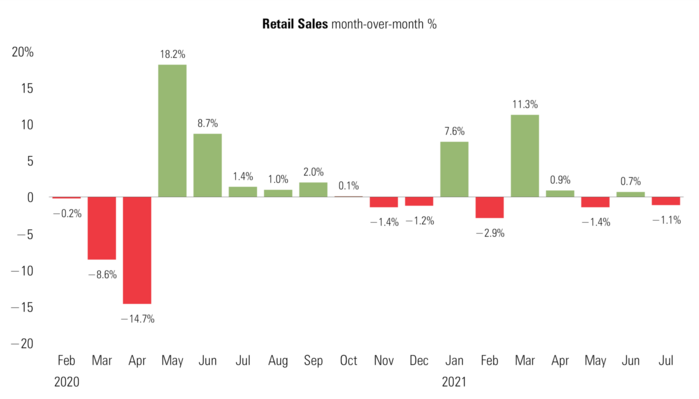 Beyond the headline numbers, much of the decline was driven by a shift from goods purchases to an expansion of services purchases. Sales declined across several "goods" categories– primarily autos which fell 3.9%. On the "services" side, restaurants and bars were a bright spot, with sales up 1.7% month-over-month. [i]

The Covid Delta variant could be a threat to that ongoing shift. Services like hotels, rental cars, and airfares might be impacted by a rapidly expanding Delta variant.
The good news is we are seeing some abatement in early Delta variant states. Take Missouri for example, new Covid cases peaked back in early August and are now receding. [ii]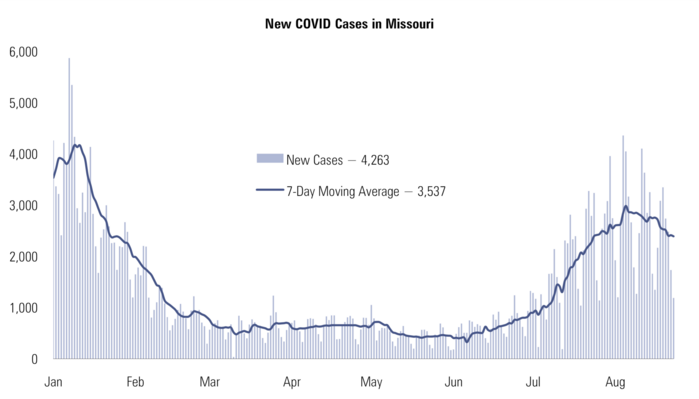 Consumer confidence is another area of concern. The University of Michigan Consumer Sentiment Index is now sitting at levels not seen since 2011. [iii]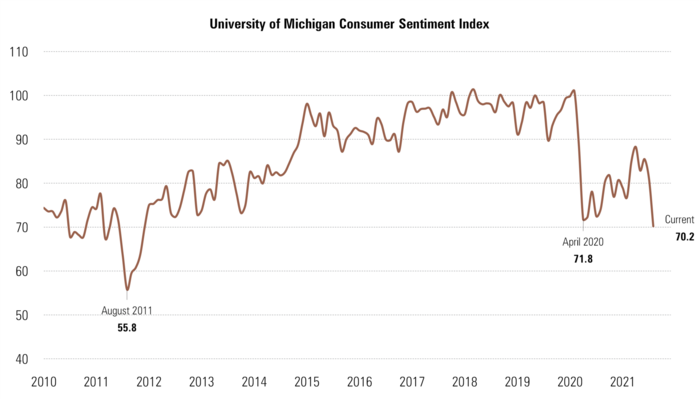 It would appear the confluence of inflation concerns, Covid variant fears, and a heart-wrenching Afghanistan pullout may have impacted the confidence of U.S. consumers. I suspect that number will weaken before it finds a bottom. The final report for August is scheduled for August 27th and expectations are looking very weak, with the median forecast currently at 69.
While the current consumer confidence numbers don't reflect the full force and fury of the botched Afghanistan pull out, it does capture some. We know early indicators are suggesting the American mood is souring on President Biden. For the first time, his approval/disapproval ratings flipped. [iv]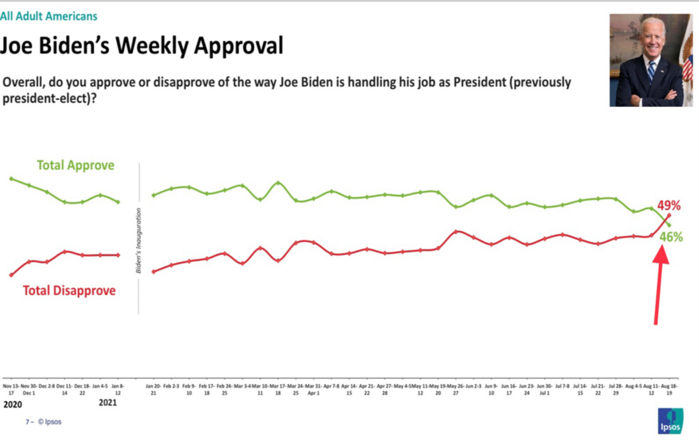 The almost-stunning collapse of the Afghan Government coupled with the ill-planned and executed extraction by the United States could be a lasting problem for the U.S. Support for leaving Afghanistan was clearly present as early as July but, now look at the deterioration in support. [v]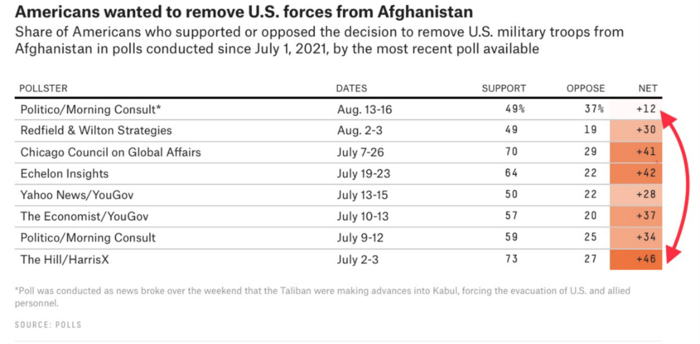 That is likely the cause for the damage to President Biden's favorability.
The question that needs to be answered is: Is this a Mosul, Iraq moment, or a Suez Canal moment?
When ISIS swept through Mosul in June 2014, Americans hardly cared about this distant war and the loss to the American brand was barely noticeable.
When the British invaded Egypt in October 1956 in an attempt to regain hold of the Suez Canal only to lose control; it marked the end of the British empire. [vi]

If this turns out to be a global inflection point similar to Suez where the U.S. blanket of security can't be relied upon by India, South Korea, or Japan, then two superpowers will indeed need to co-exist – China and the United States. Take a look at our recent video interview on that topic here.
It might also mean President Biden's hope to pass a sweeping $3.5 trillion tax and spend agenda with a razor thin majority could be in jeopardy (or at least subject to significant watering-down). The Joe that will matter will be Senator Joe Manchin of West Virginia. See our blog on this pivot here.
It's almost hard to imagine how a Democratic Senator holds his job in West Virginia. President Trump defeated President Biden by nearly 40 percentage points in the November election. [vii]

Of course, it seems Republicans have a more favorable view of Senator Manchin than do Democrats. [viii]

Further, West Virginia—along with other swing states—has very deep military roots. [ix]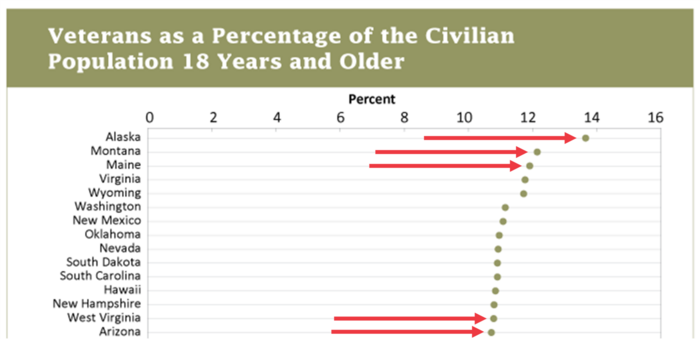 It's certainly a stretch to think a reshuffling of world order could be an outcome of all of this, but I am sure the Brits didn't know how "weak" weak could be either. Let's hope for a Mosul moment, not a Suez consequence.
If you have questions or comments, please let us know. You can contact us via Twitter and Facebook, or you can e-mail Tim directly. For additional information, please visit our website.
Tim Phillips, CEO, Phillips & Company
Sources:
i. https://www.census.gov/retail/marts/www/marts_current.pdf
ii. https://coronavirus.jhu.edu/us-map
iii. http://www.sca.isr.umich.edu/
iv. https://www.ipsos.com/en-us/news-and-polls/overview
v. https://fivethirtyeight.com/features/afghanistan-has-fallen-to-the-taliban-how-will-americans-judge-bidens-decision-to-withdraw/
vi. https://www.washingtonpost.com/news/worldviews/wp/2015/09/08/map-the-rise-and-fall-of-the-british-empire/
vii. https://www.nbcnews.com/politics/2020-elections/west-virginia-results
viii. https://today.yougov.com/topics/politics/explore/public_figure/Joe_Manchin?content=articles
ix. https://www.census.gov/library/visualizations/2015/comm/percent-veterans.html