In the wake of hurricanes Harvey and Irma, the U.S. economy is likely to incur substantial costs, beyond the costs to those experiencing the immediate effects of these terrible storms.  In terms of macroeconomics, direct costs follow any natural disaster.  In fact, records demonstrate that hurricanes are the most expensive types of natural disasters (note that the below numbers exclude the most recent hurricanes, Harvey and Irma) [i].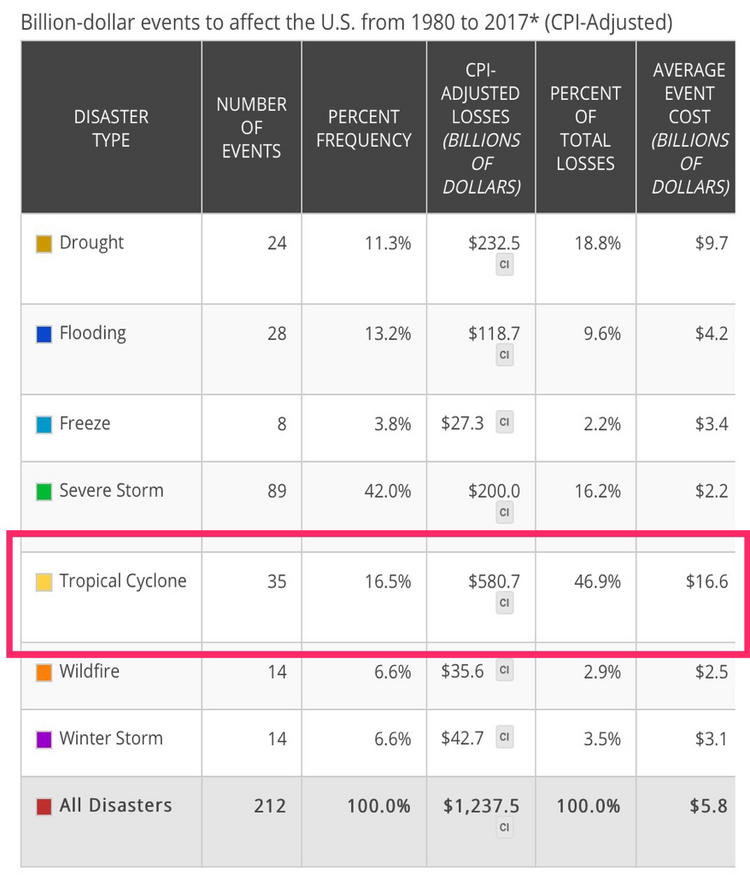 Although the average event cost for hurricanes is about $16.6 billion [i], some sources put the cost estimate for Harvey alone at $190 billion [ii].  That's more expensive than Katrina and Sandy combined [iii].  If these numbers are anywhere close to accurate, Harvey will be the most expensive hurricane on record.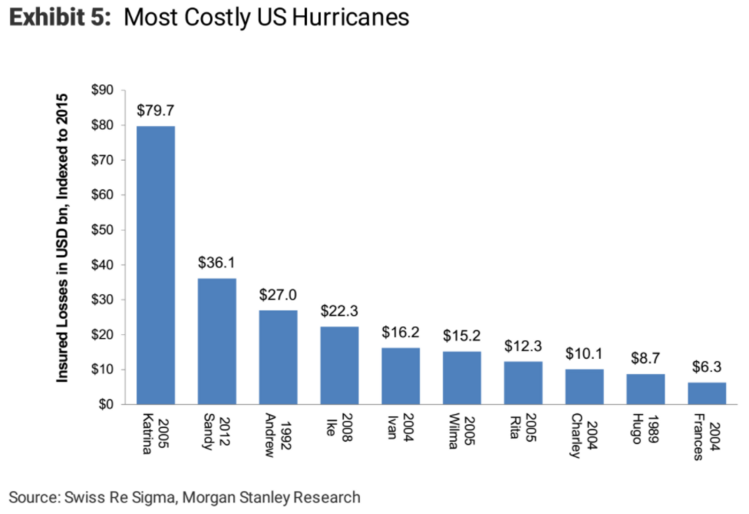 The Harvey cost estimate of $190 billion is approximately equivalent to 1 percent of the United States' GDP [ii].  Goldman Sachs analysts project that the aforementioned 1 percent will have an impact on the U.S. economy [ii].
Despite the Federal Reserve Bank of Atlanta's declining quarterly GDP Forecasts, their estimate for Q3 GDP remains at 3 percent, as of last Friday, September 8th [iv]. Be that as it may, based on this cost estimate, Goldman Sachs has cut their forecast for Q3 GDP by a whopping 30 percent, to 2 percent, which is no small adjustment [ii].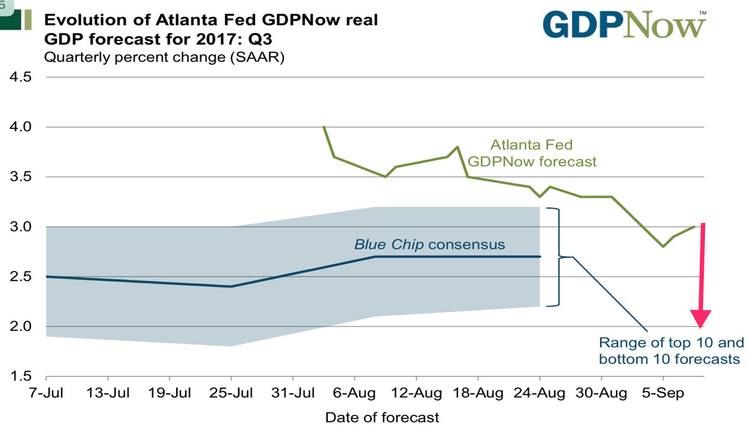 After the loss of life, what makes hurricanes one of the most devastating types of disaster is the uninsured loss of property due to the hurricane-associated flooding. From the following insurance participation ranges, we can infer the degree of devastation that will stem from a permanent loss of property, especially on the poor and economically fragile members of the population [v]. 

You would think that the high number of homes insured for wind damage would soften the financial impact.  However, as I noted before, the primary factor in hurricane damage is not the wind but flooding; as you can see from the insurance participation rates, flood insurance rates are quite low [v].
The past week's spike in new unemployment claims evinces the initial impact of Harvey and Irma on the economy [vi].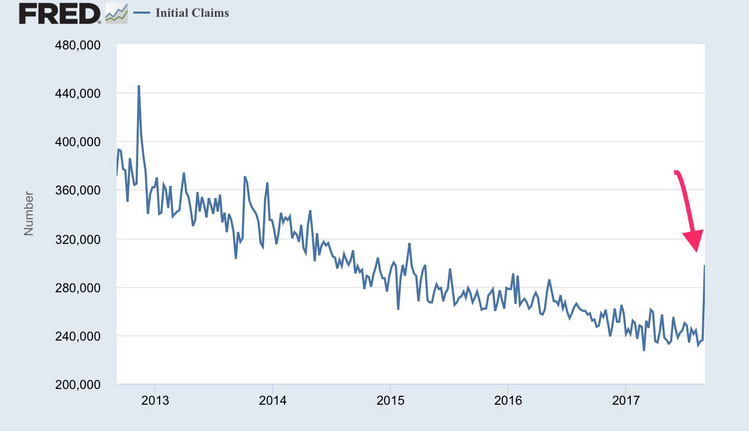 In the short run, we may anticipate a further negative impact on retail sales, industrial production, home building, and auto sales.
The good news is that most of these impacts are temporary on the macroeconomy.  Congress voted to raise the debt limit and provide $15 billion in immediate support [vii], which may help lower analysts' initial 1-percent economic impact to GDP.
From an investment perspective, according to JP Morgan, hurricanes have had a limited impact on the performance of financial markets.  The median max drawdown of 2 percent seems minimal in my opinion [viii]. In addition, the rebuilding of infrastructure will likely bring economic benefits that will flow through to corporate earnings.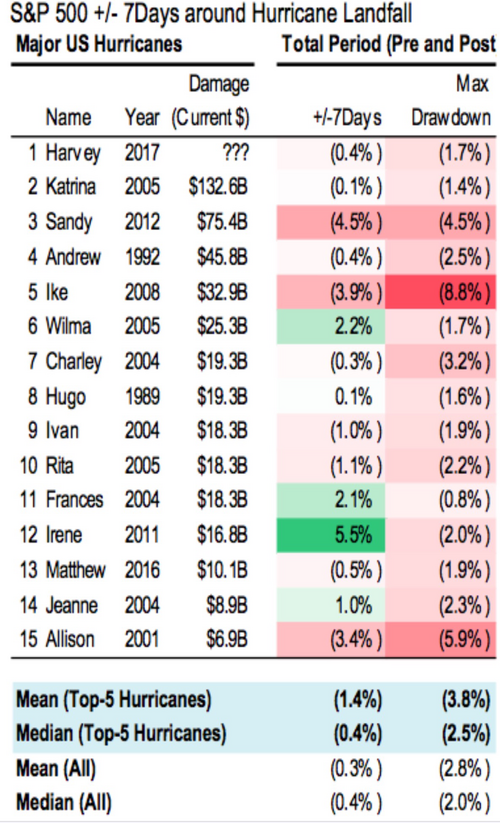 As a closing note, today marks the sixteenth anniversary of the September 11th terrorist attacks.  As I reflect on how far we as a nation have come, I find it good to recognize how resilient and dynamic our economy really is.  
We continue to keep those suffering in the aftermath of Harvey and Irma in our thoughts and prayers.
If you have questions or comments, please let us know.  We always appreciate your feedback.  You can contact us via Twitter and Facebook, or you can e-mail me directly.  For additional information, please visit our website.
Tim Phillips, CEO, Phillips & Company 
Robert Dinelli, Investment Analyst, Phillips & Company 
References:
i.     https://www.ncdc.noaa.gov/billions/summary-stats
ii.    https://www.cnbc.com/2017/09/10/hurricane-harvey-probably-shaved-1-percent-from-third-quarter-growth-goldman-sachs-says.html
iii.   http://www.businessinsider.com/hurricane-harvey-economic-impact-2017-8/#the-cost-of-harvey-1
iv.   https://www.frbatlanta.org/cqer/research/gdpnow.aspx
v.    https://www.ncdc.noaa.gov/monitoring-content/billions/docs/smith-and-matthews-2015.pdf
vi.   https://fred.stlouisfed.org/series/ICSA
vii.  https://www.nytimes.com/2017/09/07/us/politics/senate-harvey-irma-aid.html?mcubz=1
viii. https://finance.yahoo.com/news/hurricane-irma-mean-stocks-105038376.html