It sounds like the title to a really good suspense movie. While it's not a movie title, it certainly reflects this precise moment in time that the U.S. Economy and corporate earnings are at.
On the one hand, we have continued strength in the U.S. Consumer. Retail sales were up in January 3.4% over last year, which is the strongest growth we have seen in a year. While December sales were initially reported as weak, they too have now come in much stronger.
When you consider gasoline station sales were down 3.1% year-over-year, it's amazing how strong sales actually are. If you factored out the drop in gas prices, retail sales would be up 4.5% year over year. [i]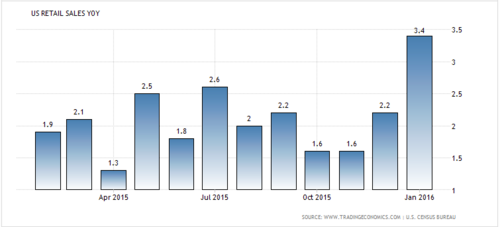 Further, the most recent "Now Cast" (most recent real-time forecast) from the Fed looks like an acceleration in GDP growth. What was once looking like a paltry 1.2% GDP growth is now looking more like 2.7% GDP growth in Q1 2016. You can see from the data below which economic indicators have led to the series of upward revisions to expectations. [ii]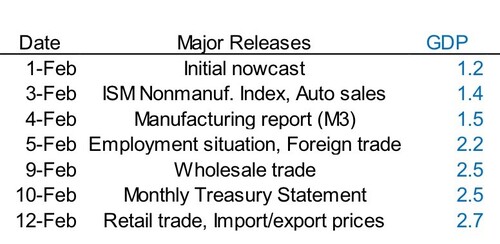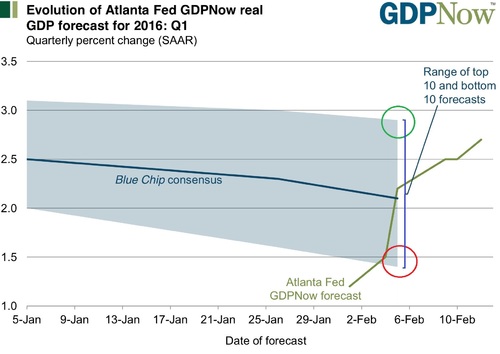 On the other hand, we are seeing the recovery in corporate earnings growth being pushed out modestly. We had always anticipated paltry growth in earnings in Q1 2016 but it now appears we might have our 4th consecutive quarter of negative earnings per share growth. [iii]
The last time we had 4 consecutive quarters of negative earnings growth was Q4 2008 – Q3 2009; the markets hit their bottom on March 9th of 2009, and then rallied up 30% by mid-May and over 60% by the end of the year. [iv]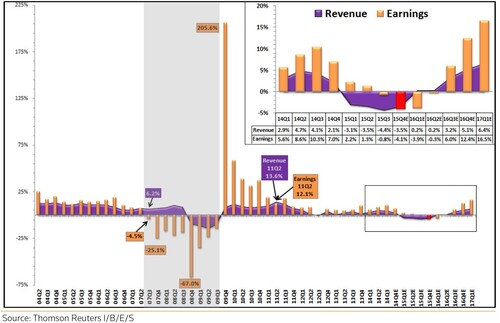 We are also seeing continued flattening in the yield curve as wediscussed in the past several posts. [v]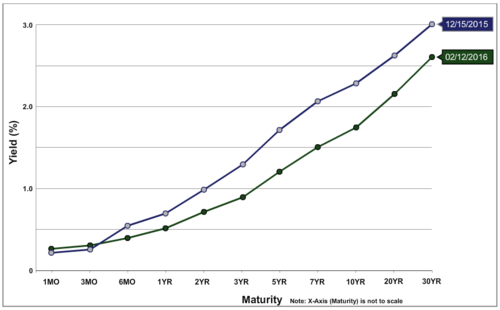 It seems like we are at an inflection point that can tilt us toward an economic recession or simply remain in an earnings recession.
It's now clear to me the Fed is on hold while we waft through this inflection point. The markets are now implying another 16 months before another rate increase. [vi]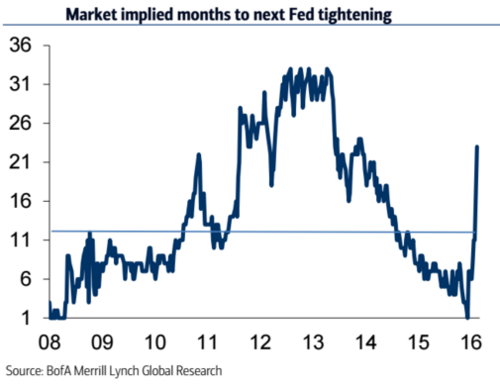 Europe and Japan are on the same trajectory, only with longer to go before they see a rate hike. [vii]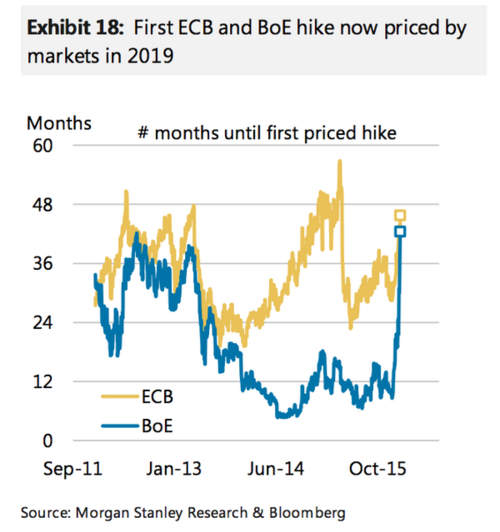 Can the Fed stop a backtracking of the economy?
Will the American consumer prop up the U.S. and perhaps much of the world?
Are analysts overly negative about Q1 earnings and will we outperform expectations?
This week we will likely get lots of answers about what market participants believe with the general direction of their buying and selling. While investors aren't always right, they do matter.
We are at an inflection point, and this week will be telling.
If you have questions or comments, please let us know as we always appreciate your feedback. You can get in touch with us via Twitter, Facebook, or you can email me directly. For additional information on this, please visit our website.
Tim Phillips, CEO – Phillips & Company
Chris Porter, Senior Investment Analyst – Phillips & Company
References:
[i] http://www.tradingeconomics.com/united-states/retail-sales-annual
[ii] Federal Reserve Bank of Atlanta
[iii] http://www.factset.com/insight
[iv] http://www.trpropresearch.com/archive/recent/
[vi] https://www.ml.com/articles/market-updates.html
[vii] https://www.morganstanley.com/what-we-do/