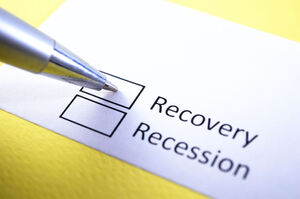 Fourth quarter earnings season just began and with any luck, the year-long earnings recession will be coming to an end. [i]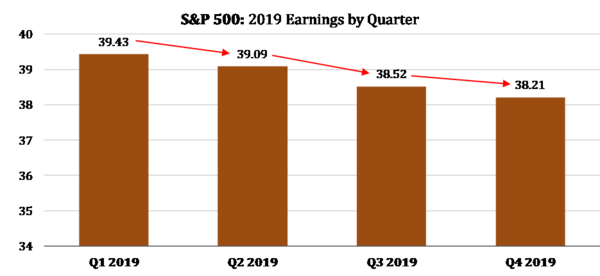 If expectations are the guide, Q4 earnings should decline around 2.1% year-over-year, and estimates have been revised downward over the last several weeks. [ii]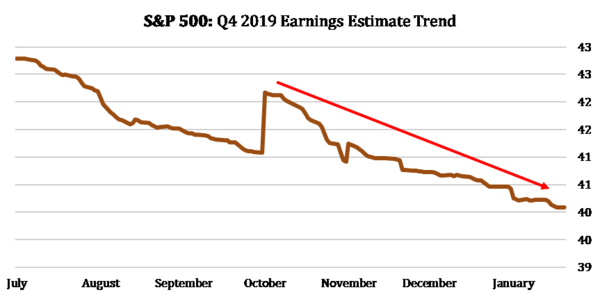 Rolling forward, each quarter of 2020 earnings are expected to grow. [ii]
The chart above suggests progressively stronger earnings quarter by quarter, with full-year 2020 earnings growth expected to be 9.5%.
In my estimation, there are a few favorable trends that can support S&P 500 earnings growth.
First, the trade weighted dollar has been on the decline for the past few months. [iii]

This should support large, U.S.-based, multinational companies in the S&P 500 as over 38% of S&P 500 company revenues are export related. [iv]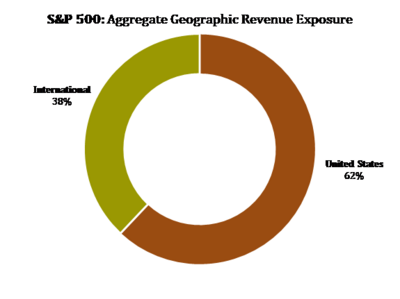 A weaker dollar should support export growth.
Second, oil prices have been higher over the last twelve months and that will likely support Energy sector company earnings. [v]
Third, the elimination of some of the tariffs on China should reduce stress on profit margins as companies have absorbed cost increases versus passing them along to the consumer. [iv]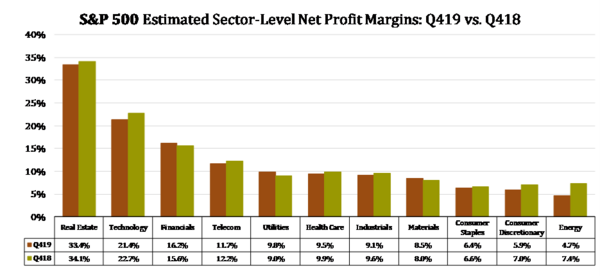 You can see from the chart above sectors like Consumer Discretionary, Technology, and Energy have had companies report declines in net profit margins over the last 12 months.
As it relates to tariffs, here is what our China-based research partners at CICC are highlighting: [vi]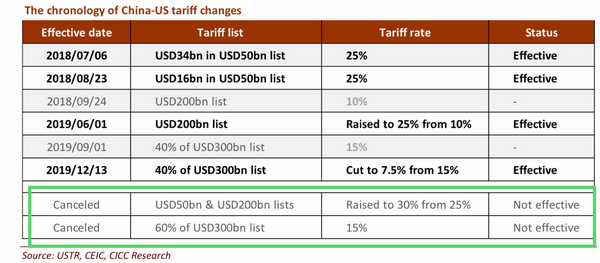 The cancellation of tariffs should support the largest listed companies. More specifically, the tariff cancellations should have the greatest positive impact on the following industries according to a recent white paper from the Federal Reserve Board: [vii]
• Aluminum
• Electric Lighting Equipment
• Household Appliances
• Household Furniture
• Industrial Machinery
• Iron & Sheet Metal
• Leather Products
• Semiconductors & Semiconductor Equipment
As we look at the positive impacts on earnings in 2020, it is no wonder why markets have rallied lately. In addition, it's always surprising to see the tremendous investor caution reflected in money market fund assets. [viii]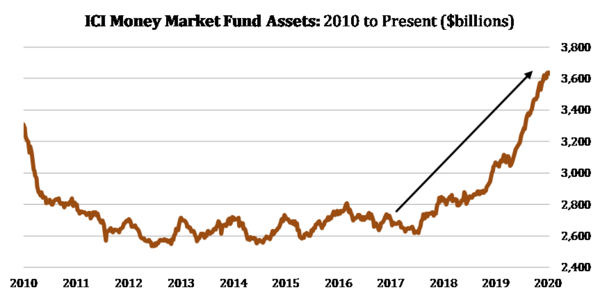 As long as there are no shocks to the consumer mindset, we should see positive Q1 2020 earnings growth reported in April.
Is the earnings recession finally over? We think so.
If you have questions or comments, please let us know. You can contact us via Twitter and Facebook, or you can e-mail Tim directly. For additional information, please visit our website.
Tim Phillips, CEO, Phillips & Company
Sources:
i.     https://us.spindices.com/documents/additional-material/sp-500-eps-est.xlsx
ii.    https://www.bloomberg.com/quote/SPX:IND
iii.   https://fred.stlouisfed.org/series/TWEXB
iv.    https://www.factset.com/hubfs/Resources%20Section/Research%20Desk/Earnings%20Insight/EarningsInsight_011720.pdf
v.     https://www.bloomberg.com/quote/BCOMCL:IND
vi.    https://research.cicc.com/
vii.   https://www.federalreserve.gov/econres/feds/files/2019086pap.pdf
viii.  https://www.ici.org/research/stats/mmf/mm_01_16_20