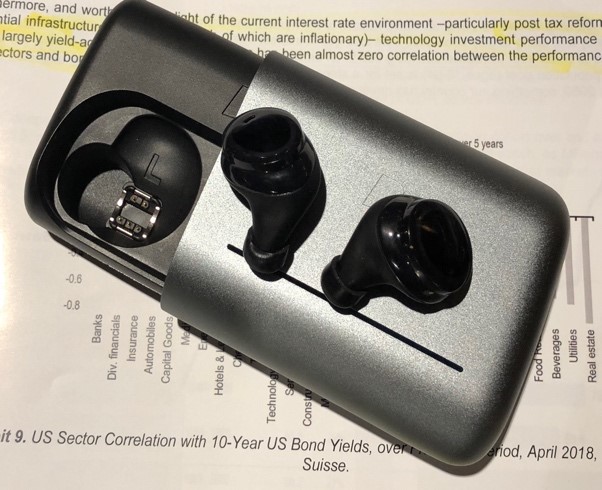 As I write this post, I'm currently on a visit to one of the smallest economic engines in the European Union: Portugal.  In my opinion, speaking Portuguese is exponentially harder than speaking Spanish and that has caused me to rely on some new technology.  There is a translation app called iTranslate, that, along with earbuds by Bragi, allows me to use one earpiece while my guest uses the other. Using the app's artificial intelligence (AI), I spoke English, but my guest heard me in near-perfect Portuguese (and vice versa).
With that said, it seems that Technology is on the cusp of another incredible breakthrough not seen since the wide adoption of the internet. This breakthrough is driven by AI and machine learning (ML).  Considering the advancements in AI and ML, contrary to popular belief, Information Technology stocks may be relatively cheap; especially true when you compare free cash flow (FCF) yields to those of other sectors.  [i]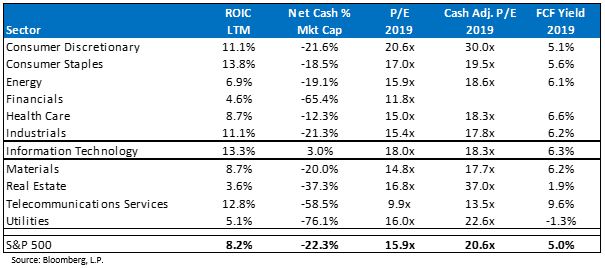 Furthermore, the forward P/E ratio relative to that of the S&P 500, as measured by its historical spread, is under the historical 20-year average. [i]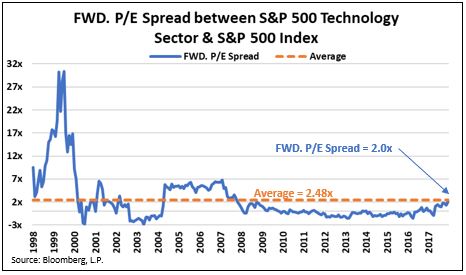 Considering the growth in technological advancements and increasing innovation and adoption, we could see another grand wave of earnings growth.  Just look at the progression in the speed it takes for a product to reach 50 million users. [ii]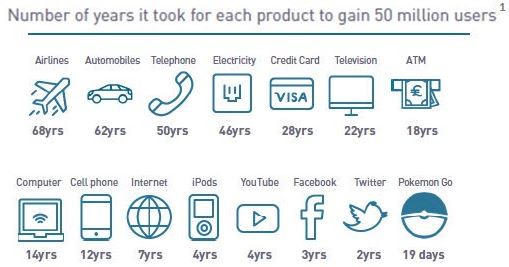 Over the next few years, much of the technology we will touch is likely to be driven by some form of AI.  AI is the measurement of the intelligence of machines that can mimic parts of human activity and then learn from their experiences.  Many of us already interface with an AI platform when we use Apple's Siri or Amazon's Alexa as a digital assistant.  What's even more astounding is that the growth of digital assistants is expected to nearly double by 2021.  Since 2015, the growth in this industry is compounding at an annual rate of 24.7 percent. [iii]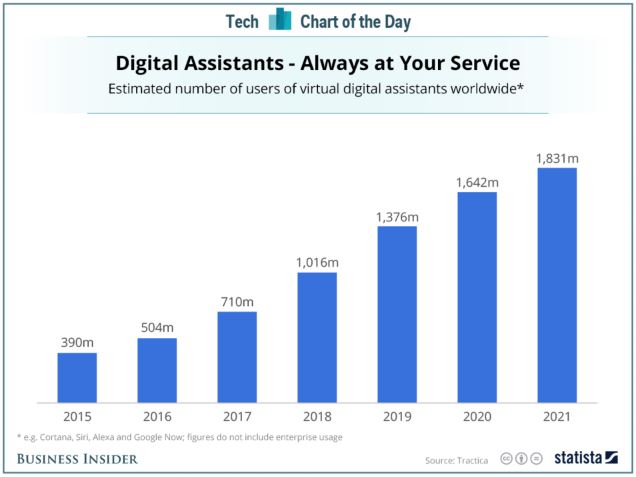 Autonomous driving, another example of AI, is simply a data transmission and storage puzzle when you break it down.  For each autonomous vehicle, 4,000 GB of data storage is needed per day. That's the daily equivalent of nearly the full capacity of eight of the latest top-of-the-line Apple iPhones for each car on the road.  [iv]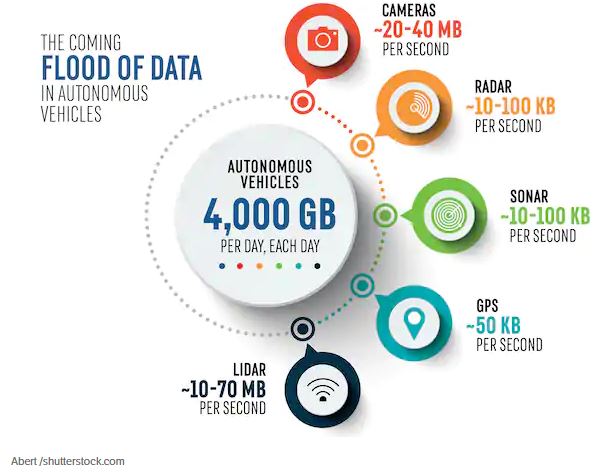 The growth in data storage is expected to be exponential, making digital assistants look like child's play.  [v]

Data storage needs could grow by 200 percent by 2020, which could lead to a significant supply-and-demand dilemma.  Just look at companies like Nvidia that manufacture microchips designed to improve the speed of processing that big data.  The expected growth is clearly being reflected in the company's stock price.  [i]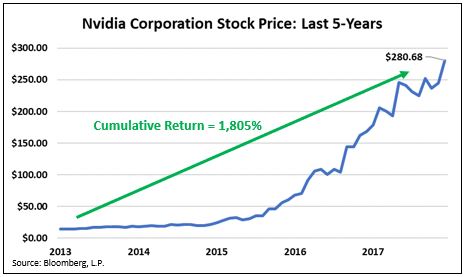 To put some icing on the cake, Technology, specifically AI and ML, recently faced the ultimate test and it wasn't translating English to Portuguese.  The U.S. Air Force successfully completed a dogfight between two drones using AI.  The machine-driven drone was more effective at attacking and shooting down its opponent than the manually controlled drone was.  [vi]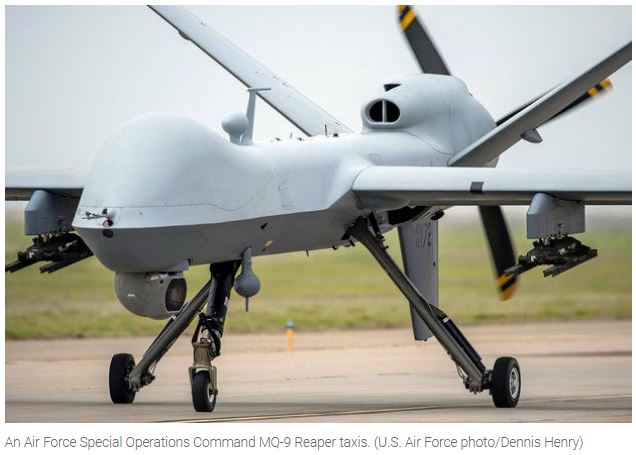 While our stock market is at all-time highs and recession predictions are abundant, let's not forget technology has a low correlation with bond yields, which are often used as a proxy for recessions.  [vii] [i]

If you examine the expected growth rate in AI, you can see that the industry is projected to grow from its current level of $42 billion to $1.03 trillion over the next nine years.  [viii]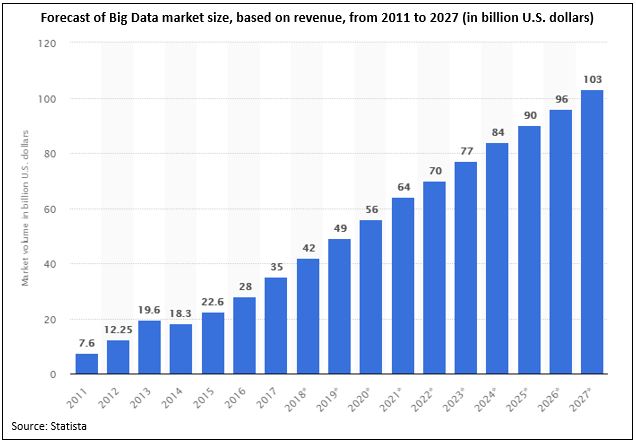 The world may be expensive from an asset pricing standpoint, but technology may be one asset class that can provide a lift to earnings growth for years to come.
If you have questions or comments, please let us know.  You can contact us via Twitter and Facebook, or you can e-mail Tim directly.  For additional information, please visit our website.
Tim Phillips, CEO, Phillips & Company 
Robert Dinelli, Investment Analyst, Phillips & Company 
References:
i.          Bloomberg, L.P.
ii.         https://twitter.com/The401kGuy1/status/1015249519724855301
iii.        https://www.businessinsider.com/virtual-assistants-siri-alexa-growth-chart-2016-8
iv.        https://www.automobilemag.com/news/the-big-data-boom/
v.         https://www.eetimes.com/author.asp?section_id=36&doc_id=1330462
vi.        https://www.military.com/daily-news/2018/09/19/mq-9-gets-first-air-air-kill-training-exercise-air-force-official-says.html
vii.       https://fred.stlouisfed.org/series/DGS10#0
viii.      https://www.statista.com/statistics/254266/global-big-data-market-forecast/