This Thursday the Fed will either raise interest rates by 25bps (maybe more) or they will push out the inevitable until later this year. Markets will react, one way or another.
Currently, more investors expect a rise in interest rates to be delayed instead of hiking later this week. The current Federal Funds rate is 0.25%.[i]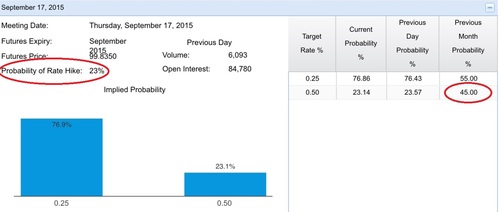 Remarkably, only a short month ago, investors forecasted there was a 45% chance of a rate increase and now the odds are sitting closer to 23%. From an investor's perspective, things must have certainly changed in the last 30 days.
Economically speaking, the macro U.S. data has improved and signs point to an economy that's on solid footing for the following reasons:
1) Housing Starts continues to increase[ii]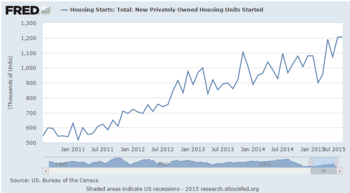 2) Consumers purchases continue to increase[iii]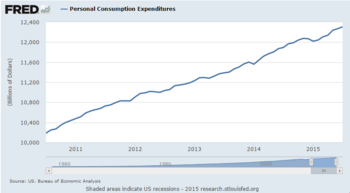 3) Americans have more disposable income[iv]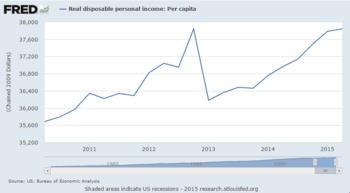 4) Retail sales continue to swell[v]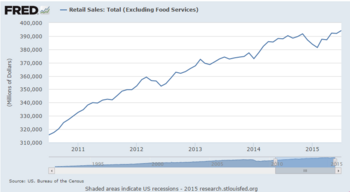 As the Chair on the Board for the Federal Reserve System, Janet Yellen has been clear about her criteria to raise interest rates. In comments prepared for the U.S. House of Representatives Financial Services Committee, Yellen said, "If the economy evolves as we expect, economic conditions likely would make it appropriate at some point this year to raise the federal funds rate."
However, she did leave herself some wiggle room. "I can't give an ironclad promise" that the Fed will raise rates this year, Yellen said in a response to questions about when the Fed may act.
As there appears nothing to indicate the U.S. economy is not improving investors must be betting on a delay in higher rates based upon the recent volatility in financial markets.
Perhaps, the Fed will recognize the markets have already tapped the breaks on the economy. After all we have seen a loss of nearly $2 trillion in market value over the last 30 days. From the market high in May, the S&P 500 has dropped roughly 8%.[vi]
Investors may also be betting on the Fed realizing we are still facing threats of deflation. Inflation is still well below the Fed's 2% target and flat lining near zero.[vii]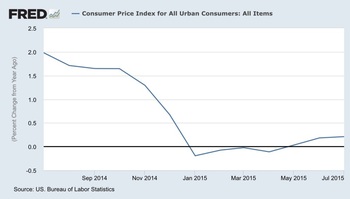 This week holds the chance for a significant policy surprise that could rattle global markets, if the Fed moves against investor expectations. Besides a large drop in equity prices, albeit temporary, the dollar could strengthen and continue to hammer the earnings of our largest companies who sell their goods and services overseas.
On the other hand, the Fed could signal its preference for a rate increase later in the year and meet investor expectations. Waiting to raise the federal funds rate may provide some calming to jittery markets.
Currently, expectations for a rate increase by the Fed is over a 50% by December.[viii]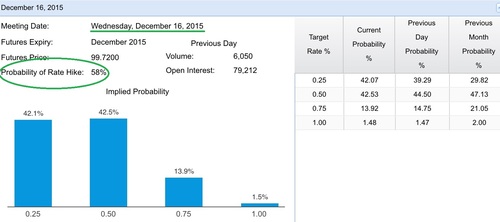 One other possibility for the Fed, would be a to do a small rate increase in September while also sending a strong single that they won't be doing another increase until we see concrete inflationary pressures. If the increase in inflation does not occur the fed will hold off on rate increases for quite some time.
While we could see a Fed induced shock due to very low investor expectations, the underlying fundamentals of the economy are on track. Further, as we have mentioned, we are moving towards a time on the economic calendar where earnings comparisons are going to become very easy to beat. This will certainly help sooth nervous investors and hyper-vigilant Fed watchers.
Be prepared to take a deep breath, stay the course and stick with your investment plan, and hope for a rational Federal Reserve.
If you have questions or comments, please let us know as we always appreciate your feedback. You can get in touch with us via Twitter, Facebook, or you can email me directly. For additional information on this, please visit our website.
Tim Phillips, CEO – Phillips & Company
Chris Porter, Senior Investment Analyst – Phillips & Company
References:
[i] http://www.cmegroup.com/trading/interest-rates/fed-funds.html
[ii] Federal Reserve Economic Data. (September 14, 2015).
[iii] Federal Reserve Economic Data. (September 14, 2015).
[iv] Federal Reserve Economic Data. (September 14, 2015).
[v] Federal Reserve Economic Data. (September 14, 2015).
[vi] http://www.cnbc.com/2015/08/25/us-markets-attempt-recovery.html
[vii] Federal Reserve Economic Data. (September 14, 2015).
[viii] http://www.cmegroup.com/trading/interest-rates/fed-funds.html