Despite the shock and sharp rally in oil prices due to the Saudi Arabian oil facility attack, there is some underlying good news to consider at this stage of the cycle. [i]
The majority of economic releases last week showed improvement from the previous period or beat forecasts. Consumer credit expanded by $23.3 billion in July, the fastest pace since July 2018, while revolving credit expanded at its fastest pace since November 2017. This expansion in revolving credit could mean one of two things: 1) consumers are using revolving credit lines more because they lack the cash to cover spending or 2) consumers are using revolving credit more because they feel confident about their financial health and repayment capabilities. Future data will tell the true story, but we feel the uptick in consumer credit is an encouraging sign in the context of overall U.S. economic growth. [ii]

Overall, U.S. employment remained healthy in July, as the Job Openings and Labor Turnover Survey (JOLTs) report showed 7.22 million job openings and the highest quit rate since 2001 (2.4%). Quits are defined as voluntary separations initiated by workers and serve as an important measure of employees' willingness or ability to leave jobs. All in all, the labor market has held up remarkably well for the 10th year of an economic expansion, as jobs are plentiful and employees are feeling confident in their ability to find new ones. [iii]

Another positive indicator about the U.S. consumer was the rebound in the Conference Board's Consumer Confidence index for August, which printed its third-highest reading since October 2000 (135.1). Consumer confidence is the cornerstone of consumption, as it is a direct reflection of the consumer-buying attitude and purchase intentions. [iv]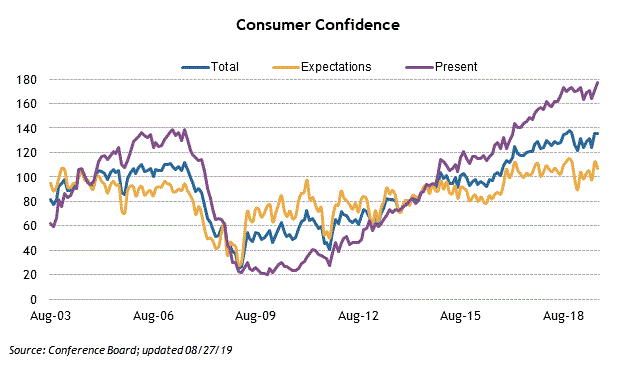 Although other broad measures of the U.S. economy are flashing warning signs, this fresh consumer data reflects a strong foundation for continued discretionary spending. 
Turning to the equity markets, the front-month Brent Crude Oil contract is up almost 12% this morning on the heels of the attack on the Saudi Arabian oil facility over the weekend which disrupted 5% of the daily global oil supply, by some estimates. While this was no doubt a shock to the system, long-dated oil futures have not moved nearly as much (up about 4%) [v], showing that traders expect the attack to have a lasting, but fading impact on global supply. We will be keeping an eye on movements in longer-dated oil futures as specifics about what happened and how long the disruption will last are released. [vi]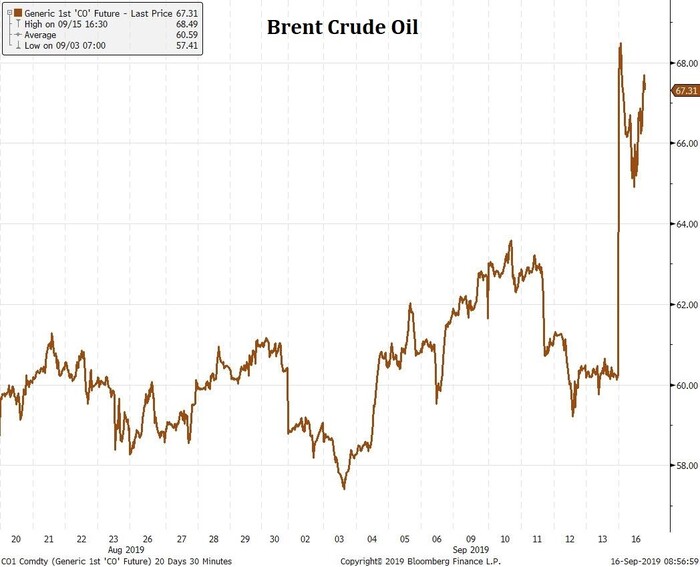 Naturally, flaring tensions in the Middle East should benefit Energy-related companies. The Energy sector currently makes up around 5% of the S&P 500 and has been a significant laggard through the end of August. Interestingly, even before this weekend's events, Energy has been the top performer thus far in September and we would expect this rally to continue in the near-term. [vii]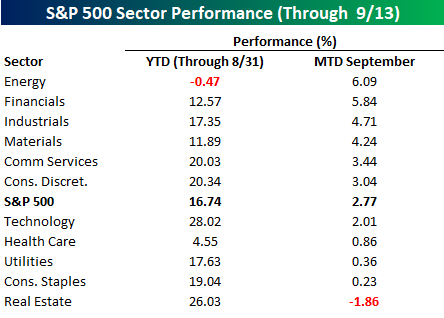 So, while the overall sentiment among investors, consumers, and businesses appear nervous, there is some good news to consider. Besides, timing the market is simply too precision-oriented to execute with any reliability. As the data table below suggests, missing just a few market moves over 30 years can have a dramatic effect on your equity returns. [viii]

It's not all bad news out there.
If you have questions or comments, please let us know. You can contact us via Twitter and Facebook, or you can e-mail Tim directly. For additional information, please visit our website.
Tim Phillips, CEO, Phillips & Company
Sources:
i.          https://www.bloomberg.com/news/articles/2019-09-16/aramco-said-to-be-less-optimistic-on-pace-of-oil-output-recovery
ii.         https://fred.stlouisfed.org/graph/?graph_id=608833
iii.        https://fred.stlouisfed.org/graph/?graph_id=608840
iv.        https://www.conference-board.org/data/consumerconfidence.cfm
v.         https://www.cmegroup.com/trading/energy/crude-oil/brent-crude-oil.html
vi.        https://www.bloomberg.com/quote/CO1:COM
vii.       https://www.bespokepremium.com/wp-content/uploads/2019/09/091619-Sector-Performance.png (PAYWALL)
viii.      http://zacksindexservices.com/wp-content/uploads/2019/09/The-Perils-of-Moving-Investments-to-Cash-2.pdf