Keep Watching the Consumer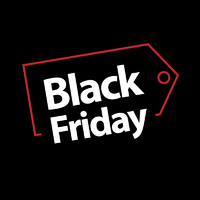 Last week's blog post focused on a strange dichotomy for the U.S. Consumer; their frustrations juxtaposed with their willingness to spend.
I spend a tremendous amount of time focused on the U.S. consumer not just from a domestic macroeconomic perspective, but global.
The United States represents 24.4% of global GDP. [1]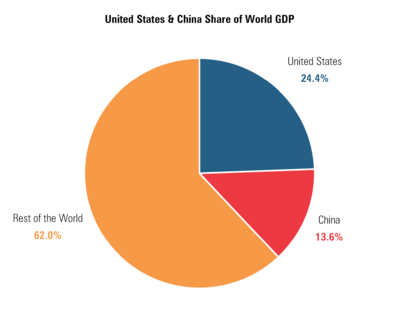 The U.S. consumer represents 17.2% of global GDP. [1]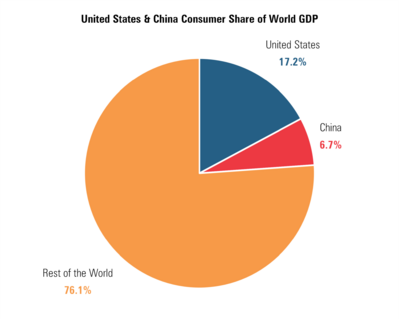 The U.S. consumer is the entire ball game when it comes to domestic and global growth. With perhaps the exception of China, the world depends on our willingness to shop and spend.
To that end, November represents the largest shopping month of the year, both here and in China. [2]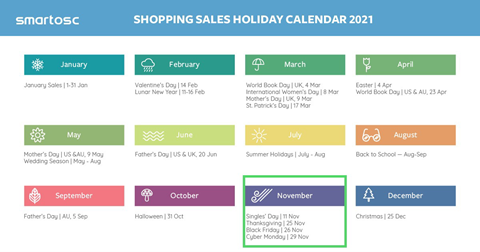 The combined holiday shopping revenue that spans Singles' Day in China to our supercharged Thanksgiving weekend shopping spree represents approximately 4.2% of annual retail sales globally. Today matters!!!!
Singles' Day was a success, with Alibaba reporting an 8.5% year-over-year increase in sales and still well above pre-pandemic levels. [3]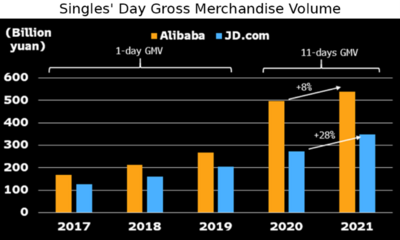 At the time of this writing, our Thanksgiving mega shopping days were crushing last year's numbers. According to MasterCard, Black Friday retails sales growth is up about 30% compared to last year. [4]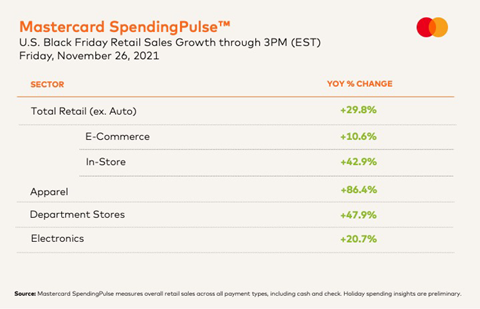 In store sales look strong but, that's coming off a very low base from last year. More impressive are the E-Commerce numbers which are up 10.6% and coming off a high base last year due to pandemic-induced online shopping.
The most recent update for Cyber Monday sales from Adobe Analytics gives the impression that the consumer continues to power global spending. [5]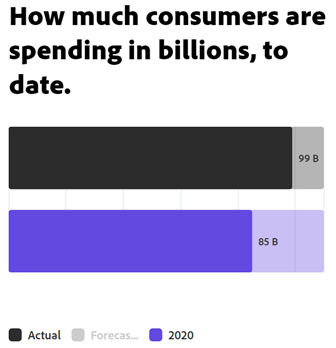 It seems the consumer is more aggressive with their spending this year, which was also mentioned in a recent Gallup poll. [6]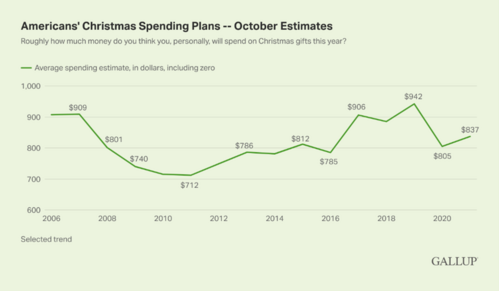 In that survey, the consumer was estimated to spend about 4% more and it now looks like overall sales will be something like 8.5% more.
It is hard to determine where the consumer is getting the funds from, but it's likely still part of the savings spend down trajectory they have been on. [7]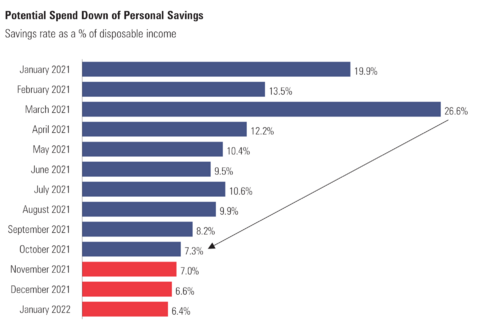 Perhaps it is a slight uptick in consumer revolving credit? The consumer expanded their revolving borrowings by a whopping $10 billion in September. [8]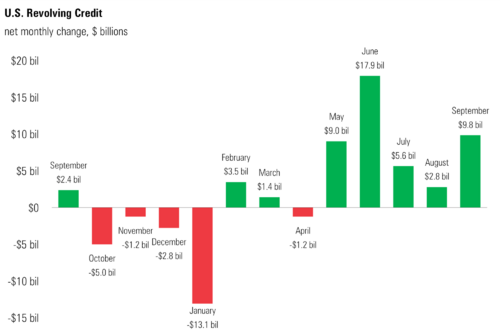 In any case, the evolution of the various waves of Covid-19 and the most recent Omicron variant could impact consumer attitudes. However, retail sales tracked over the earlier waves looked to be minimal. [9] [10]

I want to remind our readers that while the consumer is an incredibly powerful indicator for intermediate trends, the immediate implications are rarely felt in the equity markets. Anything can happen to equity prices in the short run and usually do. Case in point: the equity volatility on Friday. [11]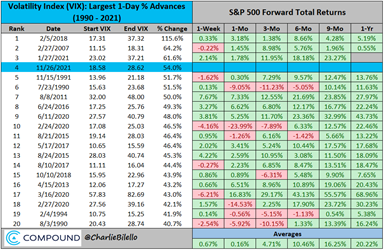 Given time, equity markets tend to end higher in the face of sudden volatility but, you must have a reasonable time horizon.
In a year with such a small maximum intra-year drawdown (just 5.2%), we should expect additional bouts of volatility. [11]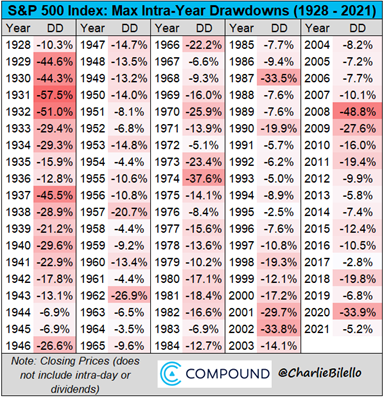 Keeping our eye on the consumer will continue to be more productive than watching the day-to-day swings in the equity markets.
If you have questions or comments, please let us know. You can contact us via Twitter and Facebook, or you can e-mail Tim directly. For additional information, please visit our website.
Tim Phillips, CEO, Phillips & Company
Sources:
1. https://data.worldbank.org/
2. https://www.smartosc.com/insights/shopping-sales-holiday-calendar-2021
3. https://www.bloomberg.com/news/articles/2021-11-11/alibaba-singles-day-posts-record-540-3-billion-yuan-in-sales
4. https://www.mastercard.com/news/research-reports/2021/mastercard-spendingpulse-u-s-thanksgiving-weekend-retail-insights/
5. https://business.adobe.com/resources/holiday-shopping-report.html
6. https://news.gallup.com/poll/356897/early-holiday-spending-plans-look-similar-2020.aspx
7. https://fred.stlouisfed.org/series/PSAVERT
8. https://fred.stlouisfed.org/series/REVOLSL
9. https://www.nytimes.com/interactive/2021/us/covid-cases.html
10. https://www.bloomberg.com/news/articles/2021-11-16/u-s-retail-sales-jump-by-most-since-march-topping-forecasts
11. https://compoundadvisors.com/2021/7-chart-sunday-11-28-21