It appears the economy might be coming off the life support provided to us by the Federal Reserve. Since 2009, the Fed has expanded their balance sheet by about $2 trillion to get to where we are today.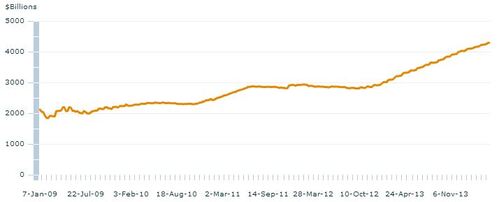 Source: Federal Reserve.
In its April meeting, the Fed continued to trim their purchases of Treasuries and mortgage bonds by $10 billion per month, reducing the purchase level to $45 billion.[i],[ii]
Rightfully so. There has been some confirming data that suggests the US economy is lifting after a very long-term chronic ailment of slow growth.
While GDP growth in Q1 2014 came in at a near contraction level of 0.1%, there were some very positive signs.[iii]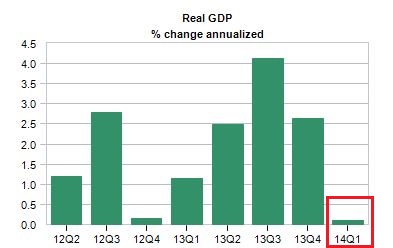 Consumption which accounts for 70% of our GDP expanded by 2% which is a very strong sign the consumer continues to prop up the economy. As expected, inventories contracted by -0.57% as businesses needed to sell down their backlog. Net exports and government spending lead to another -0.9 of drag on our economy.[iv]
As a pure headline number, the low Q1 GDP growth should be very troubling. However, when you dig into the details there are some signs of life.
The economy added 288,000 jobs in April, the strongest jobs report we seen since January 2012.[v]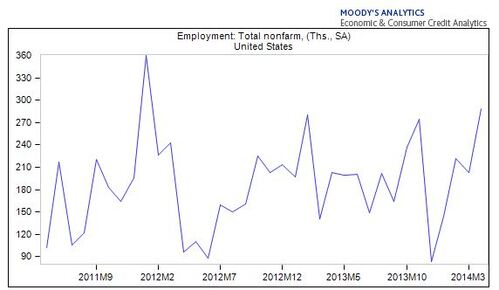 This brought the unemployment rate down to 6.3%. Some of the largest gains came in higher paying sectors such as professional/business services, healthcare, and construction.[vi] Information services and government jobs declined slightly.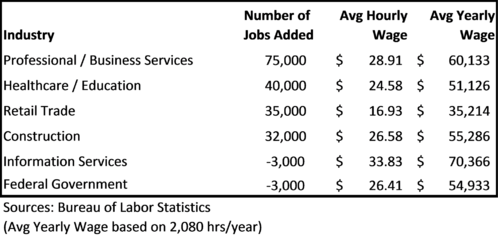 Unfortunately, and this is a large misfortune, our labor participation rate fell to a low not seen since 1978.[vii]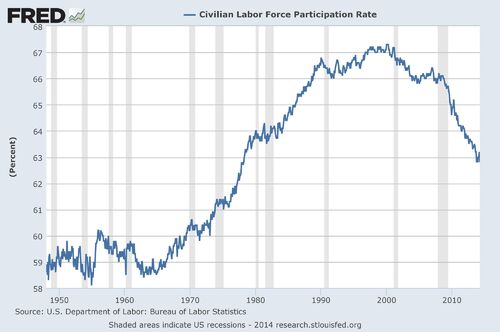 The Government reported another 988,000 Americans of working age were moved to "not in the labor force" category, raising the total in this group to 92.02 million.[viii] Combined with the 9.75 unemployed, that brings the total to a whopping 101.77 million working-age Americans without a job.[ix] Viewed another way, 20% of American households do not have a single member that is employed.[x]
So while the headline number on labor looks great, a behind the scenes look paints a grim picture.
My macro formula for the US economy is very simple: Jobs -> Wages -> Spending -> Corporate Profits -> More Jobs (repeat process for expansion).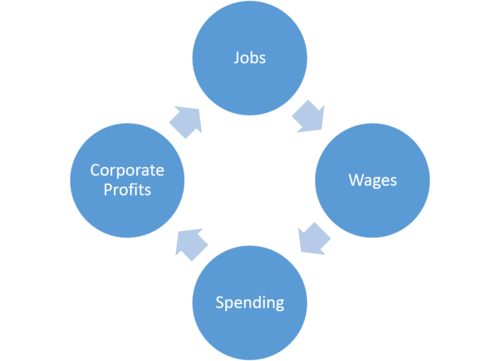 The keys are jobs and wages. If it's so simple, what's the Fed missing by cutting their "economic stimulus"? In my opinion, they are realizing that their tools aren't working on a sustainable basis. Perhaps it's time for new tools.
In any case, we continue to advise for caution by allocating to cheaper assets and lower duration (around 5 years), and utilizing diversification as the best approach to mitigate normal market cycle swings (1-2 standard deviation events).
The patient looks like it's on the mend, but what's really going on is hard to tell by just looking at it on the surface.
If you have questions or comments, please let us know as we always appreciate your feedback. You can get in touch with us via Twitter, Facebook, or you can email me directly. For additional information on this, please visit our website.
Tim Phillips, CEO – Phillips & Company
Jeff Paul, Senior Investment Analyst – Phillips & Company
[i] Sharf, S. (Apr 30, 2014). Fed Cuts Monthly Asset Purchases to $45 Billion at April Meeting. Forbes.
[ii] Mangus, P. (Mar 20, 2014). The Fed Chair's Debut. Wealth Management Insights Center. Wells Fargo.
[iii] Hoyt, S. (Apr 30, 2014). United States: GDP (Advance Estimate). Moody's Analytics.
[iv] Ibid.
[v] Koropeckyj, S. (May 2, 2014). United States: Employment Situation. Moody's Analytics.
[vi] Ibid.
[vii] Federal Reserve Economic Data (May 5, 2014).
[viii] Durden, T. (May 4, 2014). The Number of Working Age Americans Without a Job Has Risen by 27 Million Since 2000. ZeroHedge.com.
[ix] Ibid.
[x] Ibid.