In the wake of the worst five-day performance to start a new year for U.S. stocks, ever (S&P 500 down 5.98%), it's a good time to review our Look Ahead.
This week's post reviews our 2016 Q1 Look Ahead. Please click on the following link to watch our video presentation.
Our basic 2016 themes are:
The current earnings recession of the S&P 500 companies should bottom out in Q1 2016. However, until we see evidence of this, we can expect to see continued volatility. [i]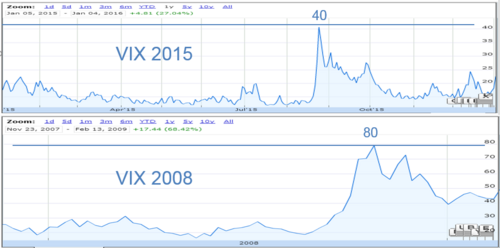 The U.S. Consumer is still very strong and in fact has plenty of consumption fuel left in the tank to keep the economy out of an economic recession. [ii]
Emerging markets, in spite of the noise from China, poses the best valuation opportunities at this time. [iii]
The strong U.S. Dollar is benefitting some larger developed export markets. [iv]

More oil supply, and more oil demand in store for 2016. [v]
If you are struggling with the current level of volatility, as many might, I would suggest you do the following:
Review our weekly market commentary from last week that highlights why we think this level of volatility was expected.
Click on our 2016 Q1 Look Ahead and review our thoughts on the coming quarter and year.
Connect with your Phillips Advisor. They are well equipped to discuss this volatility and your long-term strategy focus.
If you have questions or comments, please let us know as we always appreciate your feedback. You can get in touch with us via Twitter, Facebook, or you can email me directly. For additional information on this, please visit our website.
Tim Phillips, CEO – Phillips & Company
Chris Porter, Senior Investment Analyst – Phillips & Company
References:
[i] https://www.google.com/finance?q=INDEXCBOE%3AVIX&sq=VIX&sp=4&ei=UDqUVpmbHsi1iQK4wL-QCQ
[ii] https://research.stlouisfed.org/fred2/graph/?id=TDSP
[iii] JP Morgan, Guide to the Markets, Q1 2016
[iv] JP Morgan, Guide to the Markets, Q1 2016
[v] http://www.nasdaq.com/markets/crude-oil.aspx?timeframe=18m