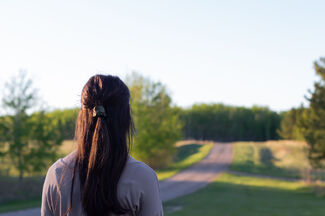 The second quarter ended with strong equity performance across most equity indexes. 1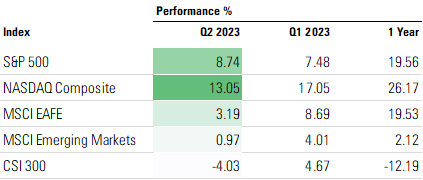 Take a look at how we see the coming quarter by clicking on this link to our Q3 2023 Look Ahead.
Inflation continues to moderate, with prices for food, energy, and rent declining. Contrast this against producer prices which are also slowing, but not as fast consumer prices, and you get a "Greedflation" situation. 2 3
Our Look Ahead for Q3 lays this out in greater detail.

Consistent with Greedflation, corporate profit margins look to have bottomed and a robust recovery in earnings per share is expected in 2024. As investors discount the future much faster than reality, this trend may continue considering we are trading near historical average P/E valuations. 4 5 1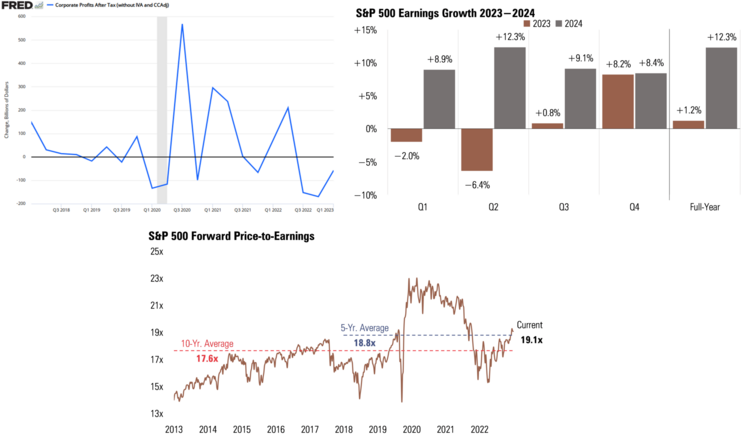 We expect the Fed Funds rate to hover around 5.25% to 5.50% in Q3. Bank credit stress and extraordinary treasury issuance look to be taking a back seat to the Fed's inflation fighting efforts. However, with inflation moderating, the gap between the Fed's forecast and investors suggests another round of volatility as the course for future rates continues to be debated. 6 1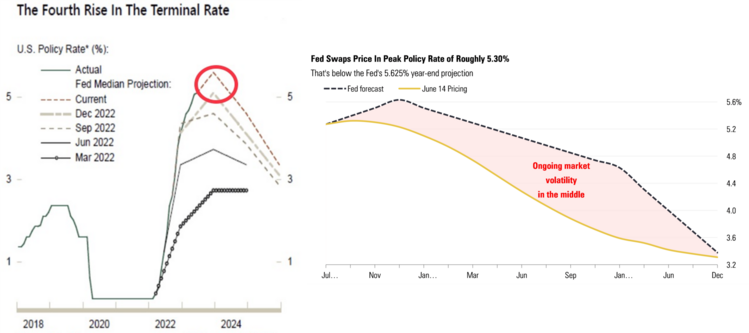 Click here to listen to all of our views on what we think will happen with the Fed, the banking system, and interest rates in Q3.
Take a look at our Q3 2023 Look Ahead here
Watch our narrated version here
If you have questions or comments, please let us know. You can contact us via Twitter and Facebook, or you can e-mail Tim directly. For additional information, please visit our website.
Tim Phillips, CEO, Phillips & Company
Sources:
Bloomberg
https://www.bloomberg.com/news/articles/2023-06-13/us-cpi-report-s-details-suggest-fed-pause-will-become-full-stop