Welcome to the first trading day of the fourth quarter, which means the race for third-quarter earnings has concluded. The third quarter marked another quarter of strong returns in the equity markets.  The Dow Jones Index led all major indices during the quarter with a 6.07 percent return.  At this point, all major U.S. indices are now up to double-digit returns for 2017 [i].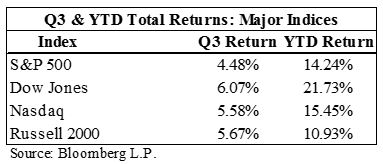 Over the next month and a half, companies here and abroad will release their third-quarter numbers and some level of forward-looking guidance.  Third-quarter reports are likely to influence market returns for the fourth-quarter.  For more on the fourth-quarter, stay tuned for our upcoming Q4 Look Ahead, which will be released on Monday, October 9, 2017, and will provide a more in-depth look at what we anticipate for the upcoming quarter.
Here are the final results from last quarter.  Quality in company fundamentals continued to be a primary driver.  Earnings and revenue grew 10.3 percent and 5.3 percent, respectively.  In fact, 72 percent of S&P 500 companies reported second-quarter earnings above analyst estimates, with at least half of the companies in each sector reporting earnings above analyst estimates [ii].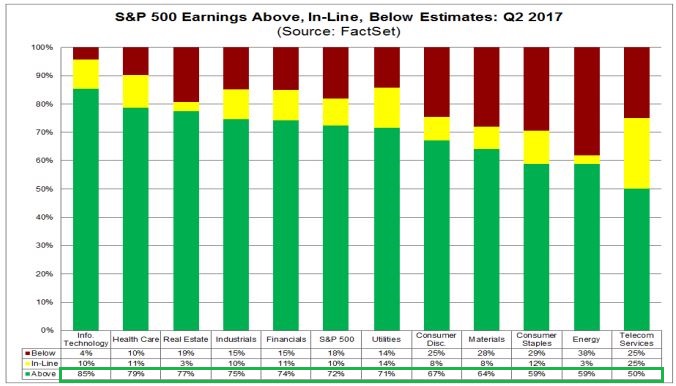 Why is this finding important? In short, stock prices are adjusted today for events that are expected to happen in the future; essentially, by discounting today's current publically available information. These models then help determine the future growth potential for any company or asset class.  As new information becomes available, prices quickly adjust to reflect this new information.  In the case of last quarter when most companies reported earnings that exceeded estimates, investors quickly digested this new information and adjusted prices to reflect it.
According to FactSet, third-quarter earnings for S&P 500 companies are expected to continue the trend of positive earnings per share (EPS) growth, despite June 30's revised prediction 7.5 percent growth down to 4.2 percent.  EPS for the S&P 500 is projected to grow by 4.2 percent, and eight out of eleven sectors, or 72 percent, are expected to post positive EPS growth for the upcoming quarter [ii].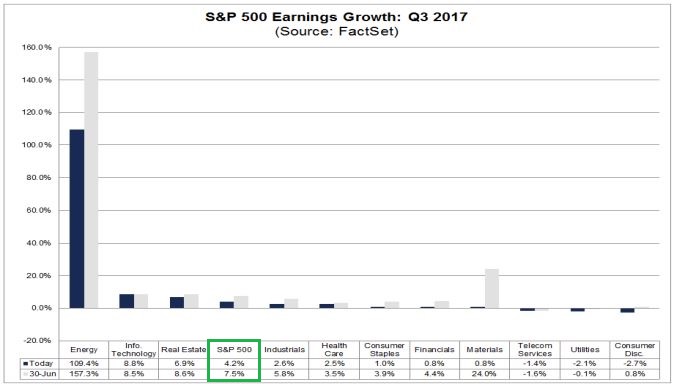 In fact, as in last quarter and most of 2017, EPS estimates continue to decline [ii].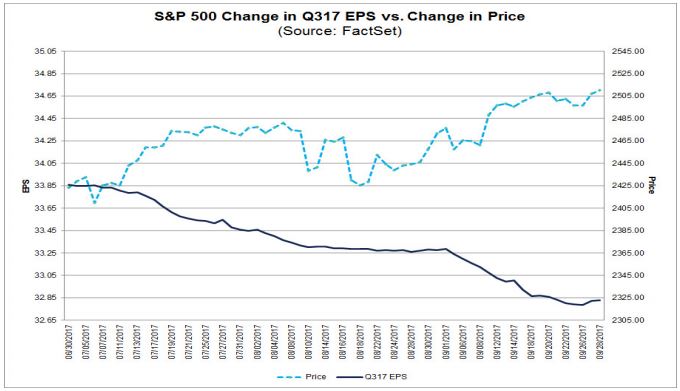 Low EPS estimates have been a tailwind for companies that subsequently report better-than-expected results, and even lower estimates going into the third quarter may provide an easier opportunity for companies to exceed expectations and take the market higher.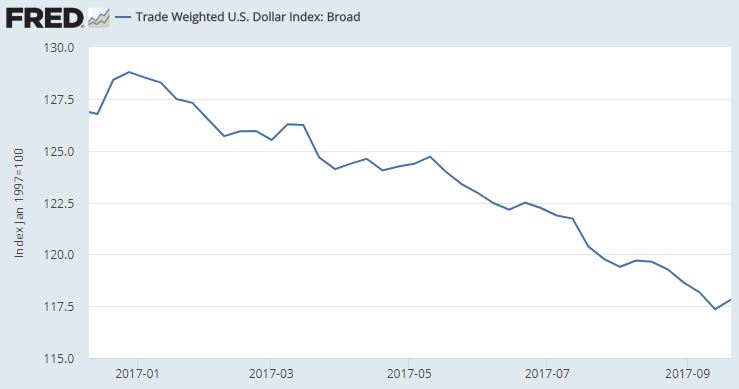 The U.S. dollar declined 3.62 percent during the third-quarter [iii]. This decline will likely have a positive impact on earnings for the 30 percent of S&P 500 companies that have exposure to revenue sources that are outside the United States [ii].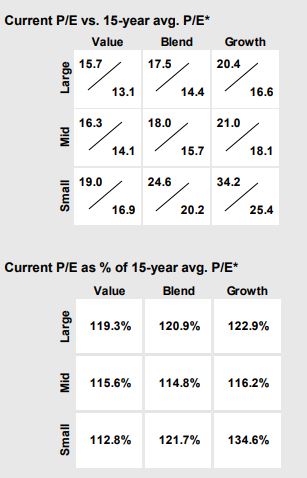 However, when I consider these valuations in relation to the fifteen-year average price-to-earnings ratio, I find it a challenge to see where the market could go from here [iv].  As we have cautioned more and more in recent times, a pullback is possible at any moment, and a 5 to 10 percent correction is always in the cards.  
If you have questions or comments, please let us know.  We always appreciate your feedback.  You can contact us via Twitter and Facebook, or you can e-mail me directly.  For additional information, please visit our website.
Robert Dinelli, Investment Analyst, Phillips & Company 
References:
i.            Bloomberg L.P.
ii.           https://insight.factset.com/hubfs/Resources%20Section/Research%20Desk/Earnings%20Insight/EarningsInsight_092917.pdf
iii.          https://fred.stlouisfed.org/series/TWEXB
iv.          https://am.jpmorgan.com/blob-gim/1383407651970/83456/MI-GTM_3Q17.pdf?segment=AMERICAS_US_ADV&locale=en_US