Weekly Market Commentary 12-15-11
Tim Phillips, CEO – Phillips and Company
While Europe has been grabbing all the headlines winning our "Grim Reaper" award, there has been one country quietly accumulating some momentum, the United States. The U.S. has been posting some fairly positive numbers so far for the month of December. As you can see from the chart, we're about evenly split between indicators that have beaten expectations and those that have not.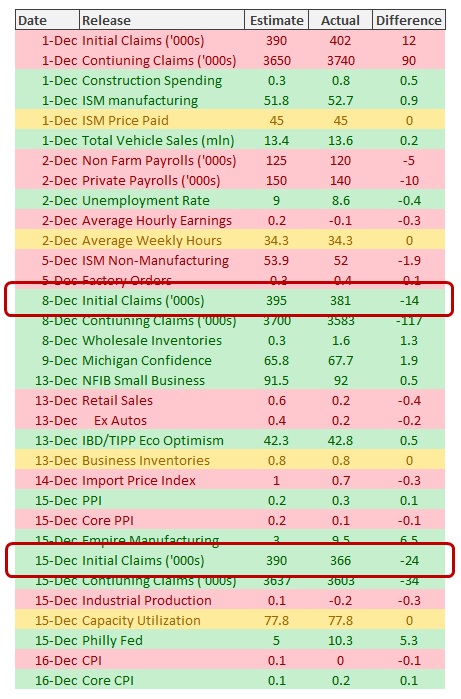 Most important are the weekly claims numbers that may suggest we are seeing a slight improvement in job growth. The data above shows that initial jobless claims have been significantly better than expectations for the past two weeks in a row.
Even with retail sales missing estimates, a breakdown of the 13 components show an interesting trend; consumer cyclical sectors all beat estimates while staples generally underperformed.
The Market may already be taking notice of our situation and acting accordingly. The U.S. dollar has recently strengthened against other currencies (especially the Euro) and coincidentally we're seeing gold continuing to sell off. There has also been a lot of talk about gold breaking below its 200 day moving average of around $1,690 which is a bearish technical pattern. On Friday, the spot price of gold closed at $1,599/oz, down 15.89% from its high of $1,900/oz on September 5th of this year.
With a 2011-2012 federal budget signed into law, we can move that debate off the table. Up next, we have payroll tax cuts and unemployment insurance and a two month extension would be counterproductive. Who is going to run out and spend their two months of benefits if they think it will be their last? We believe a good resolution to this debate could support another 1% of GDP growth next year.
Finally, with the holiday fast approaching I want to thank all of you on behalf of everyone at Phillips and Company for your trust and confidence. This has indeed been a volatile year that has been taxing for individuals and institutions. We hope this holiday provides you with some time with family, friends and some moments of joy and happiness.
If you have questions or comments please let us know as we always appreciate all your feedback. You can get in touch with us via Twitter, Facebook, or you can Email me directly.
Happy Holidays and Merry Christmas!
Tim Phillips, CEO – Phillips & Company
Adam Gulledge, Associate – Phillips & Company
Hat tip to Bespoke Investment Group for the Economic Data