Last week was witness to the largest IPO in the history of the world.[i] Alibaba, the Chinese e-commerce company, launched its initial public offering on the New York Stock Exchange and raised a record setting $25 billion.[ii]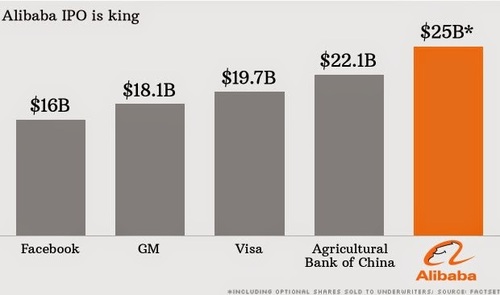 As of the close of trading on Friday, Alibaba had a valuation of $231 billion.[iii] That market cap makes Alibaba bigger than Facebook ($200 billion), Amazon ($150 billion), and Citigroup ($163 billion).[iv]
The name of the company comes from the Arabic folktale "Ali Baba and the Forty Thieves", where the character Ali Baba learns the secret words to open a cave filled with the riches stolen by thieves, "Open Sesame."
While many have heard of Alibaba, few know what they actually do. This video link does a nice job of describing the scope and range of Alibaba's business. In summary, Alibaba is the Chinese version of Amazon.com, but only larger and much more profitable.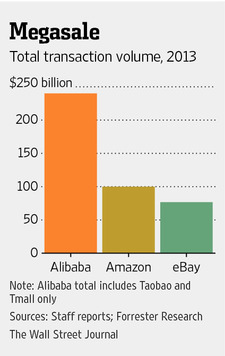 In 2013, just two of Alibaba's businesses had transaction volume of $240 billion and the company made about $3.3 billion in annual profit, whereas Amazon had $100 billion in transactions and made just $274 million.[v,vi]
Here are a few more amazing statistics:[vii]
Alibaba's sites account for over 60% of the packages delivered in China.
During the Chinese equivalent of Black Friday, Alibaba processed more than $5.75 billion in sales, three times more than America saw on Black Friday, on just one of Alibaba's web sites.
Alipay, Alibaba's Paypal equivalent, was responsible for 70% of the mobile-payments business in China in 2013.
What do the Chinese know about business that we don't? Clearly they know that profits matter. They also know that the world of commerce is never standing still.
If you examine the GDP of countries (in terms of purchasing power parity) dating back to the first century, you can see one of the first principles of economics, valuations tend to be "mean reverting". Perhaps that applies to countries as well.[viii,ix]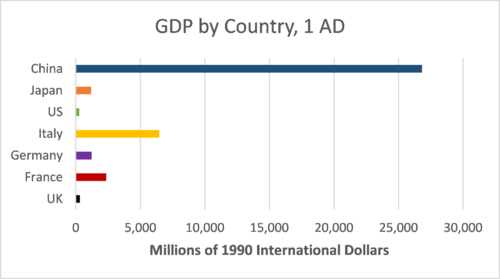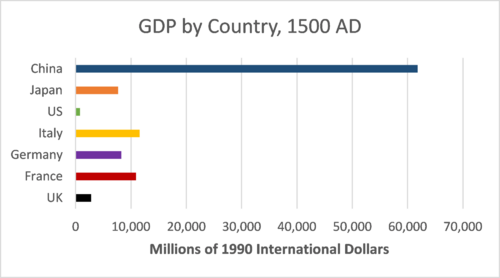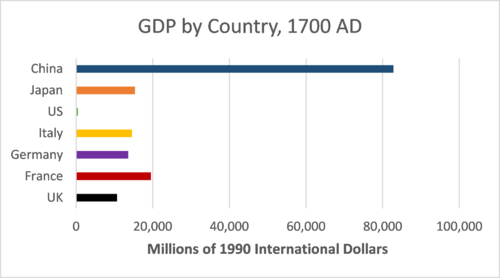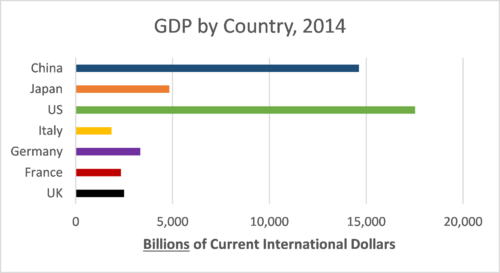 You can see from the series of charts how countries have risen and fallen in GDP leadership. Needless to say, Italy has lost its way and we have seen the rise and fall of the British Empire. The US has certainly been the dominant player since the industrial revolution of the 1900's. The one constant has been China.
The Chinese understand how economies have come and gone over a long period of time. They understand the natural rise and fall of economic super cycles. They understand the creative and technological destruction and reinvention of competition.
Alibaba may just be the biggest wake-up call China is giving to the world that they are back to pursuing global economic domination. If you carry forward the growth cycles of China, they should catch us by the year 2022.[x]
That's why, in spite of the short term struggles China is facing, we tilt emerging market assets toward China.
Ali Baba knew the magic words, "Open Sesame", to gain access to a world of treasure and riches. Perhaps it's no coincidence China's largest company is appropriately named Alibaba.
If you have questions or comments, please let us know as we always appreciate your feedback. You can get in touch with us via Twitter, Facebook, or you can email me directly. For additional information on this, please visit our website.
Tim Phillips, CEO – Phillips & Company
Jeff Paul, Senior Investment Analyst – Phillips & Company
References
[i] Barreto, E. (Sep 22, 2014). Alibaba IPO ranks as world's biggest after additional shares sold. Reuters.
[ii] Roy, S. (Sept 22, 2014). 5 Facts You Did Not Know About Alibaba Group. Online Marketing Trends.
[iii] Yahoo Finance. (Sep 19, 2014).
[iv] Picchi, A. (Sep 19, 2014). Alibaba launches biggest IPO in U.S. history. CBS MoneyWatch.
[v] Osawa, J., et al. (Apr 15, 2014). Alibaba Flexes Muscles Before IPO. The Wall Street Journal.
[vi] Yahoo Finance.
[vii] D'Onfro, J. (Sep 19, 2014). 22 Astounding Facts About Alibaba, The Giant Chinese E-Commerce Company With The Largest IPO In US Stock History. Business Insider.
[viii] Wikipedia. List of regions by past GDP (PPP). Purchasing power parity values.
[ix] Knoema.com. (2014). World GDP Ranking 2014. Purchasing power parity values.
[x] Jacob, J. (Nov 21, 2013). China to Replace US as World's Biggest Economy in Eight Years. International Business Times.