Perspective – Looking Ahead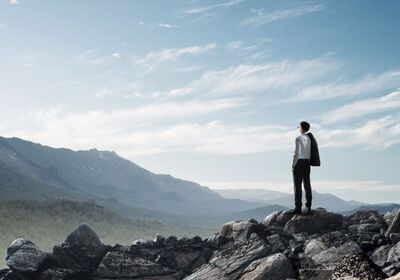 As we release our Q3 2020 Look Ahead, l wanted to take a moment to provide a little perspective. While I can't give proper attribution to the following statement—as I don't know the original author—it is well grounded:
"Just imagine you were born in 1900. On your 14th birthday, World War I starts, and ends on your 18th birthday. Twenty-two million people perish in that war. Later in the year, a Spanish Flu epidemic hits the planet and runs until your 20th birthday. Fifty million people die from it in those two years. Yes, 50 million. On your 29th birthday, the Great Depression begins. Unemployment hits 25%, the World GDP drops 27%. That runs until you are 33. The country nearly collapses along with the world economy. When you turn 39, Word War II starts. You aren't even over the hill yet. And don't try to catch your breath. On your 41st birthday, the United States is fully pulled into WWII. Between your 39th and 45th birthday, 75 million people perish in the war. At 50, the Korean War starts. Five million people perish. At 55 the Vietnam War begins and doesn't end for 20 years. Four million people perish in that conflict. On your 62nd birthday you have the Cuban Missile Crisis, a tipping point in the Cold War. Life on our planet, as we know it, should have ended. Great leaders prevented that from happening. When you turn 75, the Vietnam war finally ends."
I know none of us have that long of a time period but, perhaps our savings and investments do.
We are about to enter the ugliest earnings reporting period in a very long time. The news will be bad, but fortunately, much of it has already been anticipated.
We should fully expect to see an equity market correction as is normal following large rallies. Again, from our Q3 Look Ahead: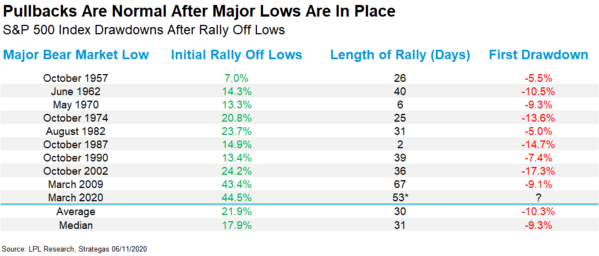 Simultaneously, we are sitting on a world of cash. Just one component would be our savings rate. [ii]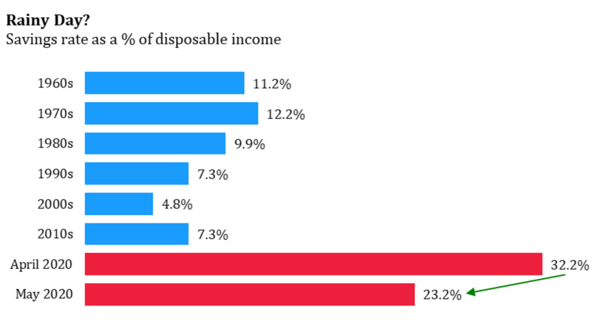 Just imagine when we spend down or invest that money.
The U.S. consumer is also showing a renewed sense of confidence in making major purchases. Home sales and housing construction suffered when most of the nation was locked down in March and April, but they have recovered quickly since. [iii]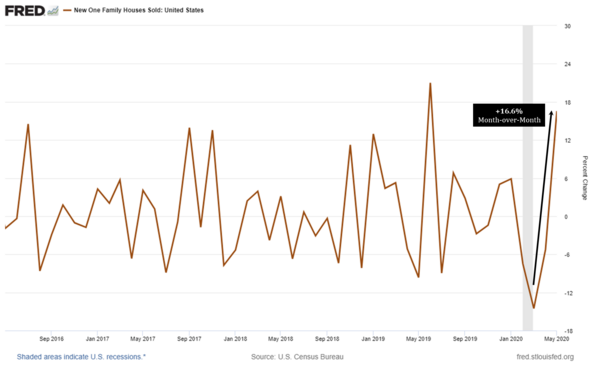 Another area showing renewed consumer purchase intent is vehicle sales, which have risen almost 39% off the April lows. [iv]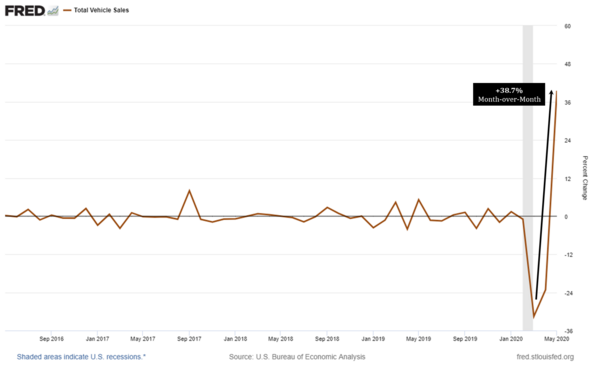 These positive datapoints on the strength of the U.S. consumer are worth considering, not only because it feels good given all the bad news out there but, because they highlight that—with skillful policymaking—the U.S. consumer stands ready to navigate the economy through the pandemic reasonably well.
Take a look at our Q3 2020 Look Ahead here.
Watch our narrated Q3 2020 Look Ahead here.

If you have questions or comments, please let us know. You can contact us via Twitter and Facebook, or you can e-mail Tim directly. For additional information, please visit our website.
Tim Phillips, CEO, Phillips & Company
Sources:
i. https://phillipsandco.com/files/8215/9356/4131/Look_Ahead_-_2020Q3_-_Final.pdf
ii. https://fred.stlouisfed.org/series/PSAVERT
iii. https://fred.stlouisfed.org/series/HSN1F
iv. https://fred.stlouisfed.org/series/TOTALSA