Playing with Fire Equals Burning Your Hand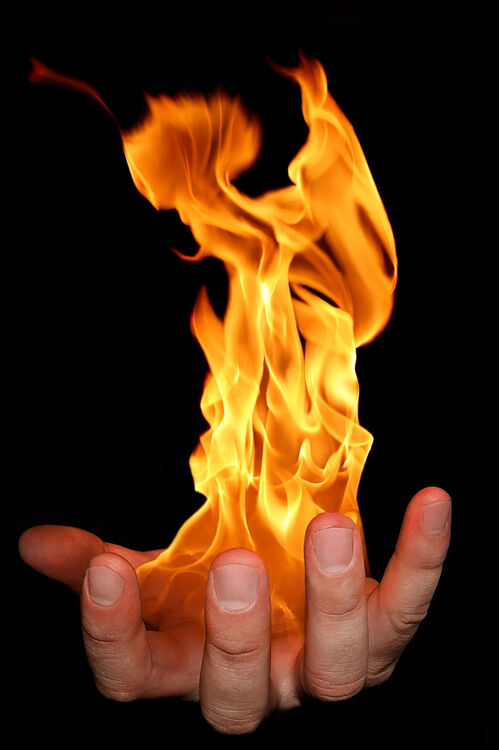 President Trump's remarks concerning his ongoing trade war with China took on epic proportions last week as he simultaneously attacked the Chairman of the Federal Reserve and the President of China Xi Jinping on Friday. [i]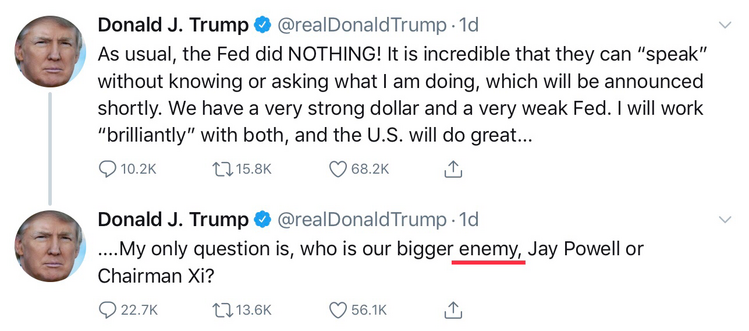 Calling Chairman Xi an "enemy" while wanting trade concessions out of him only fuels more Chinese nationalism while concurrently hurting his cause.
Shortly after those comments, President Trump went on to order U.S. businesses to prepare to leave China. [ii]

Ordering around private enterprises would be more akin to something out of the Communist Party, not out of a "Free Enterprise" Republican. Although to be fair, Trump's latest tantrum came in response to tariff increases out of China; a response to Trump's tariffs, and possibly, a response to Trump's comments calling Chairman Xi an enemy. 
Markets responded accordingly, with the S&P 500 trading as high as 2,928 before Trump's comments, only to then sell off 3.2% to a low of 2,834 for the day. [iii]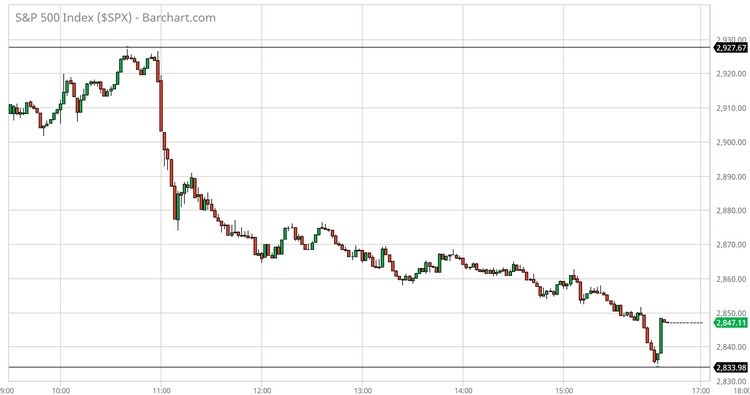 It is clear that Trump might not fully appreciate the impact he is having on the economy, although he does clearly observe feedback from the equity markets.
Clearly, U.S. businesses have reacted by pulling back on capital expenditures. [iv]
First, manufacturing output is approaching multi-year lows not seen since Trump was elected. [v]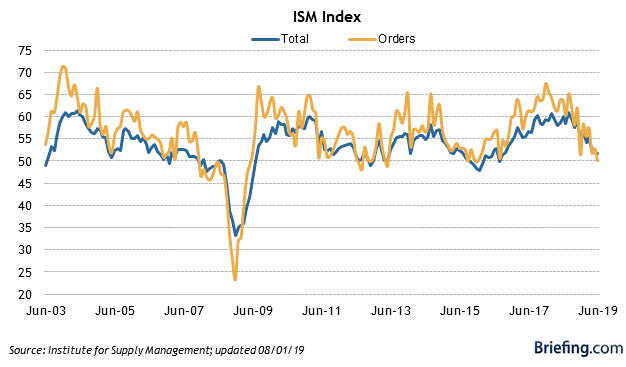 Second, small business optimism, while rebounding from the lows of January, don't reflect Trump's current trade spat, as the data was measured before August 12th by the NFIB.  Clearly, business optimism is well below the levels from the year prior to when the Trump trade war began. [vi]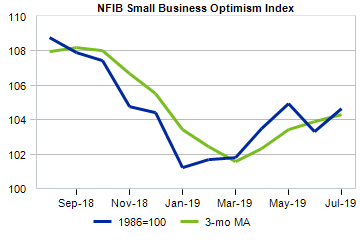 The main questions on my mind as we evaluate where we are in this late-stage economic expansion is how is the consumer digesting the volatility induced by Trump? And are they growing fatigued with Trump's trade tantrums or is it consumption as usual?
So far, the consumer seems unfazed by all of the President's trade rhetoric. Retails sales are still strong and short-term borrowings (revolving credit) continue to expand. [vii] [viii]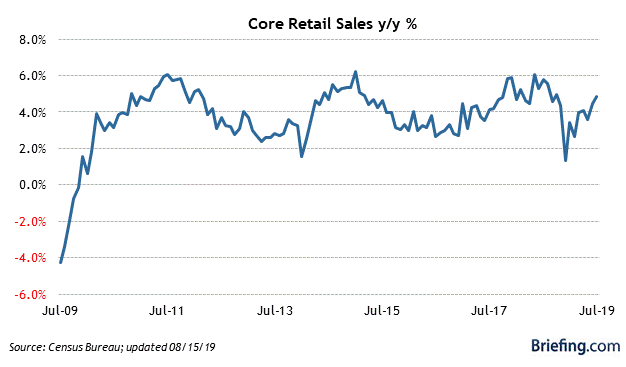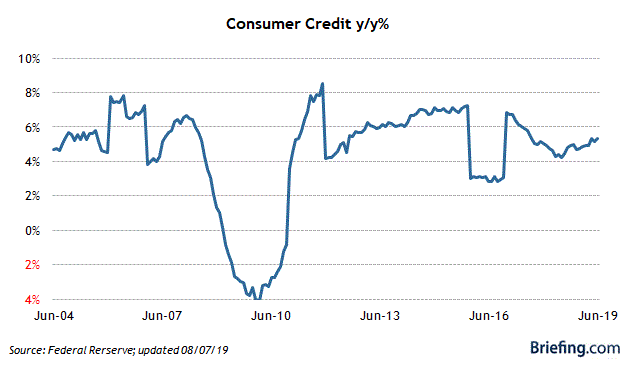 However, this week we will get a good reading on consumer sentiment as the Conference Board's Consumer Confidence Survey for August is released on Tuesday. [ix]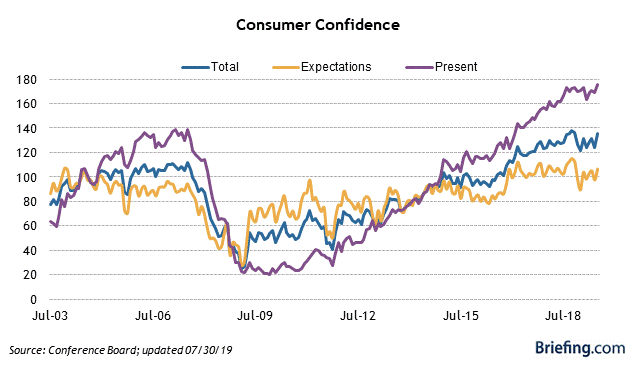 The results from that survey will be telling, as confidence in our economy is the foundation of ongoing consumption.
The economy is already expected to cool down significantly, certainly well below Trump's 3% promise. [x]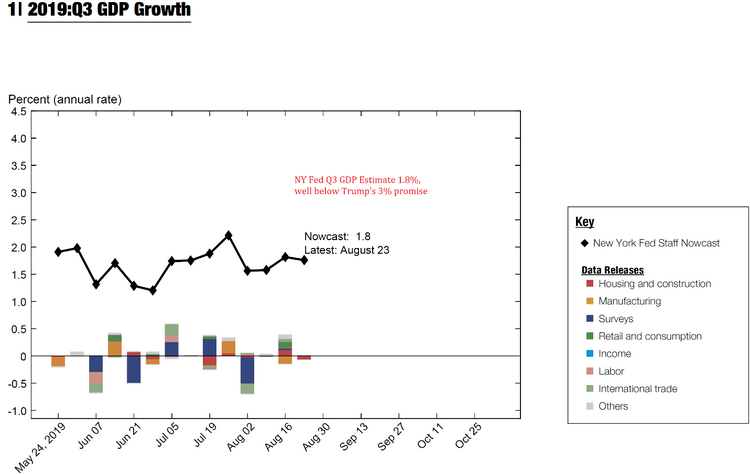 Trump may be asking for trouble if he rattles the U.S. consumer. While we prefer more tempered dialogue with China, it's pretty hard to throw off U.S. consumer spending habits, especially when we are at full employment.
However, toying with consumer confidence is akin to playing with a fire that could quickly burn President Trump, and frankly, all of us.
If you have questions or comments, please let us know. You can contact us via Twitter and Facebook, or you can e-mail Tim directly. For additional information, please visit our website.
Tim Phillips, CEO, Phillips & Company

Sources:
i.      https://twitter.com/realDonaldTrump/status/1164914609180033026
ii.     https://twitter.com/realDonaldTrump/status/1164914960046133249
iii.    https://www.barchart.com/stocks/quotes/$SPX/interactive-chart
iv.    https://research.stlouisfed.org/datatrends/net/page6.php
v.     https://www.briefing.com/calendars/economic/display-article?ArticleId=ER20190903100000ISMManufacturingIndex&FileName=napm.htm
vi.    https://www.economy.com/dismal/indicators/releases/usa_nfib/f46f8e73-fa63-43ba-8c28-e07beceae9de/united-states-nfib-small-business-survey (Paywall)
vii.   https://www.briefing.com/calendars/economic/display-article?ArticleId=ER20190913083000RetailSales&FileName=retail.htm
viii.  https://www.briefing.com/calendars/economic/display-article?ArticleId=ER20190909030000ConsumerCredit&FileName=credit.htm
ix.    https://www.briefing.com/calendars/economic/display-article?ArticleId=ER20190827100000ConsumerConfidence&FileName=conf.htm
x.     https://www.newyorkfed.org/research/policy/nowcast.html