Predicting Americas Economic Demise - Not Really!
U.S. equity markets have been on a tear as of late. In fact, from our post, Inflection Point, where we wrote the "U.S. investor would need to choose a set of data to focus on;" we have our answer. They are clearly focused on macro trends and discounting the lack of corporate earnings growth. [i]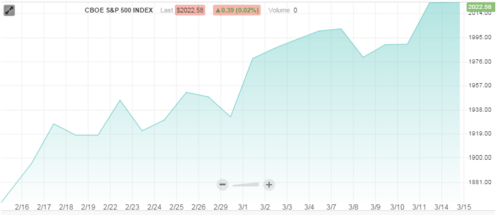 In the last four weeks, the S&P 500 has risen over 8%, while earnings estimates for Q1 2016 were revised and are now estimated to decline -8.3%. At the beginning of the quarter earnings were expected to grow 0.3%. If the index reports a decline in earnings for Q1, it will mark the first time the index has seen four consecutive quarters of year-over-year declines in earnings since Q4 2008 through Q3 2009. [ii] [iii]
The two macro themes that have been hurting S&P 500 earnings have been the rising dollar and declining oil prices. [iv]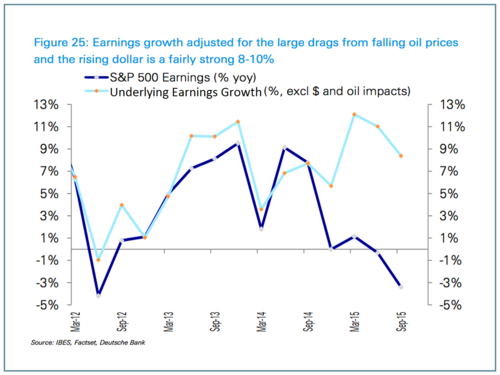 The energy sector represented 10% of the S&P 500 earnings prior to the massive decline, it has since dropped to around 5%. Further, roughly 50% of S&P 500 revenues comes from abroad. The strong dollar directly reduces the dollar value of these revenues and earnings from overseas operations. [v]
Not coincidentally, those two contributors have had a dramatic reversal.
The U.S. dollar has declined against most currencies since the start of the year. [vi]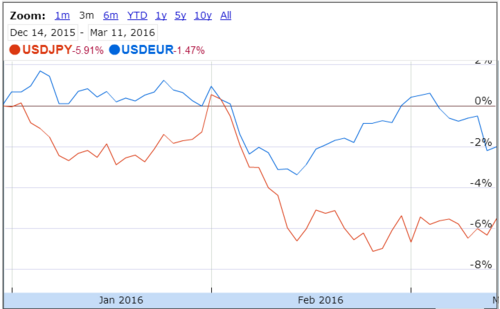 Oil prices have rebounded nicely since hitting a bottom in February. [vii]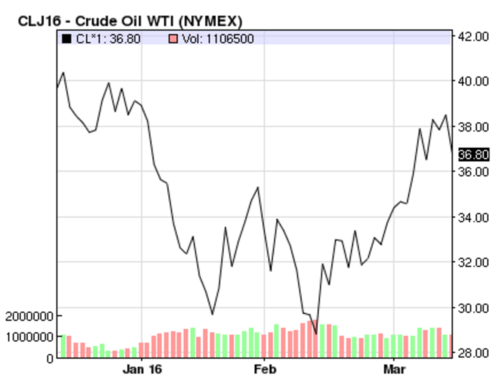 While an earnings growth recovery continues to get pushed further out into the year, investors continue to focus on macro trends that affect their daily lives.
The key trends to sustaining the recent rally would be; a weakening dollar, improving oil prices and a Fed content on being patient. However, the growing cloud on the horizon is that recent wage growth could cause the Fed push interest rates higher, sooner rather than later. [viii]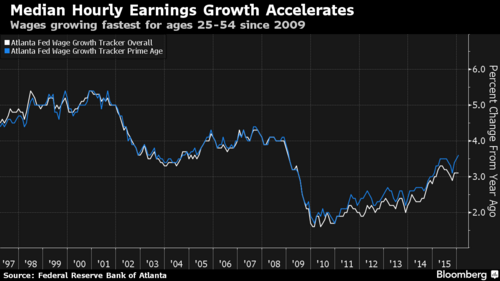 Wages for prime working age Americans are up 3.6% in the last 12 months (Jan 2015 - Jan 2016), that's the fastest growth rate since 2009.
That's right, wages are better. In spite of what the politicians, lobbyists, unions and their media consultants, who perpetuate fear in America and predict our economic demise, might say for ratings; wages are indeed improving.
Certainly that's great news for workers and companies focused on the U.S. consumer. However the Fed could raise rates, this would strengthen the dollar and impede the earnings of American companies who have sales outside our borders.
On balance, rising wages and slightly higher interest rates are good for our economy. The way to maneuver this environment is to tilt to small cap and consumer discretionary stocks. Conversely, underweight emerging markets and long-term bonds (10+ year maturities).
After the recession of 2008 and the economic woes that followed, pundits of all stripes have bemoaned the demise of the American dream. However, as New York Times columnist Neil Irwin puts it, "Boring consistency is terrible news for people who want to write splashy headlines about the latest data. But it's good news for everybody else."
Predicting America's economic demise makes for flashy headlines and little else. [ix]
If you have questions or comments, please let us know as we always appreciate your feedback. You can get in touch with us via Twitter, Facebook, or you can email me directly. For additional information on this, please visit our website.
Tim Phillips, CEO – Phillips & Company
Chris Porter, Senior Investment Analyst – Phillips & Company
References:
[i] http://www.nasdaq.com/symbol/spx/interactive-chart
[ii] https://www.google.com/finance?q=INDEXSP%3A.INX&ei=uN_mVvnsIsrHigKv8oioDA
[iii] http://www.factset.com/websitefiles/PDFs/earningsinsight/earningsinsight_3.11.16
[iv] http://www.businessinsider.com/chadha-earnings-growth-adjusted-for-oil-dollar-fairly-strong-2015-10
[v] http://blog.yardeni.com/2015/08/s-500-revenues-up-bit-excluding-energy.html
[vi] https://www.google.com/finance?q=usdeur&ei=GO3mVsrBDMO1iQLTv4rACA
[vii] http://www.nasdaq.com/markets/crude-oil.aspx
[viii] https://www.frbatlanta.org/economy-matters/economic-and-financial-highlights.aspx
[ix] http://www.nytimes.com/2014/04/30/upshot/no-one-cares-about-economic-data-anymore-thats-good-news.html?_r=0