Professional Critics and a Policy Driven World
Friday was a seminal day which presented both investors and global Central Bankers with something to chew on. The U.S. economy added a meager 38K to jobs in May, well below the 158K jobs analysts had forecasted. Sure, there was a Verizon employee strike. But even when adding back the 35K idled Verizon employees, May payrolls only grew by 73K jobs. [i] [ii]
Clearly, there is something going on in the economy that the Fed and Wall St. can't explain. Let's take a look at a 5-year and a 10-year view of job growth. [iii]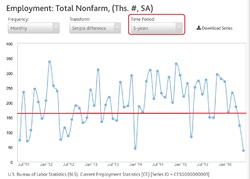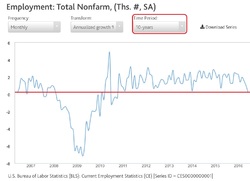 While the 10-year view isn't great, the percent-per-year view shows us just how bad the breakdown in jobs is. We haven't seen this consistent of a downshifting in jobs since 2010.
Again, this should be no surprise to our readers. As we have been saying for some time, our economy is in a prolonged corporate earnings growth recession which has now been extended for a full year. Furthermore, we are also seeing a downshift in the ISM- nonmanufacturing numbers. These numbers encompass everything in our economy other than manufacturing. [iv]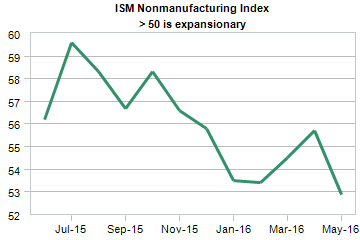 While the indicator is still positive, when we look at it from a growth vs contractionary perspective, it's now suggesting some slow growth ahead. This is a critical indicator as it represents 88% of our GDP.
Should we panic? Not likely. Here is what we know based on these weak readings:
The Fed will likely delay a rate increase in June and in fact, Fed Funds Futures suggest that is likely going to be the case. [v]


The U.S. Dollar should arrest its latest climb as our economy has demonstrated some weakness, albeit temporary at the least. This should help large corporate American companies regain some of their much-needed earnings growth footings. [vi]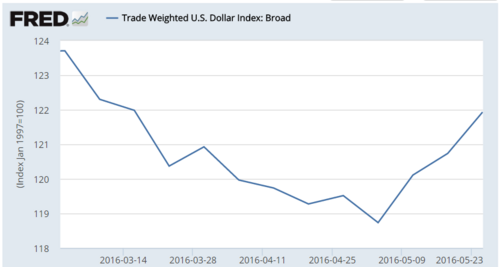 The fact that we are seeing a dramatic correction in the labor market does not come as a total surprise. The current economic recovery has been devoid of the job growth seen in past recoveries. According to a recent study by the Economic Innovation Group, new firm creation has been abysmal. Compared to 400K plus new firms created in prior recoveries, only 166,460 new firms have been created during the current recovery. [vii]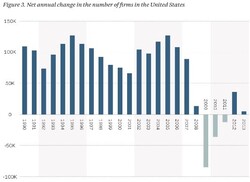 Moreover, the types of jobs that have been added are on the lower end of the pay scale which continues to put a lid on growth. [viii]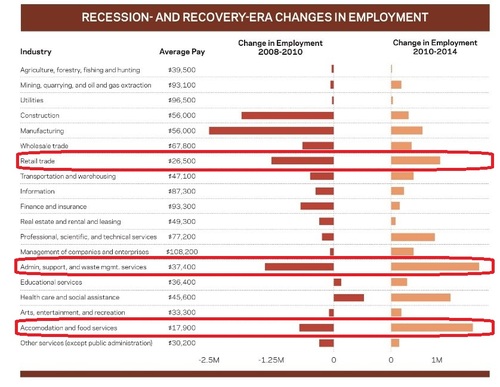 All of this should be a warning shot to every institutional and individual investor that until we see some recovery in corporate earnings growth, investors should brace for a possible market pullback. We expect a return to earnings growth in the second half of the year. Until then, realize corrections are quite common and do occur more than any of us like. [ix]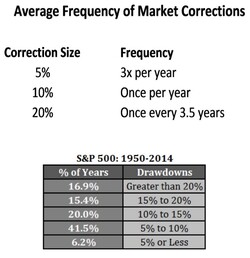 The jobs report may be signaling something bigger and worse on the horizon. However, we do live in a Policy Driven World and the Fed has had a strong hand in our recovery and will continue to do so.
Perhaps there is something to the criticism that Donald Trump and Bernie Sanders are leveling across the political class that the American public understands. It would be nice to see Congress and the President lend a hand once in a while. Until then, we are dependent on Fed Policy to support or hinder the anemic recovery we are in.
We might need more than Fed policy to save the day. For now, we brace for another correction while watching to see if the jobs report and ISM numbers are a one-time phenomenon.
If you have questions or comments, please let us know as we always appreciate your feedback. You can get in touch with us via Twitter, Facebook, or you can email me directly. For additional information on this, please visit our website.
Tim Phillips, CEO – Phillips & Company
Chris Porter, Senior Investment Analyst – Phillips & Company
References:
[i] http://www.fxstreet.com/analysis/job-growth-slows-and-participation-rate-falls-in-may-201606031739
[ii] http://blogs.wsj.com/economics/2016/06/03/how-the-verizon-strike-hit-mays-jobs-report-and-what-it-means-for-junes-figures/
[iii] http://www.bls.gov/ces/
[iv] https://www.instituteforsupplymanagement.org/ISMReport/NonMfgROB.cfm?navItemNumber=12943
[v] http://www.cmegroup.com/trading/interest-rates/countdown-to-fomc.html
[vi] https://research.stlouisfed.org/fred2/graph/?id=TWEXB
[vii] http://eig.org/wp-content/uploads/2016/05/recoverygrowthreport.pdf
[viii] http://eig.org/wp-content/uploads/2016/05/recoverygrowthreport.pdf
[ix] Ibid.