For many months I have been focused on the tension between inflation and a recession, with the principal actor being the Federal Reserve. Can the Fed skillfully land a 23 trillion-dollar economy in a soft spot while fighting 8% inflation? It's clear some don't believe that's possible.
Much smarter people than me suggest big trouble is ahead:
Jamie Dimon (CEO of JPMorgan): "Right now it's kind of sunny, things are doing fine, everyone thinks the Fed can handle it. That hurricane is right out there down the road coming our way. We don't know if it's a minor one or Superstorm Sandy. You better brace yourself." 1
Elon Musk (CEO of Tesla): Musk emailed Tesla executives on Thursday that he has a "super bad feeling" about the economy, suggesting we are "probably in a recession now." 2
In fact, overall CEO sentiment is pretty downbeat, based on a recent confidence reading. 3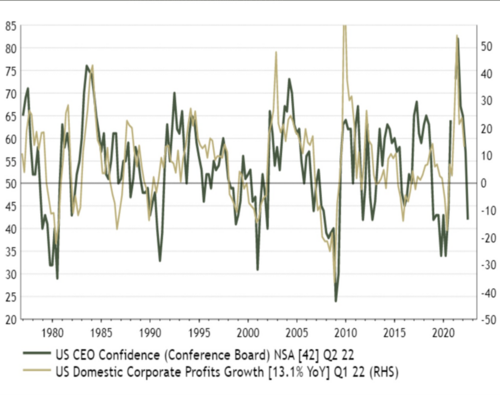 I, however, don't believe the consumer is as dour as CEO's.
First, the US consumer is demonstrating some interesting behavior. "Everything is terrible, and I am fine" is the title of a thought-provoking article in the Atlantic. This chart summarizes the entire article well: 4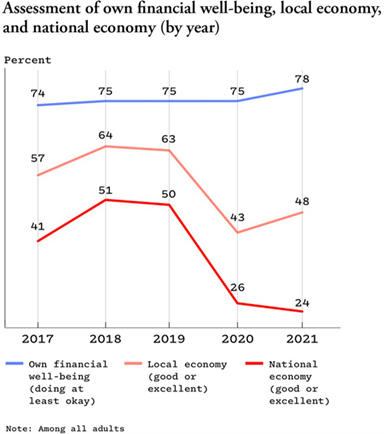 Consumers feel pretty good about their financial wellbeing, but overwhelmingly dread the national economy. In fact, the gap widened last year.
Pulling from a more recent survey by Gallup, this dichotomy persists into this year: 5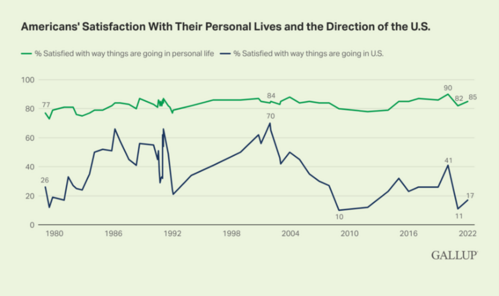 Eighty-five percent of respondents are satisfied with their personal life while being very dissatisfied with the way things are going in the United States. It's not that the consumer is unaware of inflation or recessions.
It would appear to me the consumer can hold two competing thoughts at the same time: risk of recession and inflation in the national economy as well as a sense of well-being for their personal situation.
In my opinion, it's probably easy for the consumer to find comfort in their personal wellbeing.
Jobs are abundant with the U.S. economy, adding another 390k people to the workforce in May with an average of over 500k jobs being added per month over the last year. 6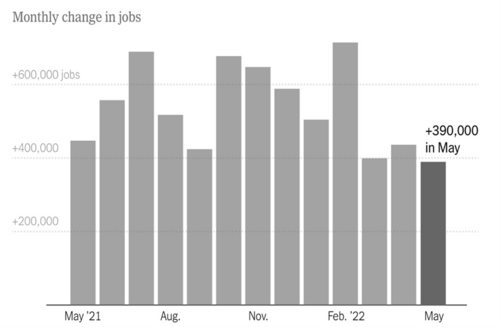 More consumers are returning to work, with the prime age (25- to 54-year-olds) labor force participation rate nearly back to pre-pandemic levels. As more people return to work this should help moderate some wage inflation. 7
Wages are substantially higher than pre-pandemic levels and we all know wages, once paid, are nearly impossible to take away. 8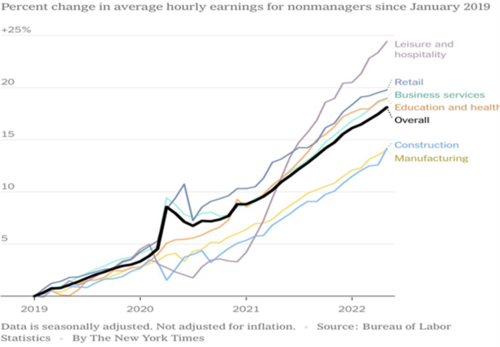 An important side note in the recent wage report is the fact that they are finally moderating, giving companies a glimmer of hope for moderating inflation. 9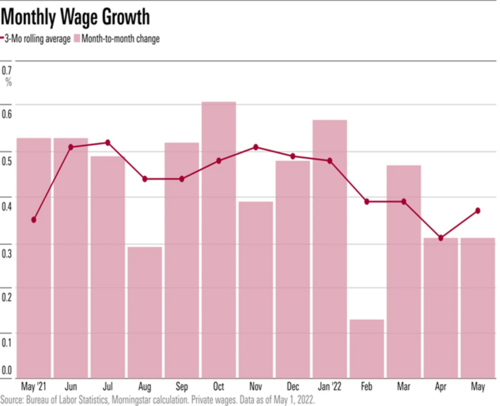 Year-over-year wage growth is averaging about 4.5% 10, quickly migrating back toward the 3.5% annual average that is manageable by Fed standards.
I'm not suggesting the psychological slack won't have an impact on consumer behavior. It likely already has, at least when it comes to auto and existing home sales. 11

However, overall consumer optimism about their personal finances might just be durable enough to allow the Fed to raise rates by more than another 1% to fight inflation and not derail consumer "animal spirits." We know credit markets have already anticipated another 100-basis point increase in rates and equity investors have discounted a significant slowdown in the economy.
We might actually be in a recession now, but much of it might be driven by some psychological slack in the overall economy while consumers' personal economy looks much brighter. If that's the case, any recession may well be short-lived.
Maybe that translates into a more immediate bottom for equity prices than even the "experts" predict.
Macroeconomic psychological slack in our economy might not be as devastating as one would think.
If you have questions or comments, please let us know. You can contact us via Twitter and Facebook, or you can e-mail Tim directly. For additional information, please visit our website.
Tim Phillips, CEO, Phillips & Company
Sources: