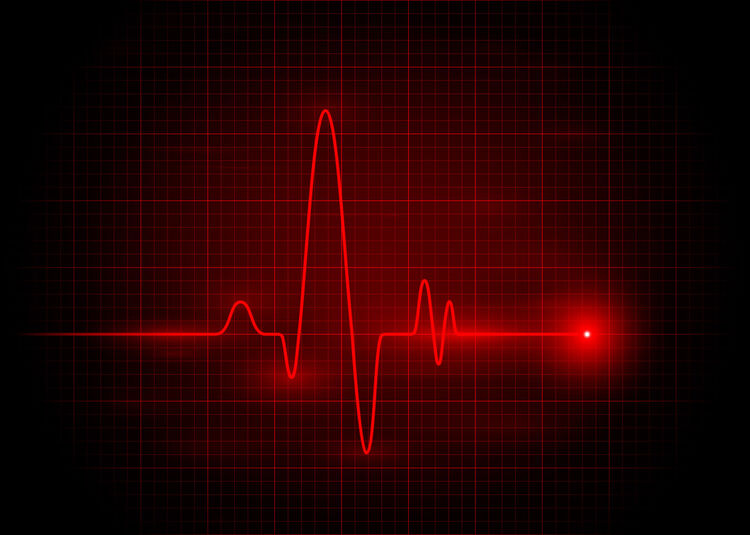 After another wild week on Wall Street, you might expect consumers' nerves to be frayed.  [i]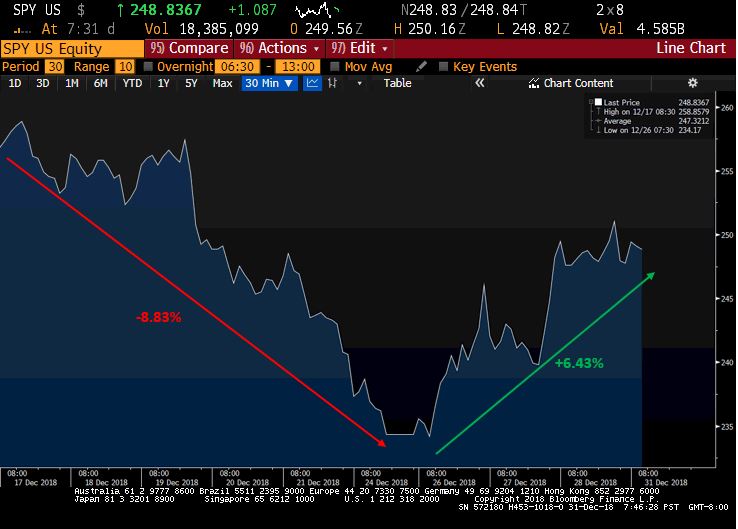 On the contrary, consumers did nothing but shop.  According to Mastercard, this holiday season represented the strongest growth in consumer spending in the last six years, not to mention that online sales grew 19.1 percent from 2017 numbers.  [ii]
In fact, according to Mastercard, sales increased 5.1 percent from 2017 to a total of $850 billion.  That is north of 4 percent of the entire U.S. GDP for all of 2017. [ii] [iii]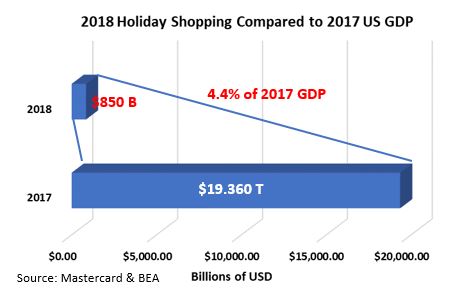 It is curious that consumers spent at such a high rate despite the host of issues that could have derailed their shopping habits. Mastercard reported that "poor weather was a major impact during primetime shopping periods.  This included cold weather on Black Friday morning on the East Coast and wet weather conditions the weekend of December 15 – 16, on both the East and West coasts. Conditions were also less than ideal on Friday, December 21, in the East, with storms that impacted the final run of the season." [ii]
Here are a few other noteworthy issues that many analysts thought might derail spending this holiday season, none of which, in the end, appear to have had a major impact on holiday shopping numbers:
Turmoil around tariffs: Tariffs on steel, aluminum, beef, soy, and spirits, to name a few [iv]
Rising interest rates: The Fed increased interest rates by another 25 basis points on December 19 [v]
Destabilization of the Fed: Rumors surrounding the replacement of Fed Chair Jerome Powell [vi]
Plus, the aforementioned wild weeks on Wall Street
Clearly, wage growth and low unemployment rates are still fueling consumers' appetites to spend. [vii] [viii]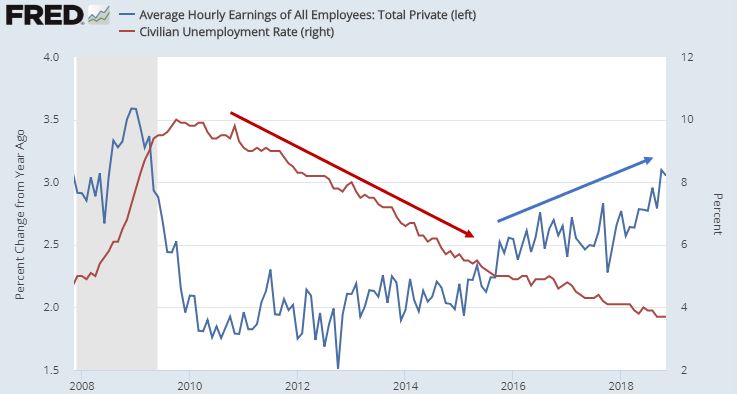 However, like most things macroeconomic, it is more important to look at expectations about future data rather than dwell on current data.  On that front, we are seeing some consumer weaknesses.  According to the Conference Board, consumer confidence continued a downward slide, although it was only on a mild decline in December.  The Consumer Confidence Index slipped 6 percent but remains at high levels. [i] [ix]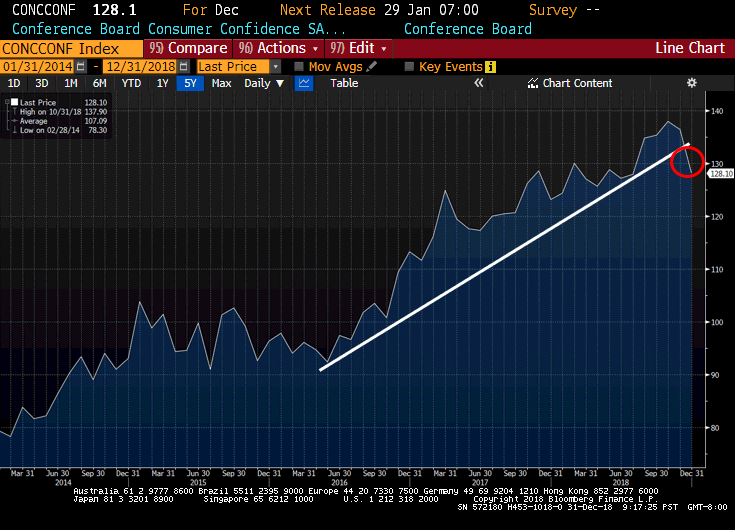 A little more troubling is the evident slide in future consumer expectations.  The Expectations Index, which is based on consumers' short-term outlooks, fell by 11.75 percent. [i] [ix]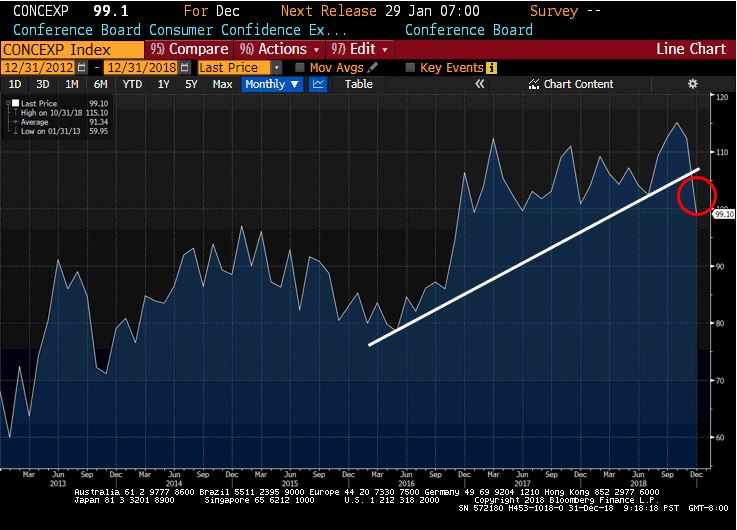 Although Wall Street's recent volatility might not be affecting current consumer behavior, it might indeed impact future spending.  Over the next 30 – 45 days, we might expect some relief to come from the following forms:
The reopening the U.S. Government
The announcement of a trade deal with China
A more dovish tone from the Federal Reserve in upcoming press conferences
A more sanguine President Trump upon facing internal pressures to moderate his rhetoric (although we should not rely on that)
Q4 earnings reports might exceed current expectations, given that analyst expectations have dropped by 4.2 percent since September 30, 2018; it's possible that analysts have underestimated their expectations for earnings growth. [x]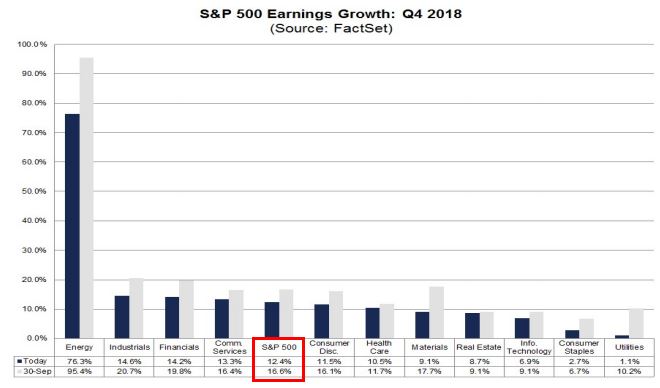 It is no secret that the pulse of the consumer continues to beat strongly, despite many signs of potential weakness.  Let us hope that this pulse improves again, and quickly, or else we might see a slowdown in overall consumption.
We wish you and your family a very happy, healthy, and prosperous 2019!
If you have questions or comments, please let us know.  You can contact us via Twitter and Facebook, or you can e-mail Tim directly.  For additional information, please visit our website.
Tim Phillips, CEO, Phillips & Company
Robert Dinelli, Investment Analyst, Phillips & Company 
References:
i.            Bloomberg, L.P.
ii.           https://newsroom.mastercard.com/press-releases/mastercard-spendingpulse-u-s-retail-sales-grew-5-1-percent-this-holiday-season/
iii.          https://www.bea.gov/system/files/2018-03/gdp4q17_3rd.pdf
iv.          https://www.cmtradelaw.com/2018/10/latest-u-s-trade-actions-tariffs-and-other-countries-retaliatory-measures/
v.           https://www.federalreserve.gov/monetarypolicy/files/monetary20181219a1.pdf
vi.          https://www.cnbc.com/2018/12/22/trump-reportedly-wants-to-fire-fed-chair-powell.html
vii.         https://fred.stlouisfed.org/series/CES0500000003
viii.        https://fred.stlouisfed.org/series/UNRATE
ix.          https://www.conference-board.org/data/consumerconfidence.cfm
x.           https://www.factset.com/hubfs/Resources%20Section/Research%20Desk/Earnings%20Insight/EarningsInsight_122118.pdf