It's official.  We have concluded the first trading day of the second quarter in 2017.  We would like to take this opportunity to present you with our Q2 2017 Look Ahead.
For a PDF, click here.
For our audio and video presentation, click here.
Below, we've highlighted a number of key elements from our Q2 2017 Look Ahead.
 Is the fiscal stimulus narrative in question?
Since the presidential election of Donald Trump, we have seen a stock market rally of 10 percent. [i]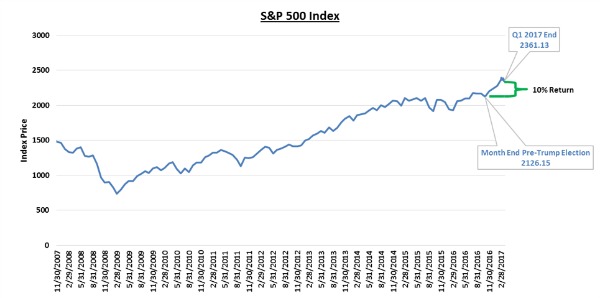 2.  Corporate America continues to benefit.
Much of the benefit is driven by the recovery in earnings from the Energy Sector. [ii]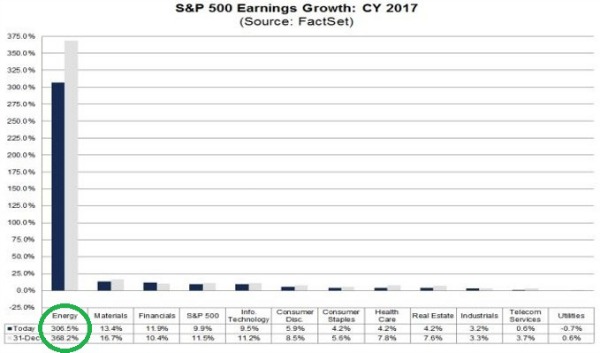 3.  Quarterly GDP forecasts remain a macroeconomic driver within the United States.
The Federal Reserve Bank of Atlanta has provided downward revisions to its Q1 2017 GDPNow forecast. [iii]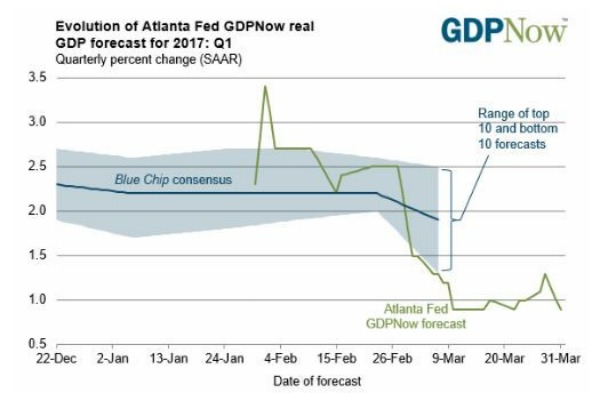 4.  We see growth potential in Emerging Markets.
Current valuations based on earnings in Emerging Markets are trading below their historic average. [i]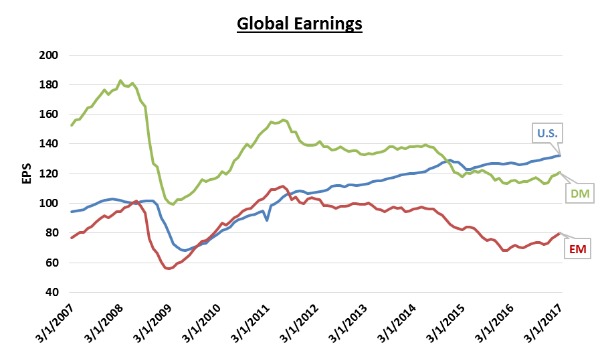 5.  Political risks appear to be on the decline.
Nationalism has come forth to fight against populism throughout Europe in correlation with the surge of EU consumer confidence to multi-year highs. [iv]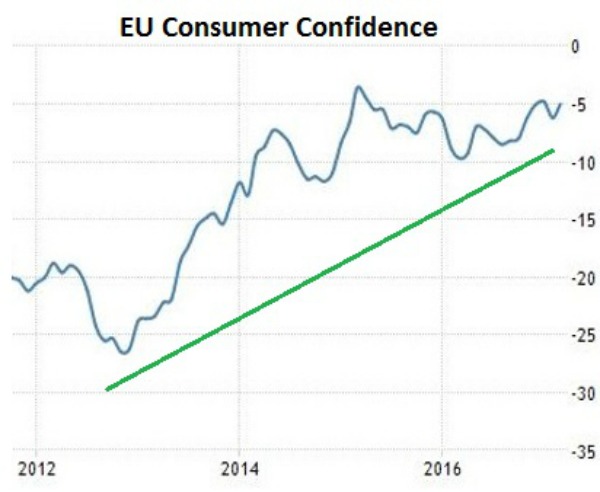 Despite a wobbly fiscal stimulus narrative, animal spirits and consumer confidence both locally and abroad remain at historically elevated levels.  Although valuations seem slightly bloated domestically, we see attractive opportunities both in International Developed and Emerging Markets.
Check out our Q2 2017 Look Ahead here, to gain further insight into what we think will continue fueling this market.
If you have questions or comments, please let us know.  We always appreciate your feedback.  You can get in touch with us via Twitter and Facebook, or you can e-mail me directly.  For additional information, please visit our website.
Tim Phillips, CEO, Phillips & Company 
Robert Dinelli, Investment Analyst, Phillips & Company 
References:
    i.            Bloomberg LP
    ii.            https://insight.factset.com/hubfs/Resources/Research%20Desk/Earnings%20Insight/EarningsInsight_032417.pdf