This week the Federal Reserve will meet in order to set the interest rate policy for the next several months. It's a 50/50 toss-up whether they raise interest rates by 25bp or continue to hold rates at their current level.
Inevitably, the Fed will need to address the same issue all public institutions grapples with; credibility and reputation. We know the U.N. has lost much credibility. And with only a 20% approval rating, the U.S. Congress undeniably has little credibility. When the Obama Administration failed to enforce the Syrian "Red Line," they lost geopolitical credibility (click here for my previous commentary on the matter). [i]
More recently, NATO lost credibility when Russia invaded Ukraine, and China's provincial effectiveness is in doubt as North Korea is threatening regional stability. On top of all that we find one of the world's largest banks, Wells Fargo, opening fraudulent accounts to meet earnings targets all the while paying its leader over $125 million for promoting such a culture. [ii]
Now, the Fed is on the same precipice of maintaining their credibility as an effective policy body, or falling to the wayside like so many other public institutions.
Let's frame the Fed's dilemma:
According to a recent Gallup survey, low/zero interest rates have been widely accepted by the public as a good thing. For one, investors believe low rates are good for consumers and business borrowers, and that low rates don't really hurt savers or investors. [iii]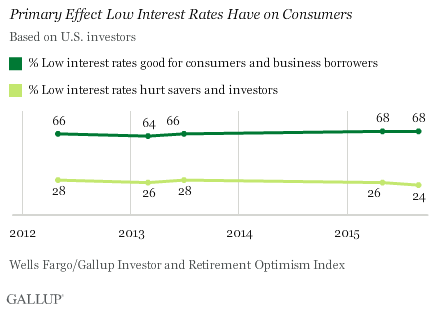 Second, investors believe the low-interest rates help financially, and that low rates are not making that much of a difference on retired Americans. Only a few investors believe low-interest rates are hurting them financially. Clearly, investors have favored the near zero interest rate policy the Fed has held for many years. [iv]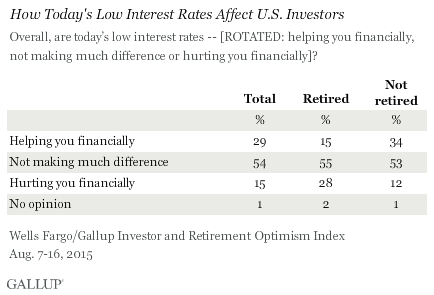 On the other hand, (as written about by known blogger Ben Hunt), the Fed is now battling its own institutional credibility problem like other public service institutions. It appears the public is souring on our policy controlled world. [v]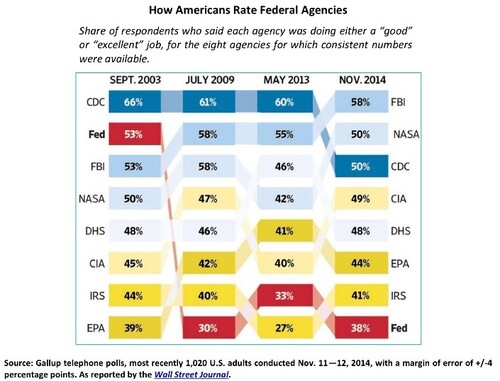 To Raise or Not to Raise: Is that still a question?
The Fed effectively signed off on two interest rate increases in 2016 with their earlier statement by Janet Yellen. [vi]
"It's appropriate, and I've said this in the past, I think for the Fed to gradually and cautiously increase our overnight interest rate over time and probably in the coming months, such a move would be appropriate," Yellen said in response to a question at Harvard's Radcliffe Institute for Advanced Study.
The Fed has followed the data closely. With their dual mandate of inflation targeting (2%) and full employment, they should likely raise.
Unemployment is at pre-financial crisis lows of 4.9%. [vii]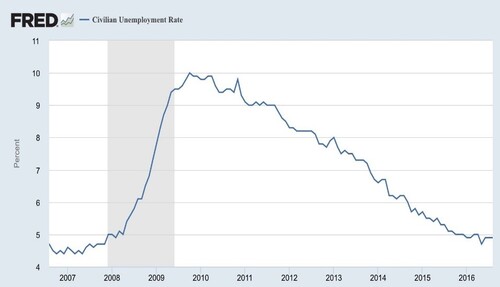 Inflation (depending on which indicator you use) is hovering around 2%. In fact, on Friday the Core CPI (which is not used by the Fed) was just above 2% according to the Cleveland Fed's NowCast. [viii]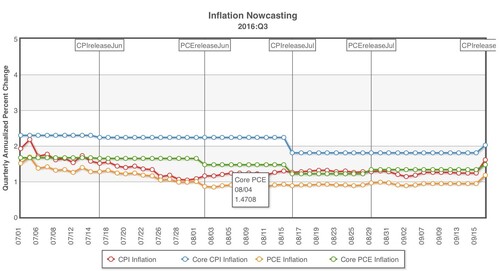 The problem is the Fed's current scoreboard (Unemployment Rate) clearly does not reflect the mood of the public and their current well-being. Again from Gallup, economic confidence is hovering around 2016 lows. [ix]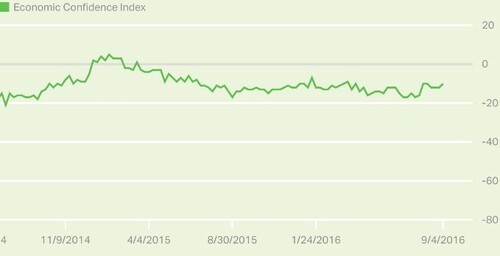 While at first glance, the low unemployment rate might look good on the Fed's scorecard, folks on Main Street USA are simply not feeling the economic "love."
The fact is the Fed knows their scoreboard is missing some stats; there are many people sitting on the sidelines not engaging in the workforce. That's a new reality.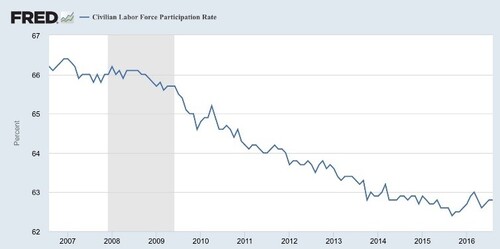 Workforce participation is at a 10 year low, over 2.8 million American workers have given up partaking in the workforce since peak participation before the financial crisis. I believe about 25% of the lack of participation is due to the aging workforce, but that still leaves over 2.1 million eligible workers on the sidelines now vs. prior to the financial crisis.
The chart below might help shed some light on employment in America.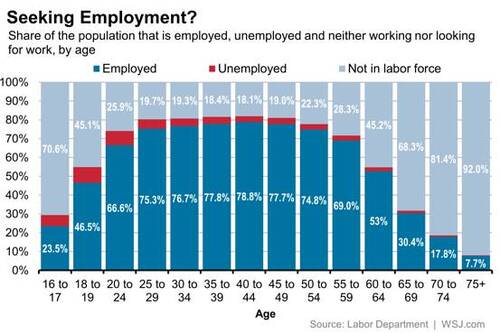 If indeed the Fed's mandate is full employment, then they are not meeting their goals. Without any help from Congress, or the President, in regards to fiscal policy, the Fed has become the "only game in town." The Fed must now decide whether they want to pursue their mandate of "full employment" or manage their credibility by raising rates (or signaling a definitive increase in December) during their upcoming meeting.
In any case, the market will continue to be increasingly volatile, as we discussed last week. In fact, just after we wrote our post about upcoming increases in volatility, 4 of the following 5 trading days had a 1% or greater move in the market.
One thing is for sure: The Fed will likely add to the uncertainty until we clear the Presidential election and work our way into the Q3 earnings reporting season.
Reputation matters to public institutions, especially in the wake of so many failures. I would not bet against the Fed increasing rates this week.
If you have questions or comments, please let us know as we always appreciate your feedback. You can get in touch with us via Twitter, Facebook, or you can email me directly. For additional information on this, please visit our website.
Tim Phillips, CEO – Phillips & Company
Chris Porter, Senior Investment Analyst – Phillips & Company
References:
[i] http://www.gallup.com/poll/195632/approval-congress-inches-september.aspx?g_source=Politics&g_medium=newsfeed&g_campaign=tiles
[ii] http://www.nytimes.com/2016/09/19/business/senate-committee-to-discuss-wells-fargo-scandal-as-federal-reserve-meets.html?_r=0
[iii] http://www.gallup.com/poll/185450/investors-say-low-interest-rates-good-harm.aspx?g_source=Federal%20reserve&g_medium=search&g_campaign=tiles
[iv] http://www.gallup.com/poll/185450/investors-say-low-interest-rates-good-harm.aspx?g_source=Federal%20reserve&g_medium=search&g_campaign=tiles
[v] http://www.salientpartners.com/epsilon-theory/
[vi] http://www.cnbc.com/2016/05/27/yellen-rate-hike-probably-appropriate-in-the-coming-months.html
[vii] https://www.stlouisfed.org/
[viii] https://www.clevelandfed.org/our-research/indicators-and-data/inflation-nowcasting.aspx
[ix] http://www.gallup.com/poll/125735/economic-confidence-index.aspx
[x] https://www.stlouisfed.org/
[xi] http://blogs.wsj.com/economics/2015/08/20/donald-trump-is-right-about-42-of-americans-are-unemployed-if-you-include-my-88-year-old-grandma/