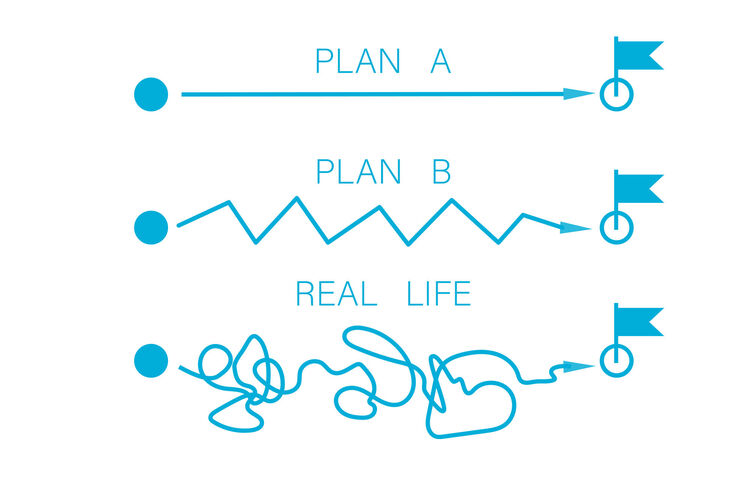 A lot transpired last week as it relates to capital markets and the economy.
 Federal Reserve Chair Jay Powell almost assured market participants an interest rate cut is inevitable and likely to occur in July.  Chairman Powell made the following statements in his congressional testimony;
"There is a risk that weak inflation will be even more persistent than we currently anticipate," [i]
Powell went on to say,
"Overall growth in the second quarter appears to have moderated.  Many FOMC participants saw that the case for a somewhat more accommodative monetary policy had strengthened.  Since then, based on incoming data and other developments, it appears that uncertainties around trade tensions and concerns about the strength of the global economy continue to weigh on the U.S. economic outlook."
 Interest rate futures markets predict a 100% chance of a rate cut in July.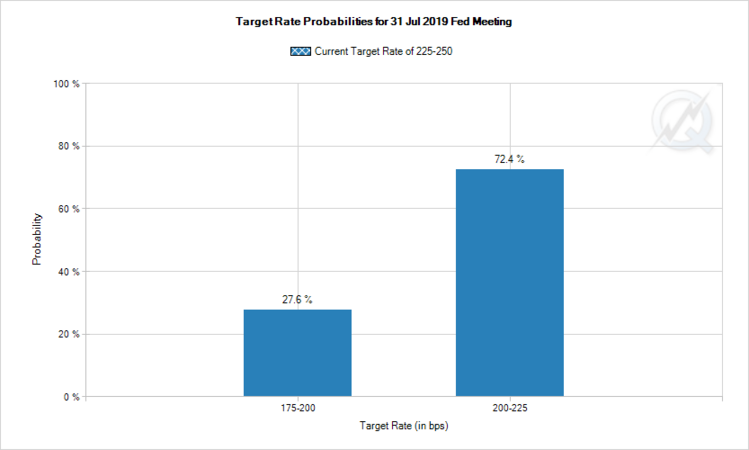 There is a 72.4% chance of a 25 basis point (bp) rate cut and a 27.6% chance of a 50bp rate cut. [ii]
As we discussed in our Q3 2019 Look Ahead, President Trump's managed trade war appears to be paying dividends.  He seems to be making a clear case for the Fed to cut rates and it now appears they are paying attention.  Again, Chairman Powell on his rationale for a rate cut:
"Inflation has been running below the Federal Open Market Committee's (FOMC) symmetric 2 percent objective, and crosscurrents, such as trade tensions and concerns about global growth, have been weighing on economic activity and the outlook." (emphasis added) [i]
As investors come to expect a rate cut, my view is they will soon move onto the onslaught of Q2 corporate earnings.  Unfortunately, the earnings news is not that overwhelming.
In fact, according to FactSet, we can expect Q2 S&P 500 earnings to decline by 2.7%.  This will mark two consecutive quarters of earnings declines for the first time since Q1 and Q2 2016. [iii]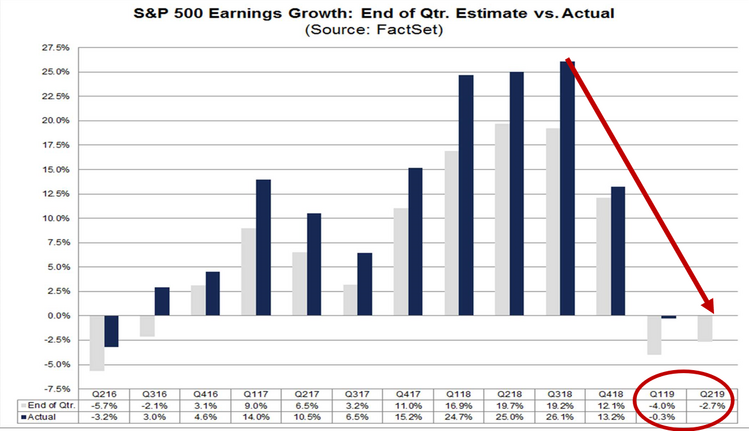 Earnings expectations are a bit dour for Q2.  It should be noted that, on average, actual earnings generally exceed expectations by 3.7% and if that is the case; we could see S&P 500 companies post 1% EPS growth.
Another reset of expectations is about to occur for Q3 earnings growth.  Again, according to FactSet, Q3 S&P 500 earnings growth is projected to fall by approximately 0.08%.  Q3 was expected to be a growth recovery quarter at the start of the year.  It now appears the earnings recession might drag on one more quarter. [iii]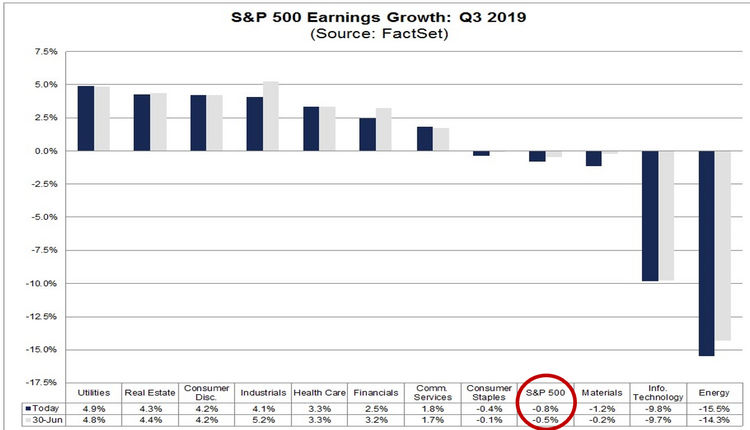 It's my view that the prolonged strength of the U.S. Dollar has been a drag on corporate earnings, as over 38% of revenue for S&P 500 companies comes from international sales.
Investing can be a game of expectations and the decline in earnings for Q3 will likely be met with a lack of enthusiasm from equity buyers.
However, if (or should we say when) the Fed cuts interest rates, that could lead to a dollar decline; boosting U.S. exports and corporate profits.  Historically, lower rates lead to a weaker dollar and those two catalysts can lead to support for equities.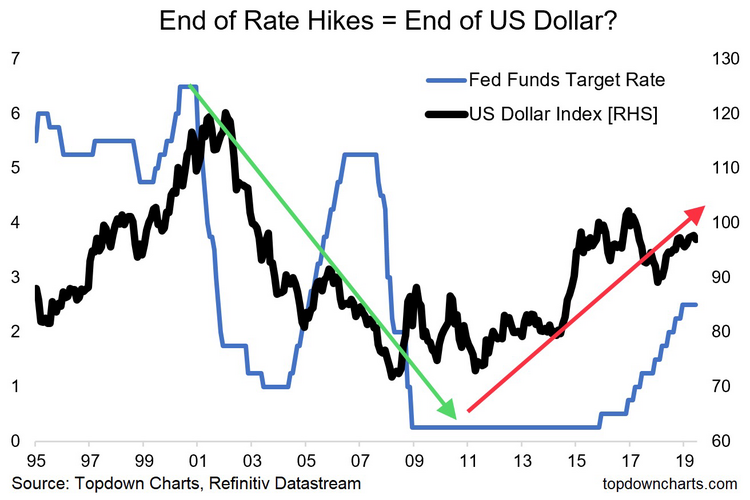 Resetting expectations now that interest rates are baked into the investment landscape will create a period of volatility and uncertainty.  This is especially true as we face a prolonged earnings recession.  A weakening U.S. Dollar might save the day and that could be a positive surprise to negative earnings growth expectations.
Resources:
i.  Testimony by Chair Powell on the semiannual Monetary Policy Report to the Congress, 7/10/2019
ii.  CME FedWatch Tool, 7/15/2019
iii.  FactSet Earnings Insight, 7/12/2019