The latest jobs report should confirm a concern we have expressed for many years; the economy continues to need extraordinary action by the Federal Reserve to keep the macro US economy limping along.
In December, the monthly jobs report showed the US economy only added 75,000 jobs.[i] On Friday, the US Department of Labor released their latest edition of the US jobs picture. Again, the report showed the US economy only added 113,000 jobs in January.[ii] This time the weather can't be blamed as the survey data used the pay period including the 12th of the month [iii], when the weather across the US was fairly benign relative to January 2013.[iv]
You can see from the chart below the jobs picture has taken a turn for the worse. Is it an anomaly or is there something bigger playing out in the real economy?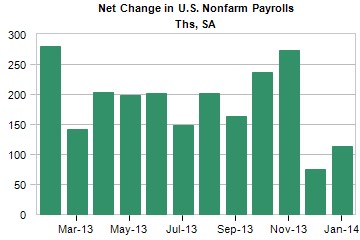 (Source: Moody's Analytics)
Perhaps, as we have opined in the past, without the confidence of either massive fiscal reform (congressional actions) or monetary intervention (Federal Reserve activities), the markets and economy will begin to suffer.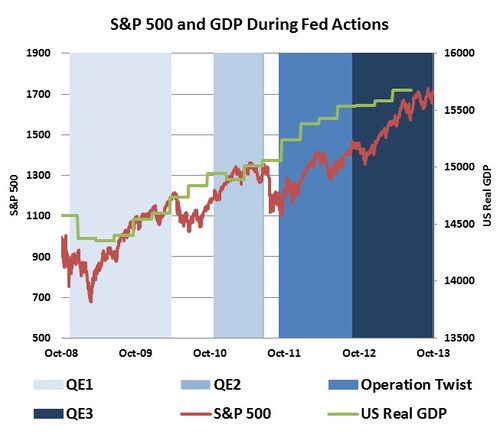 (Source: Federal Reserve, Bloomberg LP. Q4 2013 Look Ahead, Phillips & Co.)
What's comforting to the investor class is the fact that companies are crushing their earnings. FactSet reports that of 344 companies that have released earnings to date for 2013Q4, 72% reported earnings above the mean estimate.[v]
Unfortunately, the companies that are really beating estimates are not hiring any more people. Companies including Johnson & Johnson, McDonald's, Lockheed Martin, and Kimberly-Clark, all of which beat earnings expectations, did not mention any additional hiring in their conference calls. These results are consistent with a Markit survey of 11,000 companies, where 41% of companies expected better activity in 2014, but only 19% planned to expand staff.[vi] In fact, companies that are beating or barely missing earnings estimates are announcing reductions or freezes.

(Source: EPS data from Bloomberg. Staffing Plans [vii-xi])
It seems like there is a restrictor plate on hiring in-spite of tremendous wealth being created for investors. The investor class is prospering while the working class is not gaining ground.
With 71% of our economy based upon consumption, how long can we grow our GDP with a weak working class and a withdrawal of monetary policy? Can the restrictor plate economy race ahead without help from corporate America or Monetary America?
I don't think so.
It's a race between corporate earnings driving jobs (which is not happening now), fiscal reform being put in place by an ineffective congress and President, and a business cycle induced recession that cannot be predicted effectively.
If you have questions or comments, please let us know as we always appreciate your feedback. You can get in touch with us via Twitter, Facebook, or you can email me directly. For additional information on this, please visit our website.
Tim Phillips, CEO – Phillips & Company
Jeff Paul, Senior Investment Analyst – Phillips & Company
[i] Current Employment Statistics, Bureau of Labor Statistics.
[ii] Ibid.
[iii] CES Overview, Bureau of Labor Statistics.
[iv] "January Hasn't Been As Cold As You Think", January 22, 2014, Time.com
[v] FactSet Earnings Insight, February 7, 2014, FactSet.
[vi] "Vital Signs: The World's Glass Looks Half Empty", Nov 18, 2013, Kathleen Madigan, Wall St. Journal.
[vii] "IBM Sales Slump Prompts Top Executives to Forgo Bonuses", Jan 21, 2014, Alex Barinka, Bloomberg.com.
[viii] "Intel Plans to Cut 5,000 Jobs in 2014", Jan 17, 2014, Quentin Hardy, The New York Times.
[ix] "Disney Interactive expected to begin layoffs", Feb 3, 2014, Daniel Miller, LA Times.
[x] "Walmart Will Lay Off 2,300 Sam's Club Workers", Jan 24, 2014, Elizabeth Harris, The New York Times.
[xi] AT&T Earnings Call Transcript, Jan 28, 2014, SeekingAlpha.com.