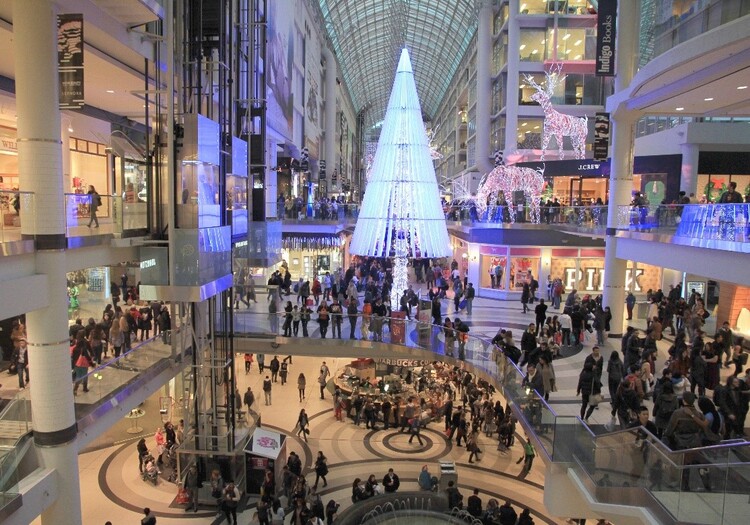 Following last week's Thanksgiving Day festivities was the annual shopping extravaganza known as Black Friday, which kicked off the holiday shopping season.  But if you didn't get a chance to get any of your shopping done last Friday, don't worry.  Many of the deals extended into other retail manufactured holidays such as "Small Business Saturday" and today's "Cyber Monday," created for the sole purpose of keeping retail relevant to the consumer. 
Regardless of your feelings on the matter, these manufactured holidays seem to be working in the way retailers intended.
Retail sales look to be on pace to set a record for both online and brick-and-mortar shopping this season.  According to reports by TheStreet and the National Retail Federation (NRF), holiday sales are expected to increase between 4.3 and 4.8 percent over 2017's record numbers. [i] [ii]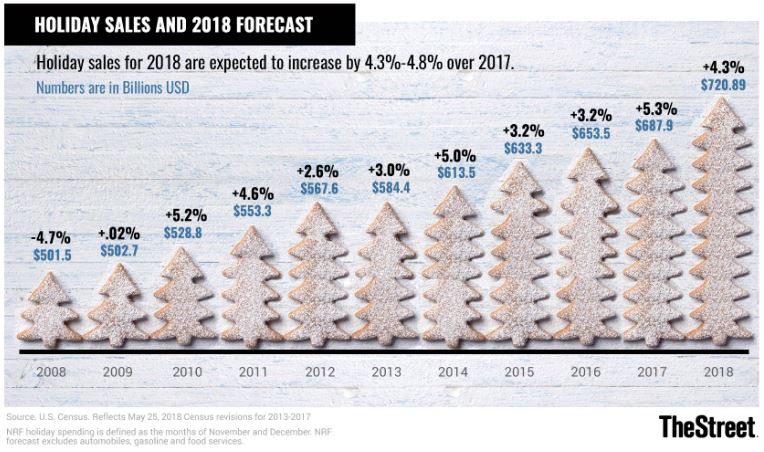 Additionally, based on data from Adobe Analytics, online sales are expected to top $120 billion this holiday season, representing a 14.8 percent year-over-year increase. [ix]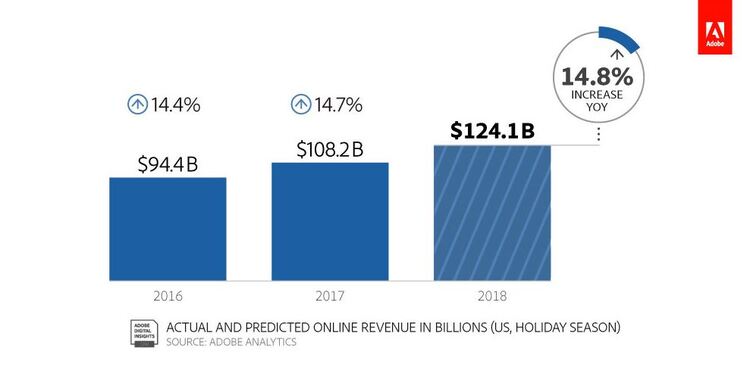 Furthermore, according to surveys by the NRF, 77 percent of consumers plan to spend the same amount or more than they did last year on their 2017 holiday shopping. [iii]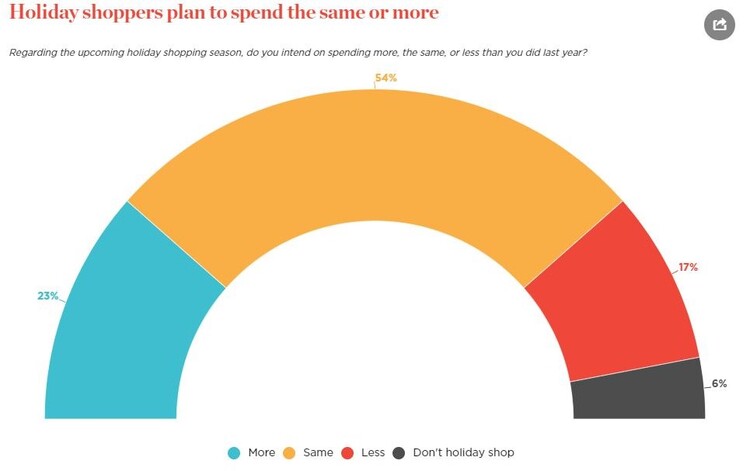 That shouldn't be a surprise for many of our regular readers.  Something we've commented on in so many of our past market commentaries is the strength of the U.S. consumer.  In this case, I can't overstate the importance of strong consumers, given their dominance in consumption and its overwhelming majority of U.S. GDP. [iv]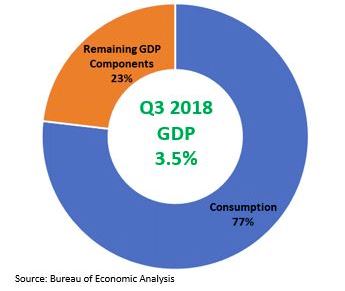 Many would think with the resurgence in market volatility and the stock market's year-to-date performance being essentially flat year-to-date (inclusive of dividends) that the consumers' likely increase in consumption this holiday season may be cause for worry. [v]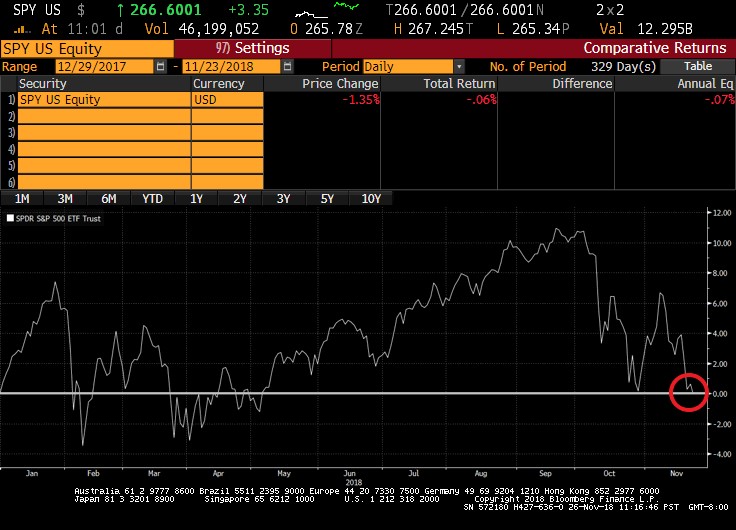 However, I don't believe that it is cause for worry.  Consumers seem to be far from tapped out when it comes to their ability to spend more and service more debt.  Looking at the peak levels of debt service prior to the financial crisis, as well as the lows of the personal savings rate, it would appear the consumer has room left to maneuver. [vi] [vii]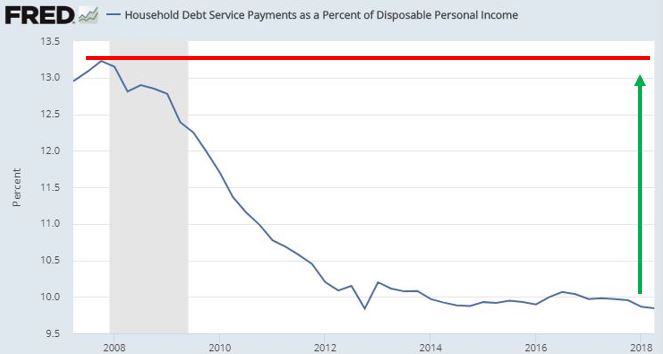 And judging by the continued strength in consumer confidence, measured by the consistent readings between 90 and 100 on the University of Michigan's Consumer Sentiment Index, I wouldn't be surprised to see consumers take it to these limits again. [viii]
It seems that holiday consumption may rescue what otherwise would be a relatively timid year for retail shopping.  Keep in mind that the tears of joy that come from consumption can always lead to tears of pain when things reverse.  For now, however, it looks like there's plenty of consumption joy this holiday season.
If you have questions or comments, please let us know.  You can contact us via Twitter and Facebook, or you can e-mail Tim directly.  For additional information, please visit our website.
Tim Phillips, CEO, Phillips & Company
Robert Dinelli, Investment Analyst, Phillips & Company 
References:
i.            https://www.thestreet.com/lifestyle/retailers-use-old-new-tricks-to-lure-big-spending-black-friday-shoppers-14787923
ii.           https://nrf.com/media-center/press-releases/nrf-forecasts-holiday-sales-will-increase-between-43-and-48-percent
iii.          https://www.nrf.com/media-center/press-releases/young-adults-most-likely-spend-more-holiday-season
iv.          https://www.bea.gov/system/files/2018-10/gdp3q18_adv_2_0.pdf
v.           Bloomberg, L.P.
vi.          https://fred.stlouisfed.org/series/TDSP
vii.         https://fred.stlouisfed.org/series/PSAVERT
viii.        https://fred.stlouisfed.org/series/UMCSENT
ix.          https://news.adobe.com/press-release/experience-cloud/adobe-forecasts-124-billion-us-online-sales-holiday-season