Finally market participants are focused on more of what matters and less of what doesn't. We had a plentitude of earnings last week and as a result we had a significant drop in volatility.[i]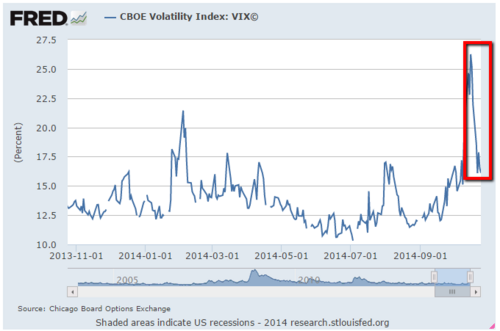 There are some things in life that really matter and are hard to count, earnings are one thing that you can count and really matter.
According to Zack's Investment Research, "The composite growth rate for Q3, combining the actual results from the 207 S&P 500 members that have reported with estimates for the still-to-come 293 companies, is for earnings growth of +4.1% on +2.9% higher revenues. The composite Q3 growth rate has been steadily improving in recent days as companies report results and beat estimates."[ii] This is certainly well above the meager expectations in late September that we discussed in our Quarterly Look Ahead.[ii,iii]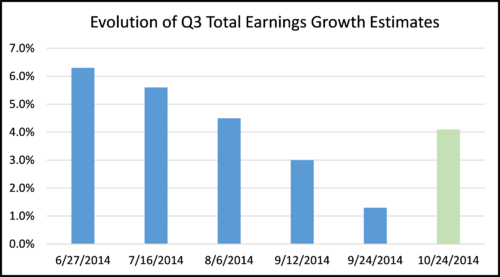 Another information vendor, Bespoke Investment Group, suggests the same thing, reporting that 66.2% of companies that have reported earnings beat estimates.[iv] This is better than in past quarters.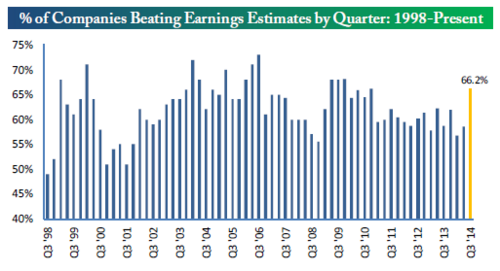 However, guidance from companies is certainly coming in much weaker than earnings per share growth projections suggest. Of the 37 S&P 500 companies with guidance changes so far, 78% have been negative (in red) while just 22% have been positive (in green).[v]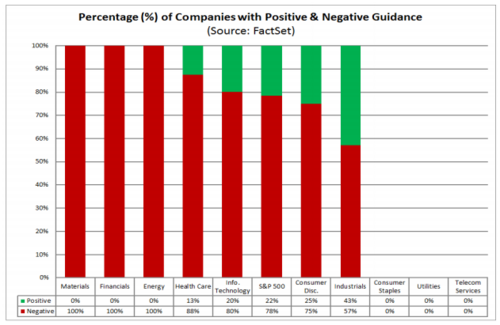 Markets certainly reacted favorably to the positive current earnings. Unfortunately at some point if we don't see better guidance in the weeks ahead, we will certainly see a return of the gut-wrenching volatility.
My strong advice is to continue to revisit your plan with your advisor, look at your future needs, examine what current expected rate of return on your portfolio you need to fund those needs, and adjust accordingly. Your behavioral reactions are an important component to investing, but your needs might suggest a different behavioral reaction. Serenity Now is only a philosophical concept.
Again, please click to view our audio Q4 2014 Look Ahead. It may have a few interesting insights that you might find useful.
If you have questions or comments, please let us know as we always appreciate your feedback. You can get in touch with us via Twitter, Facebook, or you can email me directly. For additional information on this, please visit our website.
Tim Phillips, CEO – Phillips & Company
Jeff Paul, Senior Investment Analyst – Phillips & Company
References
[i] Federal Reserve Economic Data.
[ii] Mian, S. (Oct 24, 2014). In the Thick of Earnings Season. Zacks Research.
[iii] Mian, S. (Sep 24, 2014). Handicapping the Q3 Earnings Season. Zacks Research.
[iv] Bespoke Investment Group. (Oct 24, 2014). If You Blinked, You Missed It. The Bespoke Report.
[v] Butters, J. (Oct 24, 2014). Earnings Insight. FactSet. p 20.