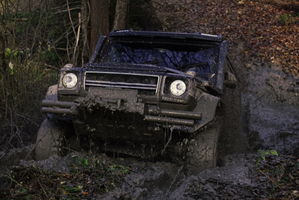 The August jobs report was an unmitigated disappointment relative to expectations. The U.S. economy added 235k jobs in August—well below the consensus estimate of 733k jobs.
It's also the lowest number of jobs being added in a month since January when the U.S economy added just 233k jobs. [i]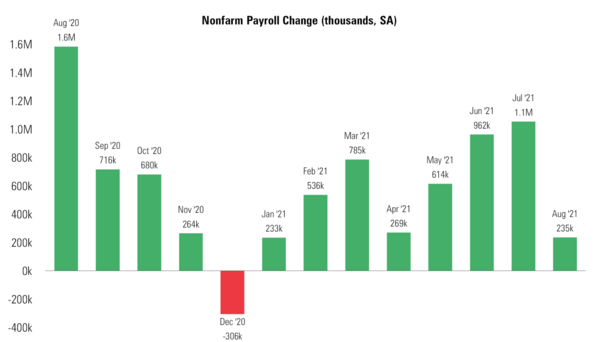 When you peel back a layer, you easily find the culprit: Leisure & Hospitality was the biggest pandemic loser when it came to jobs and also the one that came roaring back when we entered the opening-up phase of the economy. [i]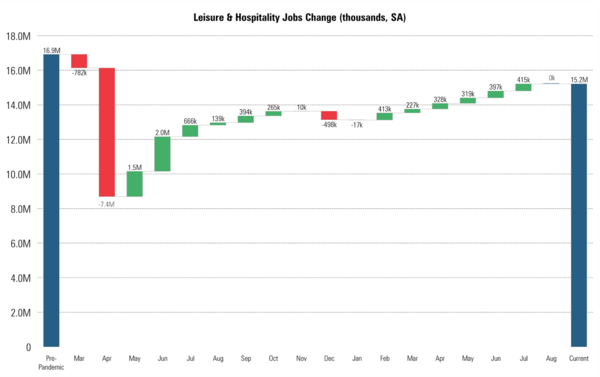 The August jobs report showed zero net jobs gained in Leisure & Hospitality, reflecting a soft patch in the recovery process within the sector. That is certainly not a welcome sight when you consider that sector is still 1.7 million jobs below the pre-pandemic level. [i]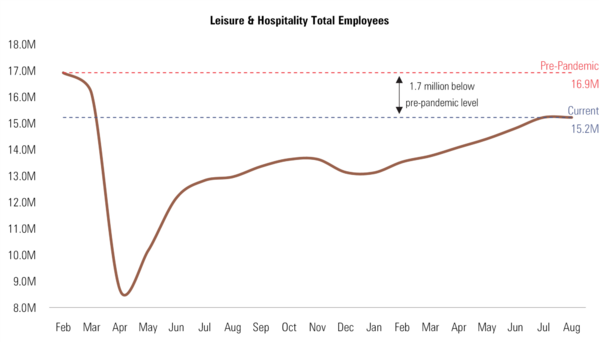 It's hard saying and not knowing for sure why this industry has stalled but, high-frequency activity data suggests the recent Delta variant is having an impact on the hospitality and leisure industry.
TSA checkpoint data suggests a downturn in trips taken since the beginning of August. [ii]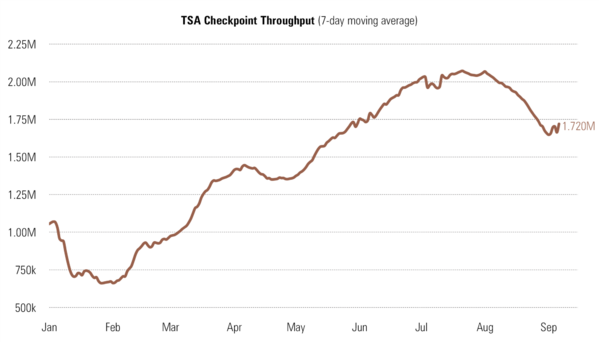 Further, seated diners at restaurants as tracked by OpenTable confirms some trend softening just as restaurants returned to pre-pandemic levels. [iii]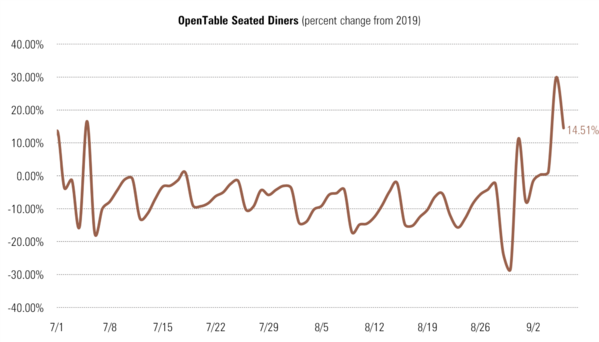 If the Delta variant is the culprit, this too shall pass. It's just a matter of time. However, that might be the biggest challenge… time.
We just crossed a public policy cliff that could have adverse or positive implications for our economy. Two critical Covid policies ended recently—the extra federal unemployment pandemic benefit of $300/week (September 6th) and the federal moratorium on evictions for renters (August 26th). Nudging people off extra benefits could have a positive impact from a return-to-work standpoint but, only if demand soon returns.
The same goes for the eviction moratorium. Pulling the moratorium might motivate those living off free or reduced rent to return to work. Again, if demand returns. A recent analysis by Goldman Sachs estimated the total number renters at risk of eviction when the moratorium expires at 2.6-3.6 million, or 5-7% of total rental housing stock. [iv]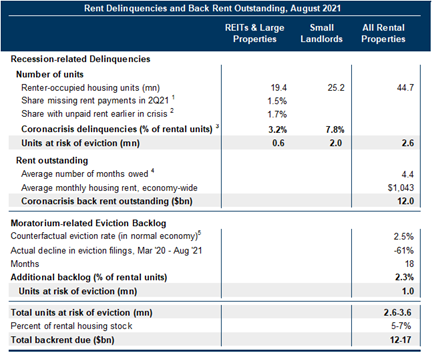 One thing is clear, the financial cushion provided by extra pandemic policies is a recognized contributor and growing factor to the lack of urgency in those not looking for work. [v]
Regardless, the soft patch has created a significant downshift in growth expectation for the U.S. economy. Recent revisions to the Atlanta Fed's GDP forecast suggest Q3 GDP will come in around 3.7% growth. Goldman Sachs is forecasting 3.5% growth which is well below the consensus estimate of 6.7%. [vi] [iv]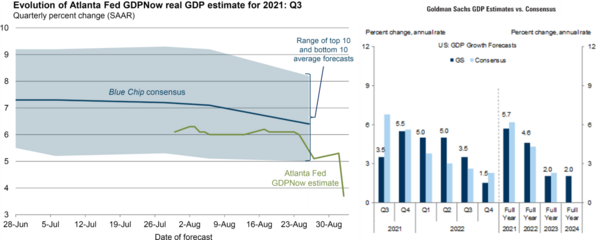 It's not all entirely bad news with the jobs report. Average hourly earnings grew at an annual rate of 4.3% in August – the fastest since March. [i]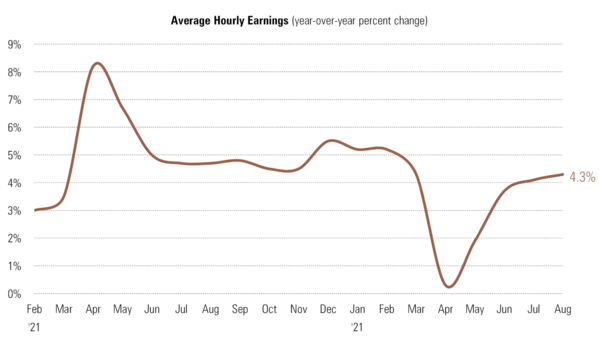 In my opinion, the growth in wages should be more than enough to keep the consumer shopping and perhaps lift us out of this soft patch.
If you have questions or comments, please let us know. You can contact us via Twitter and Facebook, or you can e-mail Tim directly. For additional information, please visit our website.
Tim Phillips, CEO, Phillips & Company
Sources:
i. https://www.bls.gov/news.release/empsit.nr0.htm
ii. https://www.tsa.gov/coronavirus/passenger-throughput
iii. https://www.opentable.com/state-of-industry
iv. https://research.gs.com/
v. https://www.bcaresearch.com/
vi. https://www.atlantafed.org/cqer/research/gdpnow