Stall Speed. Did the Pilot Leave the Cockpit?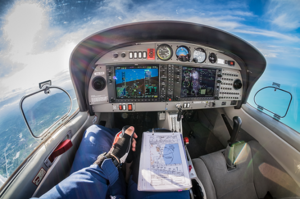 The "V" shaped economic recovery most were predicting has hit a pocket of turbulent air. It might have even stalled.
The July employment report suggested that the jobs recovery moderated from the blistering pace seen in May and June. [i]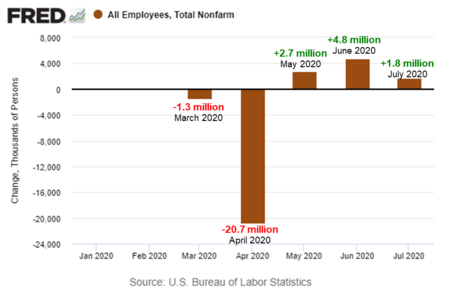 The jobs recovery, albeit muted from prior months, reflects the continued reopening of our economy. Employment in leisure and hospitality and retail saw the largest gains, contributing almost half of the jobs gained. [ii]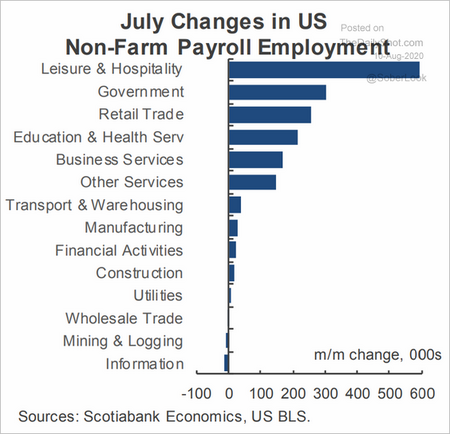 The July report on consumer credit reflected a quiet confidence in the U.S. Consumer. While revolving credit declined sequentially, non-revolving credit for mortgages, cars, and education grew. [iii] [iv]

In fact, this was the first time since February that consumer credit grew overall. [v]
However, this might just be a temporary peak as the Fed's most recent survey of Bank Lending Officers suggests credit standards are being tightened. [vi]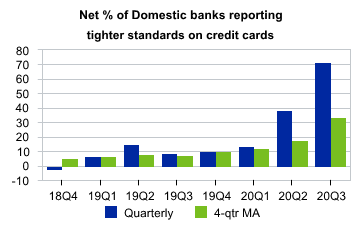 According to Moody's, "Lenders reported tight lending standards for all types of consumer credit in the second quarter. A net 71.7% of banks reported tighter lending standards for credit cards; a net 55.4% of banks reported tighter lending standards for auto loans."
Certainly, another modest sign the U.S. economy might be hitting a bit of a rough patch.
The obvious question investors might be asking is, what gives? With an increase in Covid-19 and a downdraft in our economy, why only a muted market reaction?
First is the expectation that Congress and the President will come to an agreement to protect the U.S. worker along with small- and medium-sized businesses. The New York Times did a nice graphical representation of where the two sides are. [vii]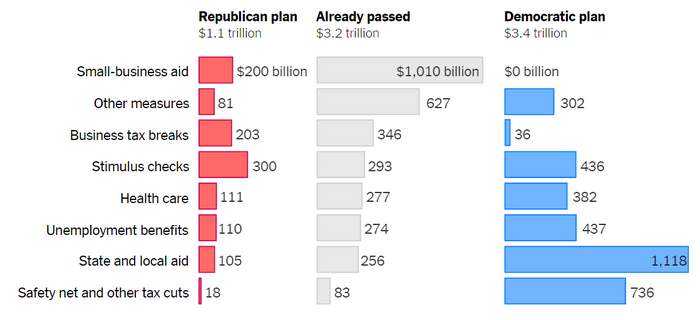 Clearly the two sides are far apart on many items, although the Democrats readily admit their $3.4 trillion plan is more of a roadmap for their 2021 legislative agenda than pure Covid-19 rescue funds. Regrettably, politics took over last week and nothing was done collaboratively. The President signed some executive orders that are likely going to be challenged.
Second, is the realization that when you invest in equites you own the future, not the past or present. You're paying for future results and expectations matter more—in my opinion—than past results.
To that end, our friends at FactSet report that earnings and revenue are coming in well ahead of expectations. [viii]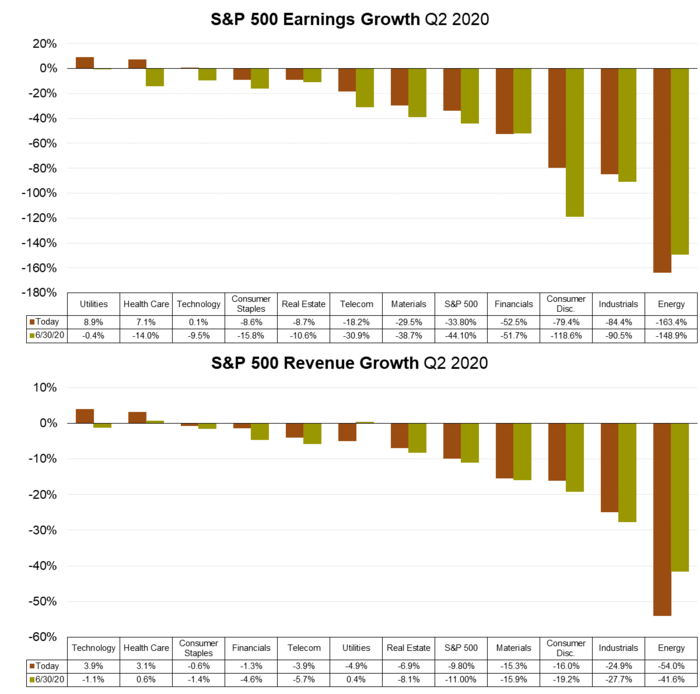 You can see a marked improvement in expectations, even though earnings are miserably negative on an actual basis.
More important are expectations for 2021. It has been my thesis that investors have been discounting the entire 2020 earnings period and are focused on 2021 most specifically Q1 2021. [viii]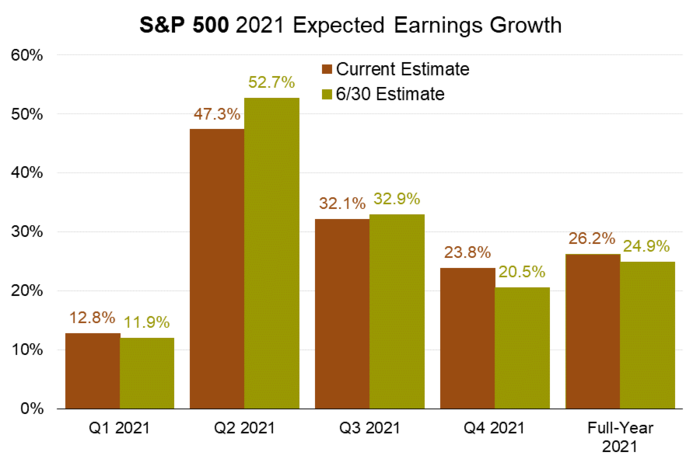 There has been little, if any, erosion to 2021 earnings expectations.
While the economy may have reached stall speed during this particular period of Covid-19 adjustment, an earnings recovery looks to be on the horizon in 2021 and the consumer which underpins our economy remains resilient.
Let's hope the political class does not crash the plane at a time when we need the lift the most. So far, they've delivered the rescue needed. Expectations for ongoing support are underpinning our economy and market. Hopefully someone is at the stick flying the plane.
If you have questions or comments, please let us know. You can contact us via Twitter and Facebook, or you can e-mail Tim directly. For additional information, please visit our website.
Tim Phillips, CEO, Phillips & Company
Sources:
i. https://fred.stlouisfed.org/series/PAYEMS
ii. https://dailyshotbrief.com/the-daily-shot-brief-august-10th-2020-2/
iii. https://fred.stlouisfed.org/series/REVOLSL
iv. https://fred.stlouisfed.org/series/NONREVSL
v. https://fred.stlouisfed.org/series/TOTALSL
vi. https://www.economy.com/economicview/indicator/usa_senior
vii. https://www.nytimes.com/interactive/2020/07/30/upshot/coronavirus-stimulus-bill.html
viii. https://insight.factset.com/topic/earnings