States Strike (Give It) Back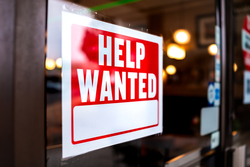 The "get back to work" wage is becoming a crisis in almost every state. Our evaluation suggested it would take approximately $19.35 per hour to get people back to work based upon all of the state and federal unemployment payments being provided. [i]

As of this morning, it appears at least 19 states have now chosen to forego the federal component of unemployment benefits. [ii]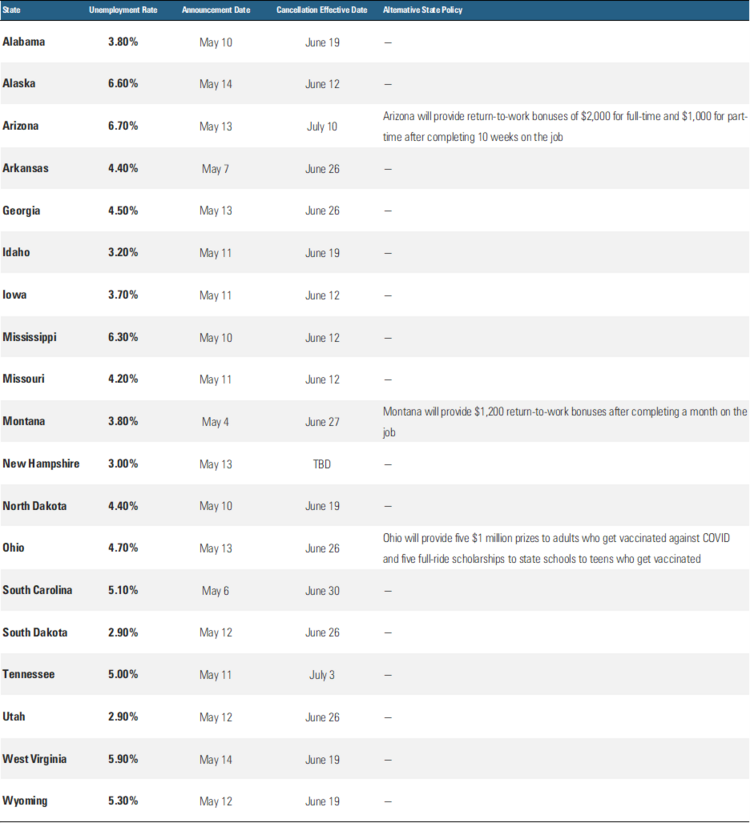 Some states have chosen to simultaneously drop the federal benefit and add a "get back to work" bonus. For example, Arizona is setting aside some federal funds to provide a one-time $2,000 bonus for people who return to work by September 6. [ii]
Here's the scope of the issue.
In the most recent jobs report, a mere 266k jobs were added. [iii]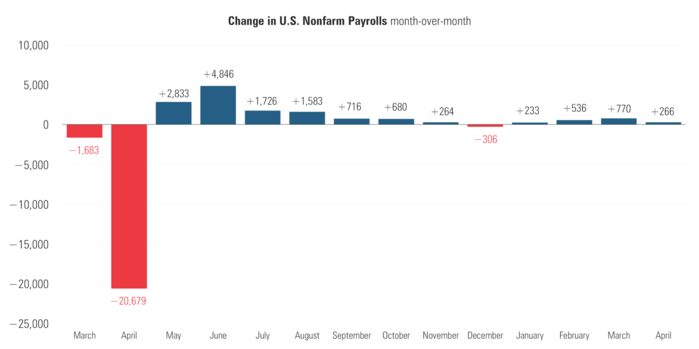 Yet, job openings are at record levels along with help wanted ads. [iv] [v]

Even President Biden, in a recent speech, made it clear that Americans must take a job, if offered one, or risk losing their benefits: [vi]
"We're going to make it clear that anyone collecting unemployment who is offered a suitable job must take the job or lose their unemployment benefits. There are a few COVID-19-related exceptions so that people aren't forced to choose between their basic safety and a paycheck, but, otherwise, that's the law."
President Joe Biden May 10, 2021
These cuts would certainly appear to be an economic "survival of the fittest" and there will undoubtedly be some negative consequences. Yet, getting people back to work, kids back to school, and a return to normal sooner rather than later will allow for a more robust debate around the next round of fiscal stimulus.
With almost $4 trillion dollars in two programs being debated, there's a lot at stake. [vii]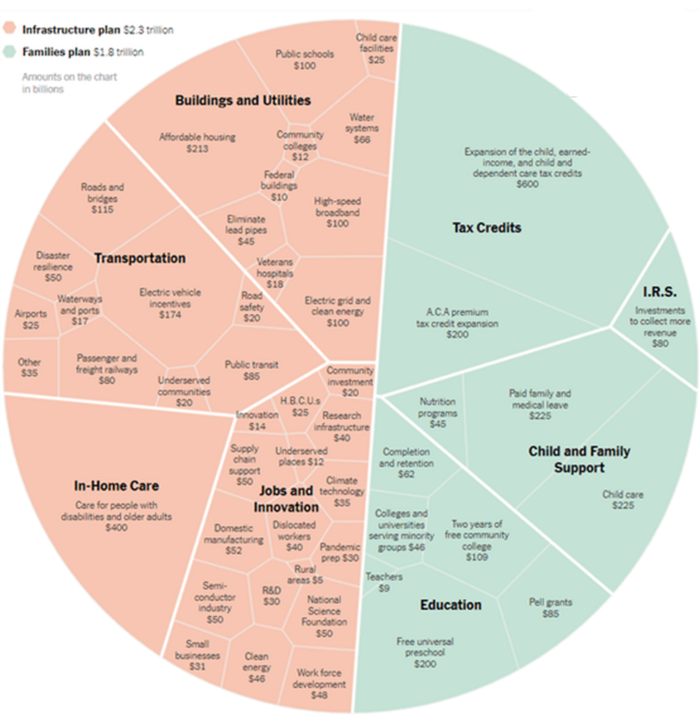 And it's clear that employers are laying the blame for hiring shortages on the federal unemployment benefit. [viii]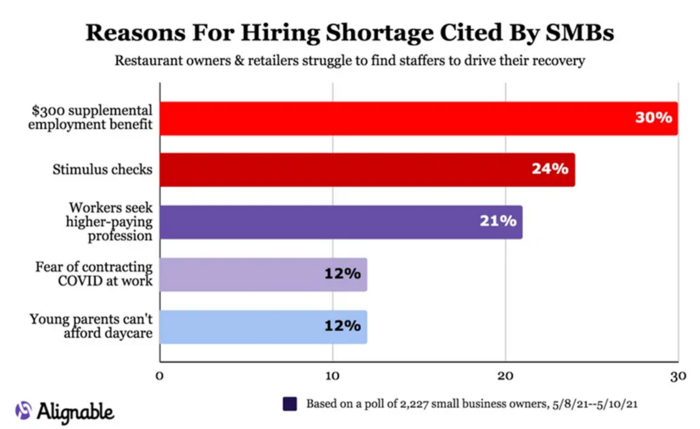 It's hard to know exactly when in the next few months labor supply and wages will normalize, since some supply constraints from school closures and health risks are retracing, but disincentives from UI benefits could persist in most states until early September. This makes it hard to imagine widespread support for additional federal stimulus in almost any form without a return to normal for employers.
If you have questions or comments, please let us know. You can contact us via Twitter and Facebook, or you can e-mail Tim directly. For additional information, please visit our website.
Tim Phillips, CEO, Phillips & Company
Sources:
i. https://fileunemployment.org/dataview/
ii. https://www.businessinsider.com/republican-states-cutting-unemployment-benefits-expanded-300-weekly-biden-stimulus-2021-5
iii. https://fred.stlouisfed.org/graph/?g=DJQI
iv. https://fred.stlouisfed.org/series/JTSJOL
v. https://www.ziprecruiter.com/blog/datalab/
vi. https://www.whitehouse.gov/briefing-room/speeches-remarks/2021/05/10/remarks-by-president-biden-on-the-economy/
vii. https://dailyshotbrief.com/
viii. https://smallbiztrends.com/2021/05/survey-unemployment-benefits-worker-shortage.html