Last week it was reported that U.S. GDP grew by 6.4% in Q1, primarily attributable to the boost delivered by new stimulus injections during the quarter. [i] [ii]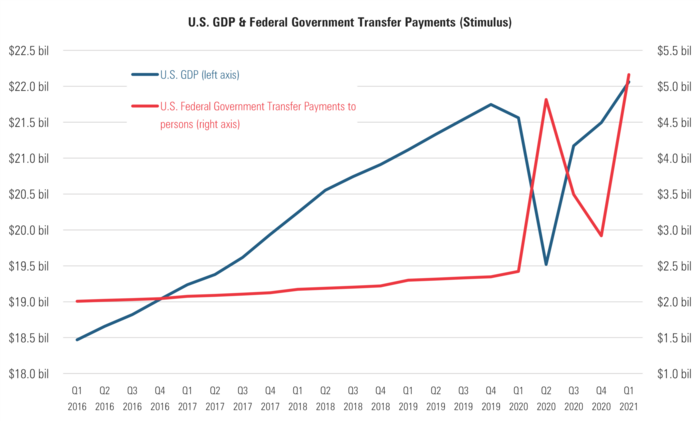 The predominant driver was consumer spending which grew 11.3% and contributed 7.4 percentage points to GDP, again driven by stimulus injections.
Between the massive government support and the rate of vaccination penetrating the U.S. population; it's hard not to forecast strong growth again in Q2. [iii] [iv]

In fact, based on consensus estimates, we could expect year-over-year growth to be around 17%; driven by the forces mentioned above and the incredibly low base effect from Q2 2020. [v]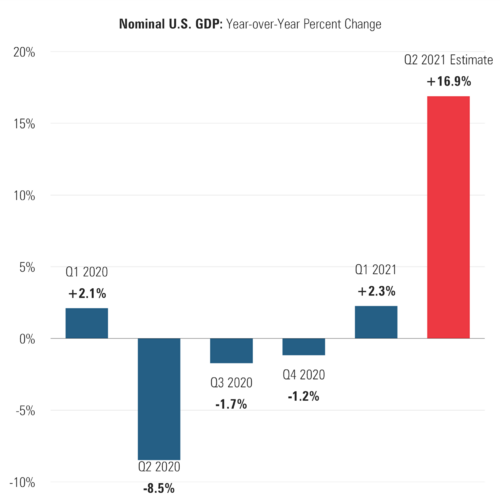 Further, the New York Fed's GDP Nowcast suggests Q2 GDP may in at an 4.25% annual rate, implying 17% year-over-year growth. [vi]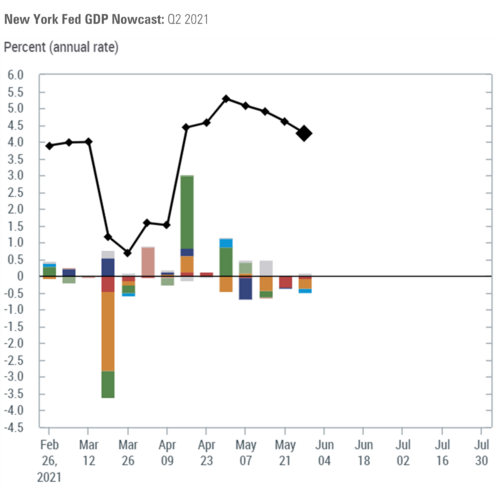 Meanwhile, congress continues to debate the two major spending proposals by the Biden administration, totaling over $4 trillion. [vii] [viii]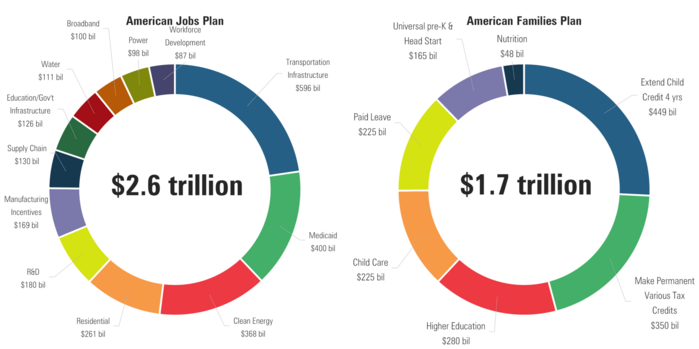 And Americans continue to sit on stockpiled savings which totaled $2.8 trillion, or 14.9% of disposable income as of April. Assuming consumers have continued to spend, a $2.3 trillion estimate for May is not far-fetched. [ix]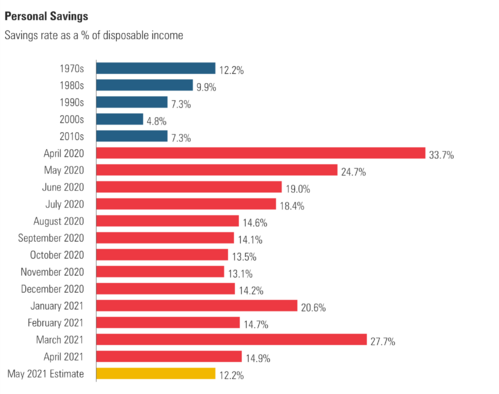 Taken alone, $2.3 trillion of stockpiled cash is over 10% of GDP. If consumers spend down their savings to pre-COVID levels and you add to that the various Biden proposals, we could see GDP jump by over 23%.
These federal transfer payments are designed to support the consumer. That will in turn drive more corporate profits. All of this "stimulative economic policy" is functionally dependent on a consumer that will unleash their animal spirits.
Stimulus is confined as a method of support and it's working. Will it actually work its way back into consumption or lay dormant in savings accounts?
My guess is it will be spent, and stimulus will be confirmed to work.
If you have questions or comments, please let us know. You can contact us via Twitter and Facebook, or you can e-mail Tim directly. For additional information, please visit our website.
Tim Phillips, CEO, Phillips & Company
Sources:
i. https://fred.stlouisfed.org/series/GDP
ii. https://fred.stlouisfed.org/series/B087RC1Q027SBEA
iii. https://www.statista.com/topics/6139/covid-19-impact-on-the-global-economy/
iv. https://ourworldindata.org/grapher/share-people-vaccinated-covid?country=~USA
v. https://www.bloomberg.com/quicktake/gdp
vi. https://www.newyorkfed.org/research/policy/nowcast
vii. https://www.whitehouse.gov/briefing-room/statements-releases/2021/04/28/fact-sheet-the-american-families-plan/
viii. https://www.whitehouse.gov/briefing-room/statements-releases/2021/03/31/fact-sheet-the-american-jobs-plan/
ix. https://fred.stlouisfed.org/series/PSAVERT