Strong Dollar Disinflation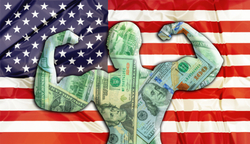 The U.S. Dollar, relative to other countries, has been on a tear in the past year. The U.S. trade weighted dollar is up over 10% this year and nearly 20% off the bottom in 2021. 1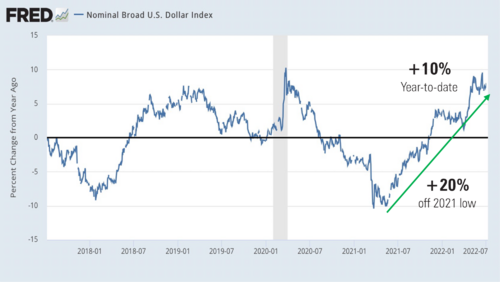 The strength in the U.S. Dollar is always relative to how other countries' currencies are viewed. Relative to most of the world's currencies, the U.S. Dollar is clearly in favor. 2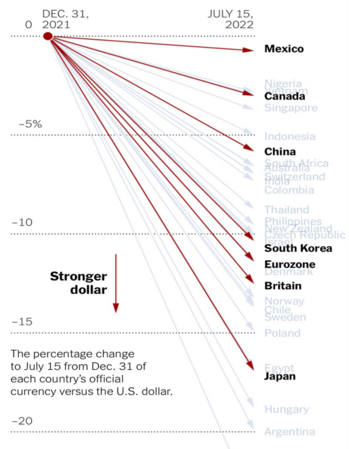 The strength in our dollar may be hard to grasp, especially when we face the headwinds of massive inflation, rising rates, and a recession. Again, relative to the rest of the world, we are in better shape. Call the U.S. the "cleanest dirty shirt" compared to most countries. We have plentiful jobs, a large domestic oil base, a Federal Reserve that is addressing inflation, and a stable government (at least compared to many others).
The result of such a strong dollar is imports become much cheaper. Our dollar goes a lot further when buying goods and services from foreign countries. In fact, import prices fell (excluding energy) for the second consecutive month and the most since the pandemic. 3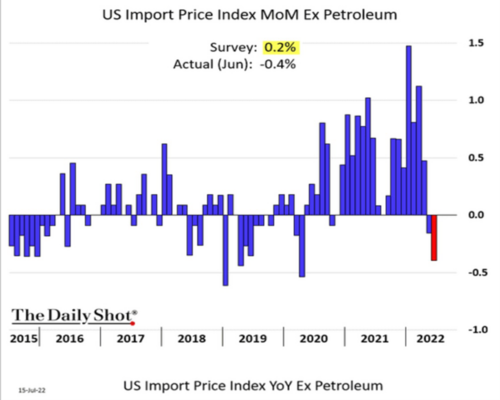 Prices for food and beverages also fell, which could help put a lid on food inflation in the months to come. Keep in mind that the transition effect can take several months for these prices to be reflected in end products.
Looking at the broad spectrum of imports you can see the strong dollar will benefit some specific items. 4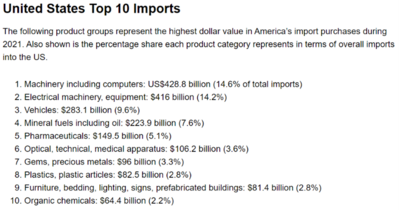 The strong dollar will certainly hurt large U.S. export-focused companies, but the good news is over 60% of S&P 500 companies revenue comes from U.S. consumption. 5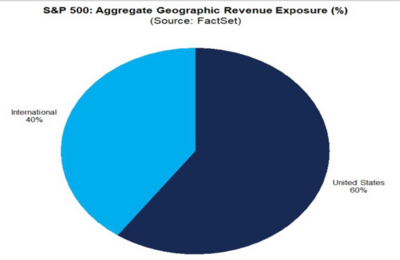 As we approach what I believe will be a neutral rate on the Fed Funds of 3%, we should see the dollar strength moderate and by then supply-side inflationary forces should be contained. 6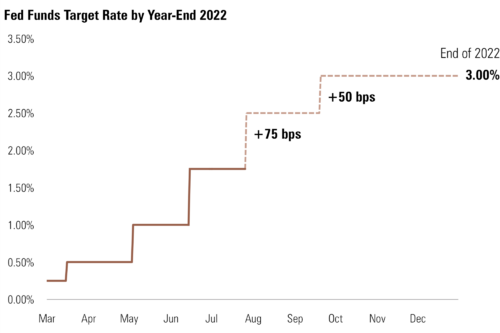 Until then, companies with domestic revenue concentration should benefit as long as the consumer remains strong, which I believe they will. See our Q3 Look Ahead to get more on the strength of the consumer.
No amount of modest import disinflation will deter the Federal Reserve from raising rates next week by ¾ of a percentage point, but it will take the edge off some critical price increases. Earnings will also be moderated by the impact of the dollar; however, it's been my experience that Wall Street analysts look past dollar-denominated impacts in the short run when analyzing earnings strength.
If you have questions or comments, please let us know. You can contact us via Twitter and Facebook, or you can e-mail Tim directly. For additional information, please visit our website.
Tim Phillips, CEO, Phillips & Company
Sources: