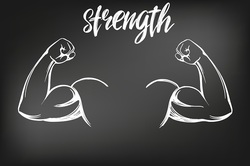 The July jobs report came out on Friday and showed the U.S. economy added 943,000 jobs during the month. In total, the economy has added back 16.7 million jobs since the start of the pandemic. [i]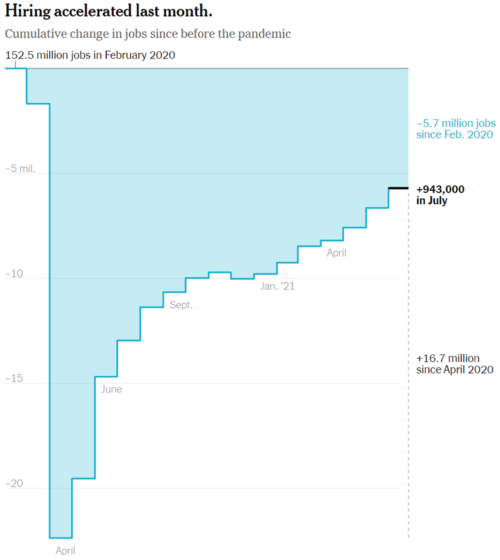 While we are still 5.7 million jobs below February 2020 levels, we are well on our way back to normal. In fact, based upon our view, we could see a return to normal by February 2022.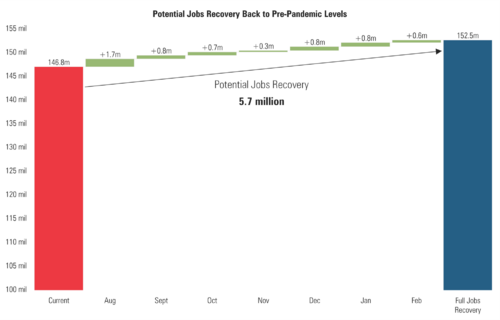 While many are concerned about the Delta variant creating another medically-induced economic shutdown, I am not. When it comes to the percent of the population fully vaccinated, the United States is within proximity to the United Kingdom and other developed countries (ex-Japan). [ii]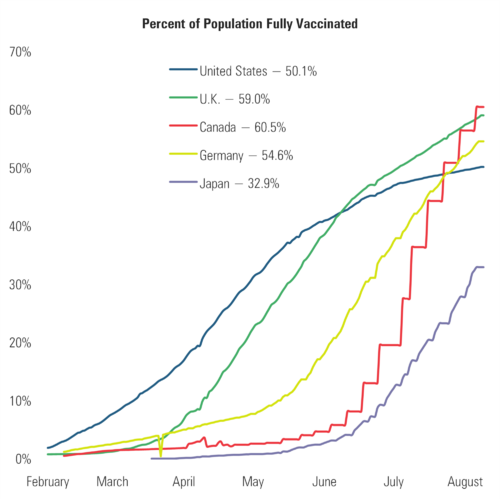 Based upon hospitalization rates in the U.K., I think we too will see a spike in cases without straining our national capacity for hospital beds and avoid any medically necessary lockdowns within our economy. (Certainly, there will be local issues, but on a nationwide basis, we should be fine) [iii]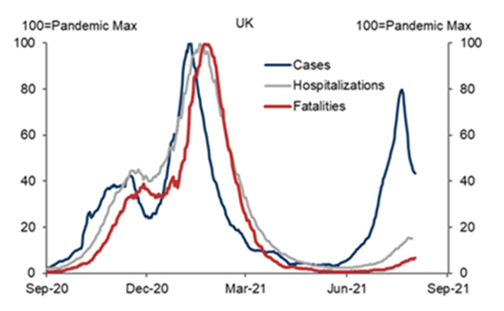 Pivoting back to the jobs report, the biggest gainer in jobs during July was clearly the leisure and hospitality industry. [iv]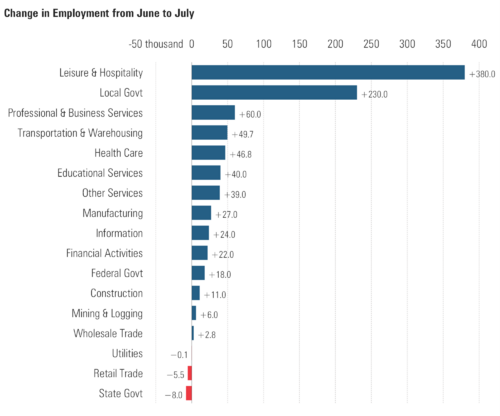 In fact, the entertainment and hospitality industries have added back 40%-50% of jobs lost since April 2021, according to Homebase. Between mid-June and mid-July, employment jumped by over 8% in hospitality and 12% in entertainment. [v]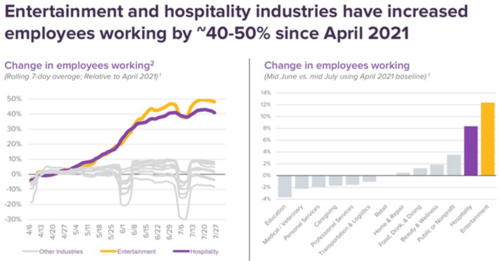 Not only have these industries added jobs back rapidly but, they are also now well above pre-COVID peak levels. [v]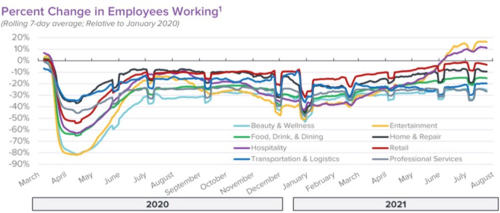 Wages are also rising very fast in those two industries. From the start of the pandemic until today, wages in these service-heavy industries have jumped from $14.63/hour to $16.47/hour. A 12.6% increase improves a lot of lives. [vi]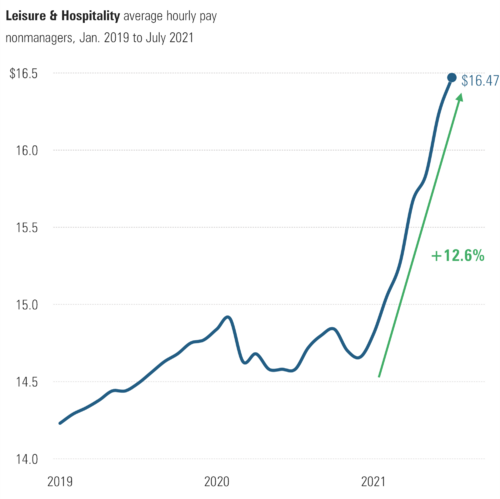 If this trend continues and we see job gains in the service sector, we should expect the Fed to taper sooner rather than later. Our non-consensus view was the Fed wanted to do their part to lift wages for minorities and lower income workers. To do that, they were going to keep their foot on the gas with stimulative monetary policy. Purchasing mortgages, treasuries, and keeping rates "lower for longer" were all part of their program.
As you can see below, the largest employment sector for minorities and lower income workers are in the service sector, which includes the leisure and hospitality industries. With a 12.6% jump in wages, I'd say: mission accomplished.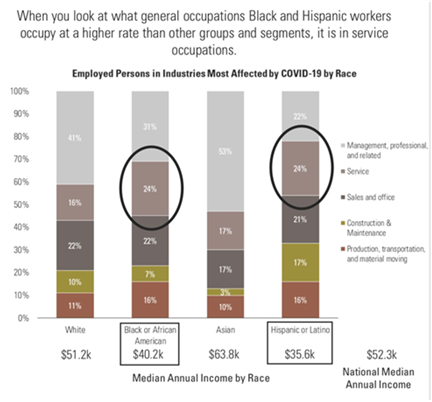 All of this is to suggest the Federal Reserve will likely lean into a tapering of quantitative easing perhaps a bit sooner than consensus views. Consensus was for a formal announcement in December, with tapering starting the first of the year. [vii]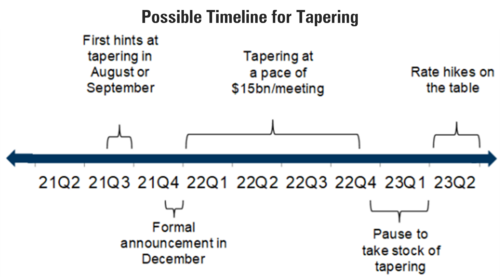 Our view is for tapering to begin in November or by the December FOMC meeting at the latest.
We should expect to see some interest rate volatility going forward, which means ongoing agility for fixed income portfolios. Increased volatility in rates does not necessarily mean higher rates right away.
Perhaps, with the addition of a bipartisan $550 billion in infrastructure spending and a possible $3.5 trillion in a partisan spending proposal coming soon, rates might just need to be "lower for longer."
The formula is simple:

Side Note: Don't worry about increased taxes yet. The current debate in DC is on headline tax rates and not loopholes. Loopholes are the lifeline for Americans and corporations that are focused on tax minimizations.
If you have questions or comments, please let us know. You can contact us via Twitter and Facebook, or you can e-mail Tim directly. For additional information, please visit our website.
Tim Phillips, CEO, Phillips & Company
Sources:
i. https://www.nytimes.com/2021/08/06/business/economy/july-2021-jobs-report.html
ii. https://ourworldindata.org/covid-vaccinations
iii. https://research.gs.com/
iv. https://www.bls.gov/news.release/empsit.nr0.htm
v. https://joinhomebase.com/blog/
vi. https://www.bls.gov/news.release/empsit.t24.htm