Talking Big and Acting Small. . . We Hope!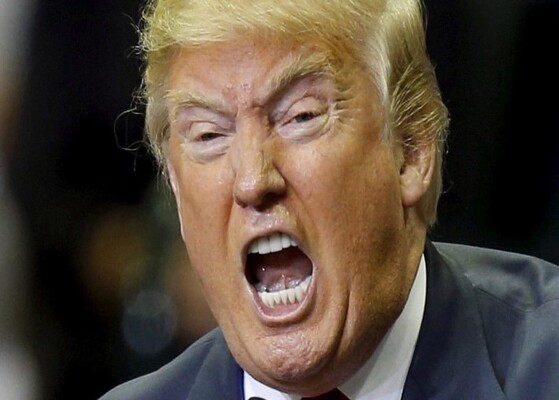 This past week President Trump announced his direct action against China in efforts to tame the trade imbalance between our two countries (China imports minus what we export to China).  That trade imbalance represents approximately $375 billion, which is 1.9 percent of our total U.S. GDP.  [i] [ii]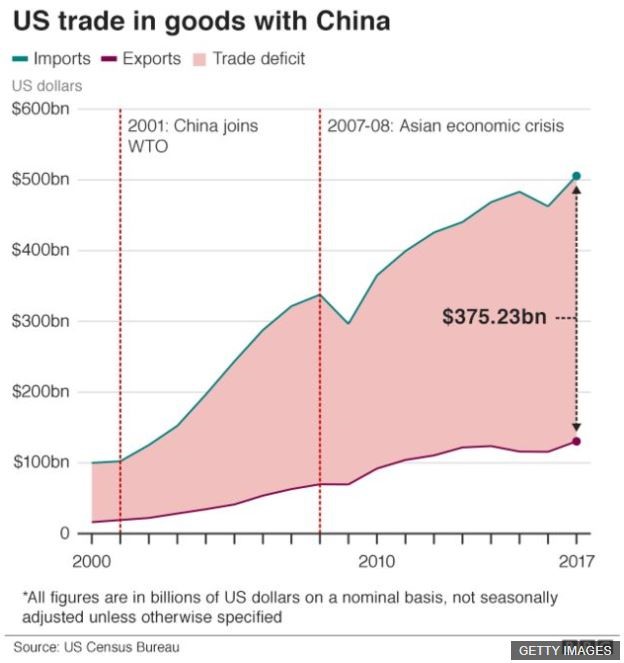 It's clear that the trend of imports exceeding exports, both to and from China, is acting as a drag to U.S. GDP and that's worth a serious examination because it can affect a host of other issues, including the equity markets.
The following is a list of goods that could be affected by the recently imposed $60 billion in tariffs on Chinese goods. [iii]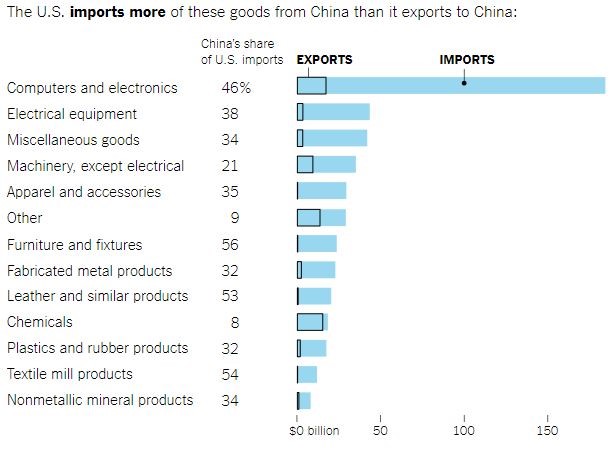 Keep in mind that the final list of goods has not been released by the Trump administration at this point; however, I would be surprised if most items on this list are not included. 
Furthermore, these tariffs appear to be the Trump administration's way of cracking down on intellectual property theft and unfair terms that China imposes on U.S. companies seeking to do business in China.  Much of that crackdown has been driven by China's restrictions on foreign ownership, which in turn has pressured foreign companies to transfer technology and other intellectual property. [i]
In response, China has announced (or should we say re-announced) $3 billion in retaliatory tariffs on 128 products from the United States, including nuts, fresh fruit, wine, and pork. It's also worth noting which states will most likely be affected. That list of states follows. [iii] [iv]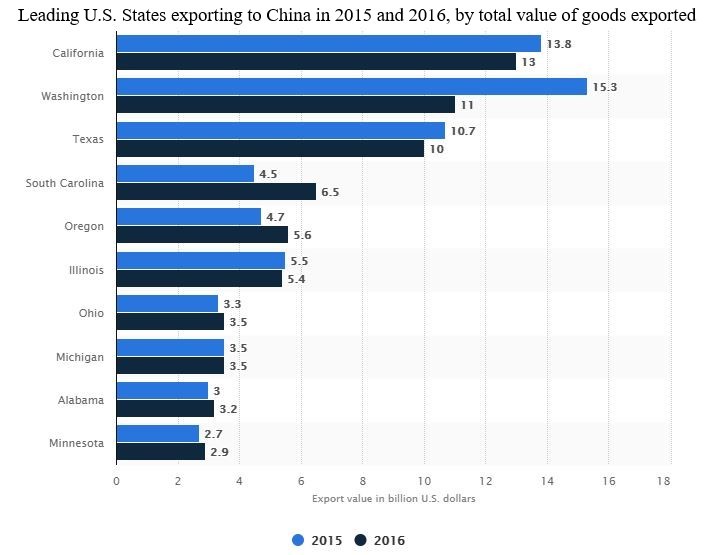 Clearly the California wine crowd is likely to be upset.  However, California is a state that Trump could care less about politically, in my opinion.  The pork producers are another story politically.  Here are the top ten pork producing states in the United States: [xvii]
Iowa
Illinois
Minnesota
North Carolina
Indiana
Oklahoma
Missouri
Nebraska
Wisconsin
Ohio
It's worth noting that three of those states fall within the list of the ten leading U.S. states that export to China. [xvii]
Keep in mind that China's response seemed muted – and for good reason.  As I have said on many occasions, ninety million members of the Chinese Communist Party are trying to control 1.3 billion Chinese citizens. That's not such an easy task in a command and control economy such as theirs.  [v] [vi]
A Quick Note on Chinese History
Over more than 4,000 years, China has been governed by twenty-eight dynasties that have united their country. The current communist dynasty, the "People's Republic of China," is approximately sixty-eight years old, making it one of the shortest Chinese dynasties so far. In fact, many of those dynasties have lasted more than 500 years.  [vii] I think it's fair to assume that control is in the Chinese gene pool and culture.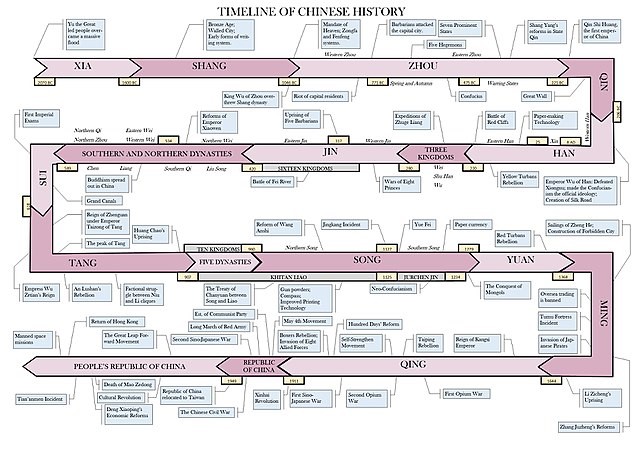 For a larger version of the Timeline of Chinese History, click here or on the photo
The most recent Communist Party dynasty and its president "ruler" Xi Jinping have one job (and they're aware of it) . . . stay in control of their diverse population.  I've traveled to China and to many nearby countries. I have found that China has few friends among the populations that surround it.
Based on my experiences, for Xi Jinping and his Communist Party to remain in control, they need to do a few things for the population:
Create more jobs
Provide better housing
Boost sustainable clean water sources
Improve health care
Improve the country's social safety net
All those efforts require the Communist Party to rely largely on the U.S. consumer to continue buying Chinese goods which, in turn, will continue to create more jobs.  I believe this to be paramount, especially because China has not yet fully converted to a consumption-driven domestic economy. [viii]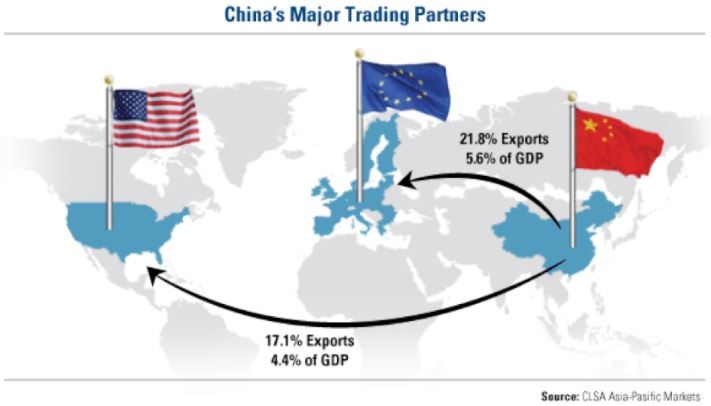 I would find it hard to believe that China would be willing to create a real trade war with the United States because it would likely only fuel unrest within its own borders.  Call it riots and/or civil unrest in the provinces if you like, but according to the Chinese Academy of Social Science, China has between 90,000 and180,000 such incidents annually. [ix]
We Need China Too
With our tremendous deficit spending and recent government budget deficit, we need someone to fund our borrowings.  It should be no surprise that someone is China.  [x]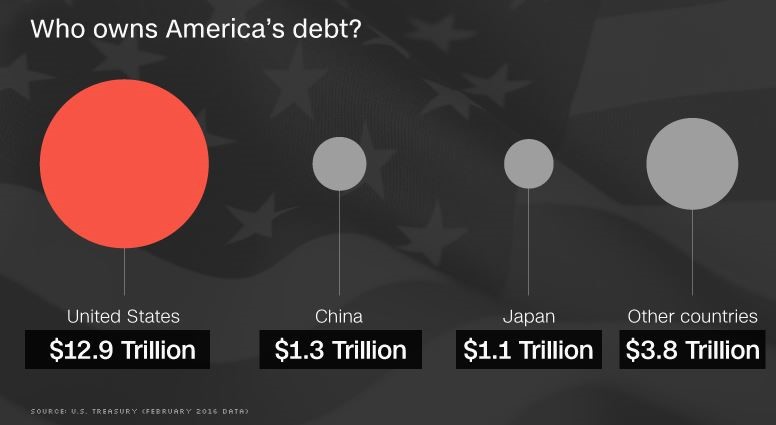 In the most basic form, China takes the dollars it receives from exports to the United States and, in turn, purchases U.S. Treasury debt.  It's that simple.  China needs the United States for consumption and the United States needs China to finance its debt.
As long as the headline trade war does not turn into a real global trade war, we should be fine.  If you want to handicap how this may play out, just keep a picture of the following chart nearby. You can track your trade brackets just like you're tracking the NCAA basketball tournament.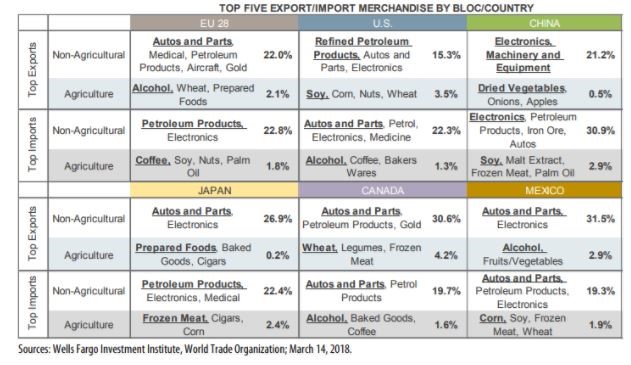 The one caveat to this trade tiff is the impact on consumer sentiment.  Clearly, the equity markets have been spooked, but will it affect sentiment?  So far, we have seen no signs of impact to U.S. consumer sentiment.  In fact, it's at its highest level in fourteen years. [xii] [xiii]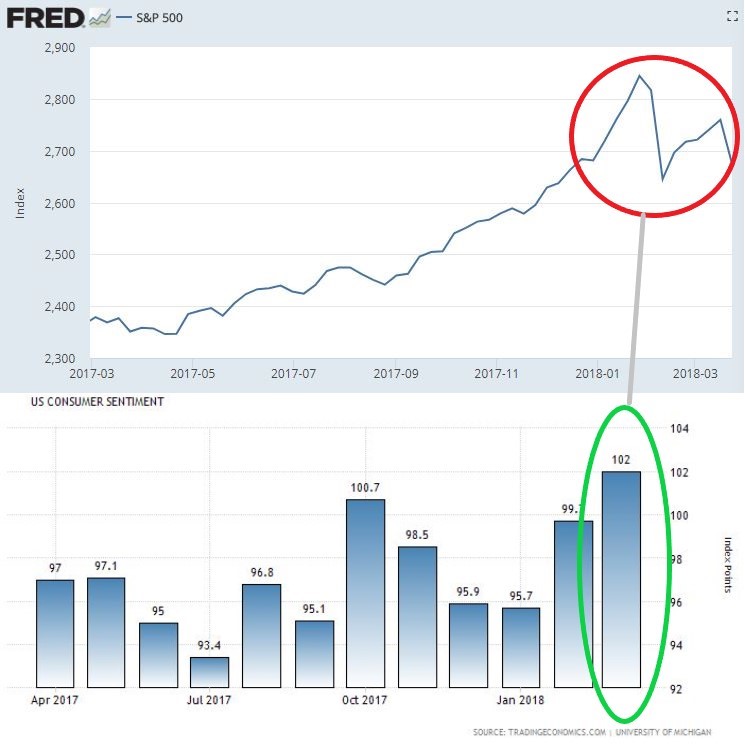 Furthermore, and this may be a critical point, through China's financing of U.S. debt, it is directly financing the expansive military budget that just passed Congress and was signed by the president. [xiv] [xv]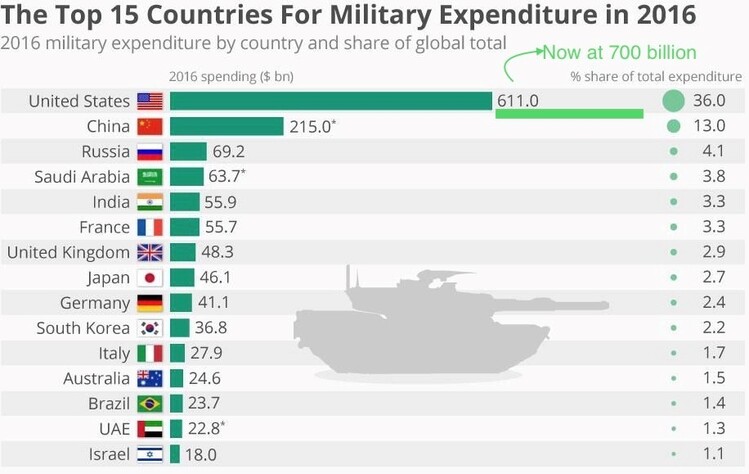 I say good luck keeping up with the strength and innovation of the U.S. military, especially while we get a boost to our economy through added government spending.  Remember, we also should thank China for financing our expansion with its persistent purchases of U.S. debt, which it will continue to do, in my opinion, as long as Trump talks big and acts small.
As for the equity markets, keep an eye on earnings growth and consumer sentiment.  At this point, both look healthy. [xvi]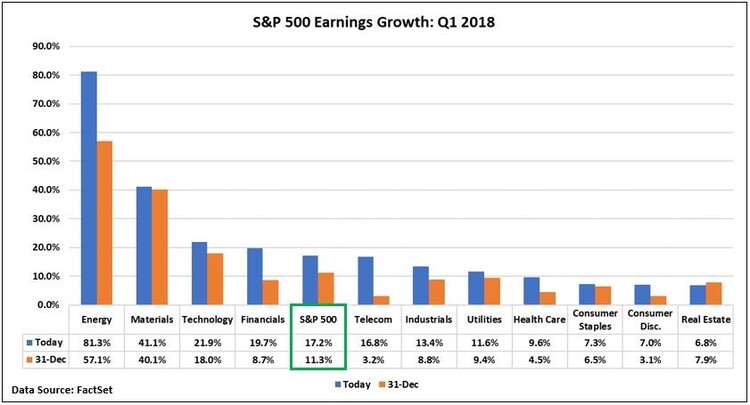 But all the BIG talk will get into BIG trouble if those indicators turn south.
If you have questions or comments, please let us know.  You can contact us via Twitter and Facebook, or you can e-mail Tim directly.  For additional information, please visit our website.
Tim Phillips, CEO, Phillips & Company
Robert Dinelli, Investment Analyst, Phillips & Company 
References:
i.            http://www.bbc.com/news/business-43494001
ii.           https://fred.stlouisfed.org/series/GDP
iii.          https://www.nytimes.com/2018/03/22/us/politics/trump-will-hit-china-with-trade-measures-as-white-house-exempts-allies-from-tariffs.html
iv.          https://www.statista.com/statistics/354566/united-states-leading-state-exporters-to-china-by-export-value/
v.           https://www.statista.com/topics/1247/chinese-communist-party/
vi.          https://www.statista.com/statistics/263765/total-population-of-china/
vii.         https://en.wikipedia.org/wiki/Dynasties_in_Chinese_history
viii.        https://www.forbes.com/sites/greatspeculations/2012/06/04/china-ready-to-step-on-the-gas-for-stimulus/
ix.          https://www.theatlantic.com/photo/2012/02/rising-protests-in-china/100247/
x.           http://money.cnn.com/2016/05/10/news/economy/us-debt-ownership/index.html
xi.          https://www.marketwatch.com/story/heres-why-the-stock-market-took-the-china-tariffs-so-hard-2018-03-22
xii.         https://tradingeconomics.com/united-states/consumer-confidence
xiii.        https://fred.stlouisfed.org/series/SP500#0
xiv.        https://www.forbes.com/sites/niallmccarthy/2017/04/24/the-top-15-countries-for-military-expenditure-in-2016-infographic/#53e4786043f3
xv.         https://www.nytimes.com/2018/03/23/us/politics/trump-veto-spending-bill.html
xvi.        https://insight.factset.com/hubfs/Resources%20Section/Research%20Desk/Earnings%20Insight/EarningsInsight_032318A.pdf
xvii.       https://www.agweb.com/article/bringing-home-the-bacon-top-10-pork-producing-states-naa-ben-potter/